The best gear in your inbox
All the tips you'll need to get started in Urban Survival:
We'll only use your email address for our newsletter and respect your privacy
Are you a hunting freak? Then you know that a dull knife can be a liability rather than an asset. A dull blade on a hunting knife is more dangerous than a sharp one; you must keep your hunting knife's edge razor-sharp while skinning and cleaning your game.
Hunting knives come in various shapes and sizes, ranging from serrated blades to hook blades designed specifically for cleaning carcasses after a hunt. However, these knives must be kept in top condition to avoid injuring yourself or causing excessive wear on the surface you're cutting through. To get the best results from your sharp-edged tools and appliances, you must perform preventive maintenance. To keep your knife in peak condition, it is important to regularly hone and sharpen the blade.
You can sharpen a knife by hand, but it is challenging to maintain the proper sharpening angle of the blade to achieve a razor-sharp edge. However, today, some high-quality knife sharpeners are available in the market to make your hunting knife blade as sharp as if it were new.
In addition to saving your time while hunting, the right hunting knife sharpener will also extend the life of your hunting knife. That begs the million-dollar question: which hunting knife sharpener is the most effective?
We will answer this very question through this article; we will tell you about the various types of hunting knife sharpeners and which is the best, and why. Let's see which are the best hunting knife sharpener.
| | |
| --- | --- |
| Best Overall Hunting Knife Sharpener | KME Precision Knife Sharpener System |
| Best Sharpener for Pocket Hunting Knife | Smith's PP1 Pocket Pal Multifunction Sharpener |
| Best Electric Hunting Knife Sharpener | Presto 08810 Professional Electric Knife Sharpener |
| Best Budget Hunting Knife Sharpener | Chef'sChoice Hybrid Knife 220 |
| Most Durable Hunting Knife Sharpener | Chef's Choice 15 Trizor XV EdgeSelect Electric Knife Sharpener |
| Most User-Friendly Hunting Knife Sharpener | Victorinox Knife Sharpener |
| Hunting Knife Sharpener With Best Design | Wüsthof Knife Sharpener |
| Most Versatile Hunting Knife Sharpener | Work Sharp – WSCMB Combo Knife Sharpener |
| Best Guided Field Hunting Sharpener | Work Sharp Guided Field Sharpener |
| Most Portable Hunting Knife Sharpener | Lansky QuadSharp QSHARP |
How to Sharpen a Hunting Knife?
There are various methods to sharpen a hunting knife.
Sharpening with Diamond Stone
You can even shave with a blade sharpened with a diamond stone. These stones are an advanced version of Waterstones, so they are more durable and reliable. Diamond stones can even sharpen high-quality steel. These stones come in different sizes and grades, and they are two-sided.
The coarse grits side is used to shred large metal layers, while the fine grits side is used to polish the bottom.
Sharpening with Water Stone
Using Waterstones is the most cost-effective option. Sharpening a knife with this method takes some effort. Furthermore, it can be either natural or artificial. Natural stones are slower to cut than artificial stones. Both types have a two-sided design.
One side is coarse grit used for sharpening, while the other is fine grit used for finishing and shaping. Both types of stones are excellent for sharpening carbon steel and low-to-medium grade steel.
Sharpening with Oil Stone
Oil stones have characteristics that are very similar to Waterstones. On the other hand, oil stone uses oil as a lubricant rather than water. Because of the use of oil, it is an expensive method. You can obtain better results with the help of more honing oil.
At the same time, sharpening a hunting knife requires less effort than going to Waterstones. The use of oil results in slick friction. As a result, you can hone a knife without using excessive force. It also has two sides, one is for sharpening, and the other is for polishing.
Types of Hunting Knife Sharpeners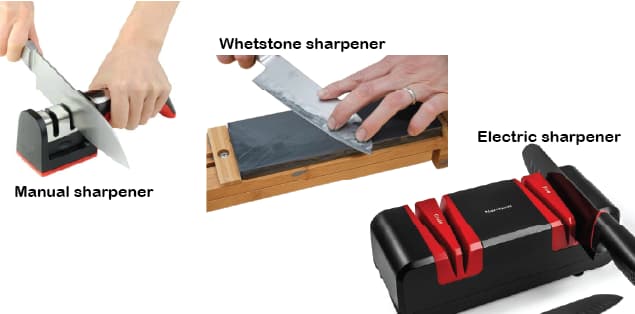 There are numerous types of hunting knife sharpeners. Some are ancient, and some are new. We are going to discuss all about them. There are three types of hunting knife sharpeners: electrical, manual, and whet or honing stones.
Electric Sharpeners
Electric knife sharpeners are the most effective of the three because they are automated and simple to use. They make use of electricity. The only disadvantage of these sharpeners is that they are significantly more expensive than the others.
Manual & Whetstones Sharpeners
Manual knife sharpeners and stone sharpeners are similar in that they both require you to use your initiative to hone blades. However, on the other hand, a manual knife sharpener is easier to use than a rock sharpener. Dimension is an essential factor to consider right now. This is because the size of the sharpener determines the types of blades that can be developed and honed with it.
As a result, depending on your requirements, it is advised that you select a sharpener with the appropriate size.
Things to Consider When Looking for a Suitable Hunting Knife Sharpener
When looking for the best hunting knife sharpeners, it goes without saying that you will come across sharpeners with a variety of functions, features, shapes, and sizes. These variations can make it challenging to make the best choice, especially if you are unfamiliar with knife sharpeners.
This guide will show you what features to look for in the best hunting knife sharpener.
The Blade's Shape
Before you begin your search for the best sharpener for you, you must first consider the shape of your searching blade because some sharpeners, particularly electrical sharpeners, do not work with certain types of knives. As a result, if you use a sharpener like that, you risk damaging both the sharpener and the blade.
Different sizes of blades require different types of sharpeners. All sharpeners cannot accommodate all types of knives. The most effective sharpener guarantees that it will provide you with the best performance and dependability for the duration of its life. This sharpener will be handy and efficient in sharpening your hunting knives.
Weight of the Sharpener
Given that you will almost certainly need to carry your sharpener on a hunting expedition, it is critical to consider the weight of the sharpener. A heavy sharpener will cause problems when transporting your hunting gear, particularly on your back.
Instead, it would be best to concentrate on finding the best solid and strong sharpener that is also relatively light.
Angles of the Hunting Blades
The angles of the blade in a hunting knife are the most significant area to consider, so you will undoubtedly require a sharpener with a wide range of honing angles for excellent developing results. The sharpener's ability to accommodate the developing angle will determine the intensity.
Generally, the best sharpener should be able to accommodate developing angles for blades other than hunting knives.
Types of the Sharpener
When you step into the market for a hunting knife sharpener, you must know how many types of hunting knife sharpeners are there, as we have already explained above the three types of hunting knife sharpeners. It all depends upon your requirements and specific needs.
For example, if you want an automated solution for your blunt knife problem, go for the electric one but keep in mind that it comes at a price. On the other hand, if you prefer old-school methods and have a knife that does not require an automated sharpener, go for the manual hunting knife sharpener.
Top 10 Sharpeners for Hunting Knives, Skinning Knives, and More
Don't worry if you want to sharpen your dull knives but don't know which sharpener to buy; we've got you covered. We tested various knife sharpeners and compiled a list of the top ten knife sharpeners out of all of them. You can sharpen the best hunting knives and the best survival knives as well, without a hitch! So, without further ado, let's find out which ones made the cut!
1. KME Precision Knife Sharpener System
Best Overall Hunting Knife Sharpener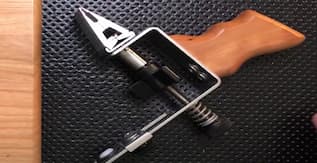 Simple to use
Very durable
Robust
Material quality is up to the mark
Worth the price
Cover included
Unmatched Performance
Expensive
Handle wears out soon
Not a fast sharpener
The KME Precision Knife Sharpener System with 4 Gold Series Diamond Hones is the best hunting knife sharpener if you prefer a manual sharpener. According to our research, this is by far the most complete manual hunting knife sharpener system available on the market today.
The KMC Precision Knife Sharpener System includes everything you need to sharpen the blade of your favorite hunting knife to a razor-sharp edge.
When we first opened the package, the cherry wood base with the highly comfortable finger grip and the stone holder were the first things that caught our attention.
The KMC Precision Knife Sharpening System is an example of a guided sharpening system in which you hold the knife blade in a clamp that guides it across the sharpening stone of your choosing. KME is something we strongly recommend to any serious knife enthusiast.
In conclusion, many of the manual knife sharpeners available today are difficult to operate, but the KMC Knife Sharpener is almost foolproof in terms of operation. So if you're a hunter, it's a must-have item. And as your skills improve, you can charge customers to sharpen their knives, and you'll soon be able to support yourself financially from the system.
2. Smith's PP1 Pocket Pal Multifunction Sharpener
Best Sharpener for Pocket Hunting Knife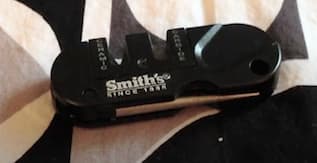 Easily pocketable
Lightweight and slim
Produces a razor-sharp edge
Simple, portable, and compact design
Versatile
On the money
Unimpressive build quality
Sometimes makes the blade dull
While Smith's PP1 is very lightweight, it is not a cheap-looking sharpener. You can keep it on a key ring with a spare car key and take it anywhere, to the beach, someone else's house, or camping.
The Pocket Pal is an excellent tool for all of your sharpening needs as it sharpens quickly and easily. We recommend everyone to have these on their keyring near to wherever they are carving, cutting, and trimming meat or game, and on top of that, it is easily washable.
We found it to be an excellent pocket sharpener. It has one coarse edge for dull edges and one ceramic for finishing edges or touch-ups. However, it would be best to exercise caution as it puts your hands closer to the blade.
In conclusion, this inexpensive field sharpener, however, has some merit as a low-cost option for sharpening low-cost knives. Beyond that, we won't bother. If you are looking for a weightless and effective pocket knife sharpener that saves time, this should be on top of your list.
3. Presto 08810 Professional Electric Knife Sharpener
Best Electric Hunting Knife Sharpener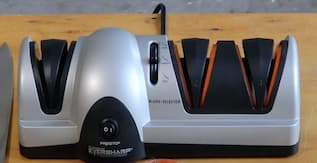 Effortless to use.
Can sharpen versatile knives
Reasonably priced
Made to last
A time saver
Quieter than competitors
Changing stones is cumbersome
Not effective with ceramic blades
Limited angle sharpening options
The Presto 08810 can even revive a blade as dull as a butter knife of various lengths. This professional electric knife sharpener can even have a lot to offer.
We passed our worse knife, which had very obvious dings in the blade, it needed two passes on stage one, and then we did an additional two passes on stage two. And the blade looked perfect and cut exceptionally well. So we were able to get a sharp edge that cleanly sliced through a sheet of paper.
We sharpened 9 other knives with Presto 08810, including a couple of 4-inch paring knives, a boning knife, 6-inch general-purpose knives, 2 chef's knives, a roast slicer, and a large butcher knife, and it only took all of 10 minutes. Sharpening the knives is super easy. Just draw the knife across each of the openings a few times, and there's a noticeable difference in the way they cut.
In conclusion, if you have no freaking clue how to sharpen a knife, this sharpener is a life-saver. It is entirely idiot-proof as well, as you don't have to do anything besides putting the knives in the sharpener a couple of times, and you are good to go.
4. Chef'sChoice Hybrid Knife 220
Best Budget Hunting Knife Sharpener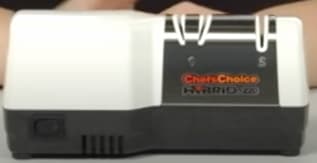 Reliable
Saves time
Simple to use
Sharpening stones are adjusted in such a way that your blade gets a razor-sharp edge
Eye-catching design
Easy on pocket
Take more tries to sharpen a dull blade
This famous Chef's Choice hybrid knife sharpener is both an electric and a manual knife sharpener, allowing you to sharpen your knives in two different ways. First, we used it on both straight edge and serrated knives, knives in the 15- and 20-degree class, pocket knives, and hunting knives, among other things.
And using the combination of diamond abrasive wheels and cutting-edge sharpening technology, it quickly produced razor-sharp blades in minutes. We have tested other knife sharpeners and were pretty confident that this would also do its job, but it did more than that and made our knives sharper than we've ever seen in the years.
Although our knives were also cutting through things, after getting sharpened by Hybrid Knife 220, we could get the edge of two of our knives sharp enough that it didn't feel like cutting. Instead, they ripped the tomatoes like air; it was the first time we'd ever had that experience.
In conclusion, this sharpener is very reliable with a superb design and simple usage. It is also a time saver and affordable device for you. Still, we cannot say that it is a complete hunting knife sharpener, but it is more of a kitchen knife sharpener. So, we recommend that this is a good product.
5. Chef's Choice 15 Trizor XV EdgeSelect Electric Knife Sharpener
Most Durable Hunting Knife Sharpener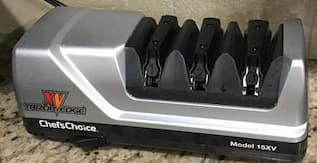 So powerful it will bring back your dead knife to life
Saves time
Works very well with expensive blades
Simple to use
Can sharpen a serrated blade as well
Only effective on 15-degree angle blades
Burns a hole in your pocket
This sharpener will give your knives a SHARP EDGE if you follow the instructions carefully. Such a sharp edge that one of our team members cut his hand three times while testing as he didn't think that this could happen. We find that this electric knife sharpener works much better than other options on the market, especially manual ones.
This two-stage sharpener is the total package, complete with a third-stage strop. We made a scalpel out of a cheap paring knife lying around. In addition, it was effective on costly Japanese paring knives and an inexpensive set of kitchen knives. It's ideal for traditional 20-degree factory edges.
We carefully followed the clear instructions and used them to reform the knife's edge by running it through all three slots. And when we finished, we took a piece of paper to test the edge. The blade, which had previously had the cutting power of a butter knife, effortlessly sliced through the paper. We were mighty impressed and sharpened some kitchen knives right away. They were better than new when we finished!
Another big difference is the longevity, which means the knives remain sharp for longer. They stay sharp even after 2-3 months after sharpening with Trizor XV.
In conclusion, if you want to purchase a high-end professional-level knife sharpener, you can buy it. This single sharpener can serve most of your sharpening requirements. However, it's a little expensive, so you need to weigh your options.
6. Victorinox Knife Sharpener
Most User-Friendly Hunting Knife Sharpener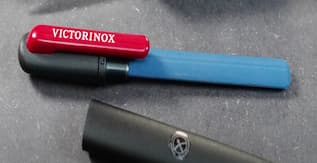 Very easy to use
Sharpens within seconds
Lightweight.
Compact
Very small
Doesn't work well with big knives
Victorinox Knife Sharpener is one of the best handheld knife sharpeners available from Victorinox, and it is constructed entirely of stainless steel for long-lasting performance. In addition, Victorinox designed this knife sharpener with a convenient ceramic V-groom shape to save both time and effort while ensuring that it meets all your sharpening requirements at the required speed.
With a weight of only 72 grams, this knife sharpener can give your knife a razor edge while remaining ultra-portable. Our tests revealed that only three strokes are required to sharpen our knives' edges. We also noticed that this one does not remove large slivers of metal from the blade, unlike many other sharpeners, but rather leaves it smooth.
Don't apply too much pressure; you'll get excellent results every time with medium pressure and a couple of swipes.
Because of its small size, you can take this knife sharpener with you wherever you go and use it on any knife with a plain blade, but not on serrated knives.
In conclusion, this is the ideal and best knife sharpener for both home and professional use. It will last for years, and you will not have to replace the knives or the sharpener as often as you would otherwise.
7. Wüsthof Knife Sharpener
Hunting Knife Sharpener With Best Design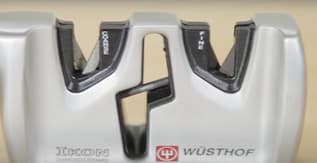 Easy to use
Grinds, hones, and polishes
Adjustable angle manuals in slots
Sturdy build
Works with serrated blades as well
Price is slightly on the north side
It is not dishwasher safe
Wüsthof's two-stage knife sharpener is safe and straightforward, requiring only a few simple strokes to keep blades performing at their peak performance levels. With a soft-grip handle and German precision, this product is a must-have.
We found sharpening with Wüsthof pretty effortless. To sharpen, we inserted the knife blade into the notch and pulled it back until it was 90 degrees from the gap. After we'd set the knife's edge with the carbide side of the unit, we used the ceramic side to give the edge an excellent finish. Inserting our knife blade into the fine ceramic plate slot and pulling it back several times to sharpen is how we completed stage 2 honing and finishing.
The coarse stage of carbide sharpened the dull edges of our knives in the first stage. The second stage ceramic (fine) produced a polished, razor-sharp edge that is highly durable. You may want this light honing for a reasonably sharp knife.
You can use this knife sharpening tool with either your right or left hand, thanks to its rubberized base and molded safety handle. It can sharpen pocket, camping, hunting knives, fillet, chef's, and butcher knives.
In conclusion, the Wüsthof manual sharpener is lightweight, versatile, simple to use, and highly affordable. That's a small price to pay for a high-quality brand like Wüsthof, known for its superior performance and quality.
8. Work Sharp – WSCMB Combo Knife Sharpener
Most Versatile Hunting Knife Sharpener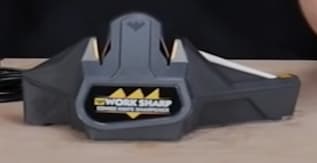 Versatile
Doesn't create any heat
Sharpening belts are replaceable
Lightweight
Simple to use
Doesn't work on very dull knives
Only for right-hand users
The Work Sharp Combo Knife Sharpener has a speed that other similar products cannot match.
It's a great knife sharpener for professionals who need to sharpen their knives regularly. In our opinion, it's ideal for hunters, fishers, contractors, chefs, butchers, etc., and we highly recommend it.
Many hunting knife sharpeners are unable to sharpen the knives' jagged edges. On the other hand, this knife sharpener sharpens even the rough edges perfectly. This product will provide your hunting knife with longer-lasting edges.
We used this hunting knife sharpener to sharpen every type of knife at our disposal. So, we can safely say that this product can sharpen any knife, whether it has a serrated or non-serrated edge, a jagged edge, or you use it for cooking, camping, hunting, or any other purpose.
Plugin the Work Sharp Combo Knife Sharpener, turn it on, and sharpen your knives with a couple of swipes on either side of the belt and five to ten swipes on the ceramic rod for a professional finish.
Finally, you can easily change it with your hands when necessary for the belt.
In conclusion, the WSCMB sharpener is for people who want to sharpen their tools to a high degree of precision in the shortest amount of time possible.
9. Work Sharp Guided Field Sharpener
Best Guided Field Hunting Sharpener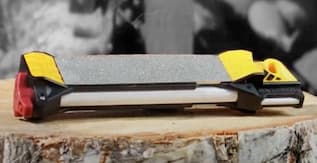 Compact
Sturdy
Comes with two diamond plates
Reliable
User-friendly
Comes with 5 Knife sharpening grits
Small grip
Gets dirty easily with metal dust
This guided field sharpener comes in a simple package with clear instructions on the back. You can save it for future use. It only comes in one color, yellow, and has a hole in the middle to make it easier to carry around with you.
It is compact and durable, and you can use it almost anywhere, making it a plug-and-play device that does not require any setup.
The Work Sharp Guided Field Sharpener includes built-in angle guides that ensure a consistent bevel angle across the entire edge of the blade when sharpening a knife. Work Sharp will assemble everything for you, eliminating the need to go through the tedious setup process, which can be frustrating and, frankly, ego-bruising.
It comes with a lifetime warranty, which we believe is excellent value for money. This knife sharpener is capable of sharpening a wide range of knives. This one-size-fits-all phenomenon enables it to meet the needs of everyone.
Fishers can sharpen their fish hooks, farmers can sharpen their machetes, homemakers can sharpen their kitchen knives, and hunters can sharpen pocket knives and serrated blades. Its greatness does not end there; it can also sharpen serrated blades and cater to the needs of knife collectors.
In conclusion, if you're looking for a field sharpener for sharpening serrated blades plus any other blade, you can't go wrong with Work Sharp Guided Field Sharpener.
10. Lansky QuadSharp QSHARP
Most Portable Hunting Knife Sharpener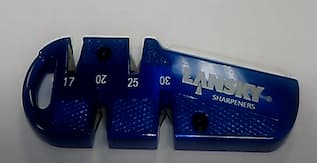 Good grip
Comes with 4 pre-set grinding angles
Angle options for different blade styles
Saves time
Versatile
The tough metal casing adds weight
It's too big to fit on your keys
This knife sharpener is not for the faint of heart because it sharpens both sides of the blade. We won't go so far as to say this sharpener is the best thing since sliced bread, but the Lansky QuadSharp Carbide Ceramic Multi-Angle Knife Sharpener is worth mentioning.
As the name implies, this sharpener has four different angles, allowing you to sharpen your knives at 17º, 20º, 25º, and lastly, 30º. This high-tech hunting knife sharpener takes as few as three to four strokes to sharpen knives and features four distinct angles.
It can sharpen straight blades, but it can also sharpen serrated blades. The sharpening process is straightforward, and we just held the knife using our dominant hand while the other handheld the sharpener in place and just pulled the knife through the desired angle slot using slight but firm pressure to sharpen our knives.
The good news is that we could also use this sharpener to sharpen our serration blades. Although it is a job and a half because we had to sharpen one serration at a time, it is still worthwhile. For larger serrations, we used the rolling motion to sweep the sharpener's corner from side to side of the serration.
In conclusion, QuadSharp's best feature is that it gets the job done quickly and easily. Our favorite feature of this product is its ability to re-sharpen a wide range of knives, including serrated ones. Therefore, if you're looking for a knife sharpener, this is the one to get.
Frequently Asked Questions
How to Use a Hunting Knife Sharpener?
Begin by placing your sharpening stone on a flat surface, such as a countertop or table. Then, using two hands, slide the knife blade across the stone at an angle. Now, move the knife across the stone's surface as if you were shaving tiny hairs from its surface. Before switching sides, perform five to ten strokes to sharpen the opposite edge. After a few repetitions, your blade should be razor-sharp and ready to use.
Can I Use a Kitchen Knife Sharpener on a Hunting Knife?
Many sharpeners designed for kitchen cutlery are ineffective on the thicker blades found on hunting knives. But some versatile kitchen knife sharpeners can sharpen your hunting knife blade also. It depends on which brand and type you have bought as you can find multiutility knife sharpeners in the market.
Is a Sharpening Stone Better Than a Knife Sharpener?
Both the whetstone and the electric knife sharpener have their own pros and cons. The whetstone will last longer, and you can use them anywhere because the need for electricity does not limit its use. However, the electric sharpener is easier to use and is quieter than whetstones. And as you know, precision comes at a cost, so these electric sharpeners get the knife blade honed to the ultimate sharpness making them able to cut through anything with an effortless glide.
Final Words – Best Hunting Knife Sharpener
Keeping your favorite hunting knives razor-sharp is just as important as owning one. When it comes to a hunting knife, its blade is only as good as the care you give it.
You can tell how old a hunting knife is simply by the quality of the knife sharpener you use.
In this article, you have seen that we have dived deep into the bottom of the subject to give you a vivid picture of which type of hunting knife sharpener you should get for yourself. We have provided you with detailed information about hunting knife sharpeners' qualities, features, and types. We believe we've covered all the bases for hunting knife sharpeners, so you don't have to spend as much time researching your options.
Regardless of how hard or durable the blade material is, a properly cared for and maintained hunting knife will serve you well and last longer. If you want to get your knife or blade edge razor-sharp, you can use a knife sharpener to get it back to its original condition. If the sharpener fails, it will damage your expensive knife as well. So, make sure you pick the right one that can give your blade a razor-sharp edge that lasts for a long time.
If you still want our recommendation, we would like you to buy the KME Precision Knife Sharpener System as it is user-friendly and fits your budget, and is of the best quality as far as our research is concerned. If you rely on our word and buy this hunting knife sharpener, we promise you; you won't regret it.