The best gear in your inbox
All the tips you'll need to get started in Urban Survival:
We'll only use your email address for our newsletter and respect your privacy
Hunting is more than simply a pastime. For many, it's not just a hobby but a way of life. The ways we hunt have undergone tremendous changes in modern times. Today, many tools help us target better and make our hunting expedition successful.
A hunting scope is a valuable equipment no matter what kind of game you're after. It's considerably more straightforward to use than carrying a pair of binoculars. The best hunting scopes will simplify the hunt by providing a clear view of the target even from afar. You can use a hunting scope for tracking, bird observation, deer hunting, and similar purposes.
You're not shooting to your best potential if you don't have a scope on your rifle. However, before you start placing an order for a hunting scope online or heading to the market to buy one, you need to be sure what type will best suit your needs and requirements. First, let's give you an idea about them.
Having the best hunting scope is as important as having the best hunting knife on yourself! We will be looking at the various types of scopes, things to consider when making a purchase, and the top 11 options available on the market in this article. We will also be taking the most frequently asked questions that pop into our minds relating to hunting scopes. So read on to know more.
| | |
| --- | --- |
| Best hunting scope for 308 Long Range | Bushnell Banner Dusk & Dawn Multi-X Reticle Riflescope with 3.3-Inch Eye Relief |
| Overall Best Hunting Scope for Long Range | Vortex Optics Crossfire II Second Focal Plane |
| Best Thermal Scope for Hunting | ATN Thor LT Thermal Rifle Scope |
| Best Deer Hunting Scope | Vortex Optics Diamondback Second Focal Plane Riflescopes |
| Best Spotting Scope for Hunting | Celestron- Ultima 80 Angled Spotting Scope |
| Most Compact Rifle Scope for Hunting | CVLIFE 4×32 Compact Rifle Scope |
| Best Scope for Night Hunting | ATN X-Sight 4K Pro Smart Ultra HD Day/Night Hunting Scope |
| Best Scout Scope for Hunting | Burris Scout Scope |
| Best Fixed Power Scope for Hunting | Simmons 3-9x32mm .22 Waterproof Fogproof Matte Black Riflescope |
| Best HD Hunting Scope | Vortex Optics Razor HD Gen III |
| Best 22LR Scope for Hunting | Barska AC10380 Plinker-22 Scope 3-9×32 30/30 Reticle with Rings |
Types of Hunting Scopes
Choosing the proper rifle scope for hunting might transform an everyday hunting experience into a thrilling adventure. Glass optics are used in the hunting scope to increase the target's visibility. But, more than simply sight, glass optics give you an idea of bullet drop range.
The optics world has progressed in the past two decades, and scopes exist in various sizes and magnification ranges ranging from 0 to 40X and higher. This magnification range helps obtain short-, mid-, and long-range objectives. The distance between the target and you might be a significant impediment when hunting. Still, you can modify the magnification range to fit your shooting style and transform your hunting experience into an achievement.
Let's look at the ten different varieties of rifle scopes and see what separates them.
Types of Hunting Scopes
Fixed Scope
One of the most basic types of scopes is the fixed-type rifle scope. A fixed scope's magnification is fixed instead of the adjustable magnification found on many scopes. It's impossible to zoom in or out while using a fixed-type rifle scope; thus, the user can't acquire an accurate view of the target.
Variable Scope
Unlike a fixed scope, a variable scope allows you to modify the amount of magnification to suit your needs. You can identify these scopes by a sequence of digits in the name, such as 5-20X56.
The first two digits (5-20X) represent the magnification range, while the final number 56 represents the lens size.
Tactical Scope
Tactical scopes have a unique structure due to revolutionary technology, and the military uses them for increasing their engagement range. They are only fit for close-range and mid-range targets; hence their magnification range is limited.
More specifically, these are unsuitable for long-distance shooting. Tactical scopes, which typically have a magnification range of 0 to 4X, have a basic reticle layout. This reticle can help you get to targets fast in the mid-range.
Red Dot Scope
Some red dot scopes offer a small range of magnification, but most don't have a wide range. When looking through a red dot scope, you can make out the solitary red dot in the optic center on your target, even if the target is not very visible.
These red dot scopes are so popular because you can use them to locate your target and make precise shots swiftly. However, the red dot scope is not ideal for long-range target shooting, but it is an excellent choice for close- and mid-range shooting because of its lack of magnification. For example, many rifles like Ak47, M16, and other bolt action rifles can be pre-set to different ranges to accommodate bullet drop.
A high-quality night vision scope is an excellent option if you wish to hunt in low light situations or complete darkness. Night vision scope uses an infrared illuminating structure; this scope lets you see the target in low light conditions, even when there is no light.
At this time, there are no night vision scopes that don't also include day vision capabilities so that you don't have to buy two separate sets of hunting gear for day and night.
Long-Range Scope
All kinds of long-range rifle scopes, from sniper scopes to competition scopes, are included in this category. These long-range rifle scopes are designed to accurately target far-off targets and have a magnification range of around 10X. While most long-range scopes have variable magnification, some are fixed.
Competition Scope
Competition scopes tend to have significantly higher magnification and a lot lower durability. They're too large, too brittle, and lacking in light transition.
Shooting at small and distant targets from long distances is common in competition shooting. Using a high-powered scope for the competition is the best way to go. Some of these scopes have magnifications as high as 40X. Don't get one if you don't want to deal with the added weight and bulk of a bigger scope.
Hunting Scope
Hunting scopes are simple and more durable than the wide variety of available rifle scopes. They are less expensive and easier to use. They're built of high-quality materials, lightweight, powerful, and weather-resistant in look.
The magnification range of hunting models is limited since you often use them for hunting at short distances. That indicates that the most common magnification for hunting purposes is 20 x or less. However, there are both fixed and variable magnification options available.
Scout Scope
When it came to seeing angles and clarity in the field, deer hunters rely heavily on scout scopes. Scout scopes typically have magnification levels between 2X and 8X, but the 7X scope is the most popular among hunters. They have a very restricted range of adjustments, making this scope very simple to operate.
Sniper Scope
In this style of scope, the mil-dot reticle is commonly used to indicate distance, windage, and elevation adjustments. Because sniper precision is crucial, sniper scopes contain delicate adjustment turrets that allow for accurate movements in tiny increments. Using a sniper scope would be extremely tough for an ordinary shooter or hunter.
Now that you have decided which kind of hunting scope is the best for you, there are still a couple of things to consider before starting your shopping.
Things to Consider While Buying a Hunting Scope
There are several features and factors to consider while picking the best hunting scope for your next big game hunting. First, let us tell you about them so that you can make an informed decision.
Price Range
Price is likely the most crucial thing to consider when purchasing a rifle scope. Your budget determines what features to search for. The price you are willing to pay will determine the quality of the glass and the general utility of the product.
It will also help you narrow down your alternatives by weeding out the optics that don't meet your hunting style and budget. This article's section on the top 11 hunting scopes will undoubtedly help you in this regard.
Reticle Options for Different Needs
This is an important consideration since it will help you narrow down your buying options. If you plan on doing a lot of long-range shooting, you may want to consider a ballistic turret. Maybe you're going varmint hunting out to 300 yards, in which case a BDC reticle will come in handy.
Most of the time, a duplex reticle will provide for the needs of the ordinary hunter. However, be aware that the more elaborate your reticle is, the more money you may need to spend.
Magnification Options
Logically, better-powered optics will cost more if you've already decided on variable scope. How well you can utilize your BDC reticle, the distances you hunt, the sort of targets, and whether or not you'll require parallax adjustment will all be influenced by this.
You'll save yourself a lot of trouble and money if you think about how much magnification you need for your hunting applications.
Parallax Adjustment
Unless you've discovered a low-cost AO rifle sight that'll do just fine in the field, this high-end function can drastically raise the price.
Your hunting distances, target kinds, and magnification settings will all need to be taken into account when deciding whether or not to incorporate this into your search for the finest scopes.
You will get the idea by reading this article whether you need it or not.
Diameter of Objective Lens
Avoiding the hype and low-light misconceptions about large objective lens diameters will save you money. Although they significantly impact how much exit pupil is accessible to you and have a more extensive field of view, you will need to measure it against a few other aspects.
Your choice of mounting location, weight, quality of the glass, and usable magnification ranges are all factors to consider when deciding whether or not to mount your scope high.
Large objective lenses may not be for everyone, but those who use them swear by their benefits. This article will help you determine whether you need a high magnification lens or there is no need.
Your Scope & Firearm Setup
What is the scope attached to? Is it compatible with your weapon? Is it suitable for use with an air pistol? Knowing about the proper scope and handgun pairings is essential to protect yourself and your investment.
Whether you're using an AR-10, AR-15, or a hunting rifle, knowing all there is to know about your firearm, your shooting capabilities, and critical information about your target are all crucial. You can't afford to lose accuracy or money by selecting the same scopes you did a couple of years ago, as, in this day and age, telescopic sights have fast taken over the optics industry.
An in-depth look at things to look for to ensure that you don't wind up regretting your decision is our aim for writing this post.
Turret Techniques
Let us explain this to you in simple layman's language. It simply means you need a simple scope to sight in and maintain its zero. The two most essential turrets are the windage and elevation dials.
Optics users must be able to perform this primary function flawlessly, and it is not always a matter of lack of knowledge or ability. Therefore, a high-quality turret mechanism should allow you to quickly sight it in and maintain zero regardless of the amount of recoil.
It's unlikely that recoil will be an issue if you pick the proper scope.
In addition, long-distance enthusiasts will appreciate the premium feature of ballistic turret systems, which will allow you to test your talents to the utmost and nail every shot. Only one at a time.
Understand Your Stuff
This is likely the most critical consideration, even more so than the money.
If you don't understand the meaning of what we're saying, how can you tell what to search for?
It's possible to pretend that you know everything about parallax, turrets, FFP/SFPs, LRHS, #60, and every other vocable, word, and acronym, but then again, it's a lot to know, and you will get baffled by all these terms.
We'd want to offer you a little wiggle room at this point. It's not a suggestion; it's a directive for your sweet benefit. So, know the meaning of these important words of a hunter's vocabulary.
Top 11 Hunting Scopes for Rifles, Shotguns, and More
Even if you know precisely what constitutes a good scope, there are so many to choose from that it can be challenging to decide. The following are the best scopes for rifles, shotguns, and more to make your task easier.
1. Bushnell Banner Dusk & Dawn Multi-X Reticle Riflescope with 3.3-Inch Eye Relief
Best Hunting Scope for 308 Long Range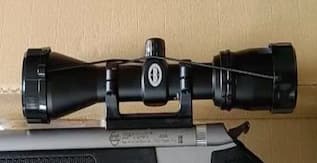 Affordable price
External lens surfaces are multi-coated
Thick reticle for greater visibility and contrast.
Good magnification range: 3x to 9x
Weather & shockproof
Lenses with dusk and dawn brightness for increased light transmission
Amazing optical clarity
Problem in holding zero
Parallax is non-adjustable
Some features show signs of cost-cutting
Not robust enough for larger guns
10x is more effective than tiny calibers
Its 5x magnification makes it less helpful for close range work
Banner is best suited for.17 HMR and.22 rifles, and it's one of the better options on the market. A magnification range of 3.5x-10x is more than enough (and may even be excessive), allowing you to be extremely precise and make the most of your rifle's effective range.
If you have a smaller rifle primarily for target shooting or pest control, the price is likewise reasonable. Banner is well-made and sturdy, with a fast-focus eyepiece comparable to the Vortex that works well in low light (thus the name "Dusk & Dawn").
However, we found that large-caliber rifles will not benefit from this sight. This scope will be damaged over time by anything with more kick than a.22LR or maybe a.223 because it cannot handle high recoil. So you'd be better suited looking at one of Bushnell's other scope types, made for bigger guns.
In conclusion, Banner is one of the best rifle scopes if you are looking for an affordable one for deer hunting rifles and practice.
2. Vortex Optics Crossfire II Second Focal Plane
Overall Best Hunting Scope for Long Range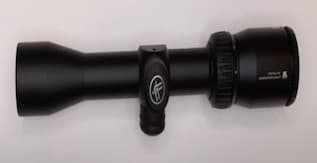 A good balance of performance and price
Lifetime warranty
3 reticles to pick from
Four magnification options to select from (2x to 12x)
Good eye-relief
Anti-reflective lens for great image
Hard-anodized finish
Eyepiece with a quick focus
Fog and waterproof
Image quality degrades after 9X magnification
There are no instant elevation/windage resets
There are no extra brightness/light features
Turrets do not track well
If you need an excellent rifle scope, this high-quality scope covers all of the essentials for a successful deer hunt. It has multiple coatings on the lens and is equipped with a multi-colored tint to eliminate glare while ensuring that you get the best light possible.
The Vortex optics crossfire II incorporates a zero-reset turret to assure safety either in usage or storage. This scope is also completely fog resistant and waterproof, allowing you to hunt regardless of the weather. Therefore, no need to be grounded at home on those rainy days when you can hunt!
In conclusion, Vortex's Crossfire II is a low-cost entry-level scope, and it'll serve you well on a range gun and in a variety of hunting situations.
3. ATN Thor LT Thermal Rifle Scope
Best Thermal Scope for Hunting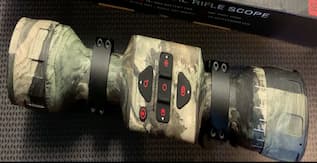 Lightweight
Mounting is simple
Affordable
Sturdy and long-lasting
Good entry-level thermal
Low resolution
Limited zoom specifications
Limited features due to cost-cutting
Not long-range
Thor LT is a nice balance between features, quality, and cost that we find particularly appealing. This optic may be purchased at a reasonable price when compared to other options, and it provides 3-6x zoom and more than 10 hours of battery life. The Thor LT, in our opinion, provides excellent value for the money.
While the Thor LT's magnification is slightly inferior to that of more costly versions, it is also slightly lighter in weight, which we always like in hunting rifles because it means less stress on our backs and knees during long hunts.
The LT is composed of the same hardened aluminum alloy as its more expensive counterparts, is recoil-rated to endure the pressures of large caliber rifles, and is weather-resistant.
In conclusion, if you're a close-range a hunter who appreciates an easy-to-use thermal scope but have a limited budget, this is the one for you. We also believe that the ATN Thor LT would be an excellent addition to a bolt action rifle for night hunting or other tactical activities.
4. Vortex Optics Diamondback Second Focal Plane Riflescopes
Best Deer Hunting Scope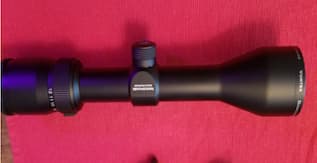 Excellent reticle choices
Excellent value for money
Construction is both solid and light
More light transmission
Holds zero quite nicely
Waterproof as well as fog-proof
Fast focus eyepiece
Focusing is quick, allowing for simple tracking
Excellent for mid and long-range hunting
Setting up the BDC reticle requires some practice
It's not an illuminated reticle and, therefore, not great for low-light performance
Diamondback rifle scope may not have all of the bells and whistles you'd expect from a scope costing several hundred dollars. Still, it possesses all of the necessary characteristics for a reliable performance that is priced much below its competition.
It boasts completely multi-coated lenses to deliver the wonderfully clear and anti-reflective image clarity that you've expected from a Vortex product. A single-piece tube body provides the durability, strength, and weatherproof-ability you need every time you set out into the great outdoors. Never forget that argon gas keeps your scope completely fog proof, safeguarding both your image quality and the internal components of your scope.
You can enjoy a smooth, instantaneous, and perfect visionary experience even in the most challenging situations thanks to a fast-focus eyepiece and a precise glide erector system. You will also like the well-built construction, clear glass, and the fact that it keeps its zero no matter what. If you are looking for other options, check out our guide to the best rifle scopes for deer hunting!
In conclusion, if you're on a restricted budget and want high-quality images at medium to long-range distances, you must buy this excellent scope. So we bet you won't be disappointed.
5. Celestron – Ultima 80 Angled Spotting Scope
Best Spotting Scope for Hunting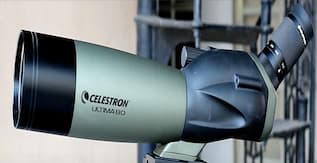 Camera-adaptable
Fast-targeting sight tube
Waterproof, durable, and fog-proof
A fantastic essential gadget with a zoom range of 20X to 60X.
Build quality that lasts
Anti-reflection optics with several layers
Zooming capability that is easy to use and smooth
Compatible with a wide range of tripods
There is no tripod included.
Image quality might degrade after 25X magnification.
This Celestron Ultima 80mm angled spotting scope is equipped with an angled eyepiece for optimal viewing comfort. If you have a shorter tripod or want to use the scope while standing, this scope is an excellent choice for you.
Because of the angled eyepiece design, this size is more suited for stargazing and astronomy, since you can easily stare at things over your head while doing so.
We used this device to inspect bullet holes from a distance of 200 yards, and it performed admirably. Despite being 12 miles distant, you can readily see a car driving on a bridge and read a license plate from 800 yards away.
In conclusion, if you are a nature lover, outdoor enthusiast, and love to gaze at stars, Ultima spotter is a perfect companion for you.
6. CVLIFE 4×32 Compact Rifle Scope
Most Compact Rifle Scope for Hunting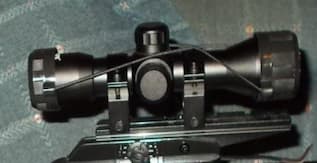 Waterproof and fog proof
Tube manufacturing in a single piece
Smart optic gives a clean image for those with vision problems who do not wear glasses.
Long scope capable of moving and aiming
Versatile scope; can use in any weather condition.
For adult-sized rifles, eye relief is insufficient.
There are several reasons why the CVLIFE 4×32 Rifle Scope is one of the best in the market. First, the eyepiece of this scope is composed of high-quality optical glass, so you can see right away that it will last a long time. The broad and sharp field of view ensures a precise shot every time.
This is an excellent product, and it's a compact one at that. You may use it for a variety of things thanks to its multipurpose design. This model must be one of your options if you're seeking for a scope that's simple to use.
When it comes to design, this is one of the greatest, and it will not let you down. It is both shockproof and watertight. If you want to improve your elevation and windage adjustment, this is the place to go and a big plus is that it is user-friendly.
In conclusion, if you are new to shooting, the 4x magnification is a must-have to get a clearer picture of the target image. It made it to our list because of its design and performance.
7. ATN X-Sight 4K Pro Smart Ultra HD Day/Night Hunting Scope
Best Scope for Night Hunting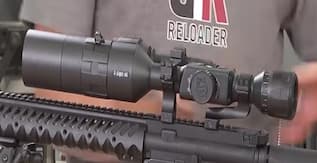 Lightweight and long-lasting
Excellent performance during the day
Large storage space
Low power consumption
Easy to operate
Ballistic Calculator
5-20x magnification or 3-14x
One-Shot Zero
The UI is difficult to use.
Nighttime performance is average.
When you turn the power on and off, the zeroing resets
You can use this ATN X-Sight 4k Pro scope during the day and at night. This optic is built of thermoplastic, which makes it more robust and lightweight. Its body is completely sealed and water-resistant, and it has received water and dustproof certifications, among other things. It is also capable of operating at temperatures ranging from -20 degrees to +120 degrees Fahrenheit.
It has a bigger objective lens and a somewhat longer scope tube than previous models. Our experts loved the sensor technology of this scope. With its high-quality sensor and obsidian 4 processors, it can quickly turn a clear image into a colorful one.
In conclusion, in our opinion ATN X Sight 4K Pro scope is worth the money and effort. It's equipped with cutting-edge technology that makes hunting more accurate and computerized. Moreover, you can link it to your Android or iPhone devices.
8. Burris Scout Scope
Best Scout Scope for Hunting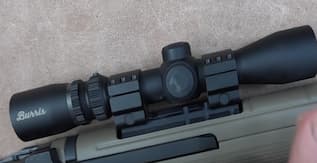 Design that is sleek, small, and lightweight
Generous eye relief allows for simple aiming with both eyes open
High-quality glass provides bright and clear optics
Internal precision-gauge construction by hand
Precision ground lenses are larger than in comparable scopes
Ballistic Plex trajectory compensating reticle
No lens caps included
Not compatible with sunshades
Only available in matt black color
The Burris Scout rifle scope is a fixed power, 2.75x magnification, second focal plane scope with a 1-inch tube. In addition to being waterproof and fog-proof, it is also shock-resistant. The scope's 20mm length allows it to be installed at various distances, giving you additional flexibility in adjusting the mounting position.
We were not impressed with the glass as it's not as clear as the other options in this list, although it has a thick plex reticle and is multicoated. The Burris Scout Scope features fixed parallax and no turrets. It is a huge convenience as fixed power enables you to achieve quick target acquisition without the hassle of magnification power change.
In conclusion, if you are the one who wants to increase the accuracy when hitting targets, we would like to recommend Burris Scout Scope. It is a sure-shot winner and just as easy to operate as they come.
9. Simmons 3-9x32mm .22 Waterproof Fogproof Matte Black Riflescope
Best Fixed Power Scope for Hunting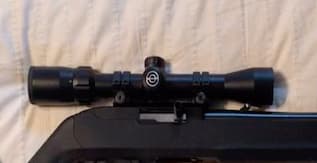 Water, fog, and shockproof.
HydroShield coating gives a clean vision image.
Incorporates SureGrip rubber surfaces that make adjustments easier in any situation.
It has a truplex Reticle
High-quality optical glass and fully-coated optics for bright, sharp images
One-piece body
QTA eyepiece
Holds zero even with moderate recoil
Comes with mount and rings
Ideal for a .22 rifle
Crosshairs are not perfectly aligned.
Some Reticle and adjustment issues
First impressions might be deceiving, as the Simmons 3-9×32 appears to be a bargain. As a general rule, when you pay less, you get less. However, this is not the case.
The Simmons 3-9×32 is available as a single piece. It's obviously designed as a whole unit, rather than requiring different components to be crammed together. The ultimate product is a solid mass that can withstand anything. And, in particular, this style of structure is well suited to high-impact situations. Even the recoil of certain frightening rifles will have no effect on the Simmons 3-9×32.
The quality of the eyepiece is excellent. As a result, one may anticipate a clean and uninterrupted vision of the universe, and it is the case for the most part regardless of the weather.
Its fantastic features do not end here; it comes coated with Hydroshield, And this shield does what it means. The coating guarantees that water does not affect overall performance. This unique feature makes it a fantastic match for any outdoor situation. Rain, mist, and fog are rendered ineffective.
In conclusion, we found it to be a perfect match for a .22 rifle. It is ideal for long-distance shots, and you will love it if you are a deer hunter.
10. Vortex Optics Razor HD Gen III
Best HD Hunting Scope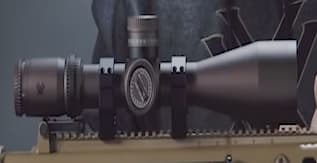 HD optical system
Waterproof (IPX7)
XR plus lens coatings give a very clear image
Fog and shockproof
Argon Gas Purge
Anodized stealth shadow finish
ArmorTek coatings to protect it from scratches, oil, and dirt
Made from aircraft-grade aluminum
Will burn a hole in your pocket
Very tight eye-box
The Vortex GEN III is more than simply a new version number for the Vortex Razor; it is an entirely new product. The optical and mechanical systems come completely modified after several years of development. The addition of 10X power bridges the gap between a mid-range LPVO and a long-range precision scope without sacrificing size, clarity, or any other field of view characteristics.
This scope essentially allows you to engage in CQB and up to 1000 yards, which has never been a feature of a well-made business product.
The 10X magnification and front focal plane riflescope provide exceptional accuracy and adaptability. When we tested Gen III, we found that acquiring targets at greater distances is simpler. Therefore, your tactical rifles with bigger calibers will be far more effective and ready for conflict.
In conclusion, if you've got some cash burning a hole in your pocket and want to buy the best rifle scope for your deer rifles, don't think twice.
11. Barska AC10380 Plinker-22 Scope 3-9×32 30/30 Reticle with Rings
Best 22LR Scope for Hunting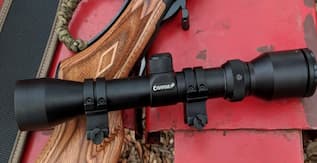 The lens is completely coated.
It includes mounting and a lens cover.
Lifetime warranty
Water and shockproof
Turrets for windage and elevation.
Comes with lens cap, lens cleaning cloth, mounting ring
Affordable scope
Durable and lightweight
Designed primarily for.22 rimfire rifles
This riflescope is intended primarily for plinking, although you can also use it for hunting or target shooting. The optical system includes all of the attributes essential to offer bright and crisp image for enhancing your shooting abilities, including completely coated lenses, a 3-9x zoom magnification, and a second focus plane 30/30 reticle, among other things.
At 50 yards, the reticle features four large posts with a crosshair and enables parallax-free performance. You can adjust the windage and elevation in 1/4 MOA increments to accommodate ballistics and wind. The scope is water and shockproof, and although the construction isn't spectacular, it can withstand the recoil of a .22 rimfire rifle.
In conclusion, if you are a beginner hunter who does not want to spend a lot on his first scope and if you have a .22 rimfire, you must keep this option in mind before making a purchase.
Frequently Asked Questions About Hunting Scopes
What Scopes Do Military Snipers Use?
Military snipers are troops trained to use long-range weapons with high-powered telescopic sights. The Marine Corps uses the Schmidt & Bender 3-12 x 50, the Unertl 10-power scope is used on the M82A1A .50 caliber sniper rifle, and the Leupold Mark 4 is used on the Army's M-24 sniper rifle.
What is the Difference Between Hunting Binoculars and Hunting Scopes?
The main practical difference between a spotting scope and a pair of binoculars is that a spotting scope, like a monocular, is meant for use with one eye, whereas binoculars are built for use with two. A pair of binoculars is a more portable viewing instrument than a spotting scope. The size and magnification of hunting scope are much larger than that of binoculars.
How to Mount a Hunting Scope?
The proper fitting of a rifle scope helps ensure that your gun regularly drills tight groupings.
Properly installing a rifle scope might appear to be a difficult task to some. However, you can assure that your rifle regularly shoots tight groups with the correct gear and care. Follow these steps to lock your scope on a rifle.
Get the rifle and scope ready
Connect the scope mounts
Attach the scope rings
Adjust and level the scope
Mounting a rifle scope may be a difficult task. However, it will become easier with the right equipment and some experience. Furthermore, knowing the procedure is another step toward becoming a true rifleman.
Final Words – Best Hunting Scope
You can acquire a high-quality rifle sight for deer hunting without spending a fortune, and we hope this list of rifle scope reviews has given you the confidence to buy your following rifle scope.
Our favorite is Bushnell Banner Dusk & Dawn Multi-X Reticle Riflescopes with 3.3-Inch Eye Relief for long-range shooting as it has all the suitable optics. No matter how much money you have to spend or how long you've been a fan of the sport, there's scope specifically for you. So, now check our recommendations and find one that fits your needs.