The best gear in your inbox
All the tips you'll need to get started in Urban Survival:
We'll only use your email address for our newsletter and respect your privacy
Binoculars are among the most popular optical instruments in practically every hunter's arsenal due to their small size and impressive characteristics. Using a decent set of binoculars, most hunters can identify wildlife trails and rubs and any variations in the landscape. Aside from assisting you in your search for your target, binoculars will also help you ensure that you are shooting at the correct target. What can beat the advantage of using both your eyes when looking through binoculars?
With so many alternatives available, it's easy to become confused. Don't worry; we will assist you. It is also important to understand the difference between spotting scopes and binoculars.
In this post, we will be sharing some of our top favorite choices of the best binoculars for hunting. We will go through each option and discuss the benefits and drawbacks of each product. We will also be providing you with a buyer's guide to know what you should be looking for before buying hunting binoculars.
| | |
| --- | --- |
| Overall Best Binoculars for Hunting | Vortex Optics Diamondback HD Binoculars |
| Best Compact Binoculars for Hunting | Bushnell H2O Roof Prism Binoculars |
| Most Durable Binoculars for Hunting | Upland Optics Perception HD 10x42mm Hunting Binoculars |
| Best 10×42 Binoculars for Hunting | Nikon 7577 MONARCH 5 10×42 Binocular |
| Most versatile Hunting Binoculars | Maven C1 10X42 mm ED Binocular |
| Best Hunting Binoculars for Marine Hunting | Steiner Marine Binoculars |
| Best Hunting Binoculars for Use on All Terrains | Nikon 16003 PROSTAFF 7S 10X42 Inches All-Terrain Binocular |
| Best Hunting Binoculars for Beginners | Athlon Optics Midas Binoculars |
| Most Lightweight Hunting Binoculars | Bushnell Legend Ultra HD Roof Prism Binocular |
| Best HD binoculars for Hunting | Vortex Optics Razor HD Roof Prism Binoculars |
| Best Portable Binoculars for Hunting | Leica Ultravid BR 8×20 |
| Best Budget Binoculars for Hunting | Bushnell 334211 Trophy Binocular |
| Best 8X42 Hunting Binoculars | Vortex Optics Crossfire HD Binoculars |
How to Choose Binoculars for Hunting?
Purchasing the best hunting binoculars may be more arduous than you believe. The market is awash with several varieties of binoculars, each with many capabilities. You can't acquire the correct binocular if you don't know what you're looking for.
If you're still baffled by the many terms and definitions associated with binoculars, you may benefit from some further education before making your final purchase.
We've put up this purchasing guide for the finest binoculars for hunting to help you make an informed purchase. Examine it out!
Magnification & Objective Lens Diameter
Don't be scared by figures related to binoculars, such as magnification power. Most numbers can be explained or deciphered using elementary math.
While larger is usually better in most circumstances, this is not necessarily the case while shopping for decent hunting binoculars. Although some magnification is necessary when preying on targets, having too much magnification may cause picture stability concerns.
Most people should be able to meet their hunting demands with a magnification of 7x to 10x. If you believe you require more, spotting scopes may be an excellent option.
The objective lens's diameter is given in millimeters. The objective size of the binocular is the second number that one notices while looking for a specific pair of hunting binoculars. 8×40, for example, denotes 8x magnification on a 40 mm lens.
The greater the objective lenses, the more detail you will be able to see. Larger lenses have the disadvantage of being heavier and more costly. Your best chance is to use an objective lens with a 40 or 42 mm focal length. Hunters might search for anything larger when hunting at night or in poor light.
Field of View
The acronym FOV is frequently used in binocular specs to refer to the field of view. It is an abbreviation for the field of vision. You will also be able to see the angle of view. The two are complementary to one another.
Field of view is the most significant dimension of a binocular and is typically defined in feet over 1,000 yards. When it comes to the field of view, the higher the number, the greater the region that you'll be able to see via your binoculars.
If you use magnification, there will be a reduction in the field of view and image size. The broader field of vision is advantageous for you if you need to utilize your binoculars in wide-open areas, such as across a valley. Furthermore, you will have an easier time tracking and aiming any moving prey with binoculars with a broad field of vision.
Type of Focus
When shopping for hunting binoculars, you will choose from three different focuses. The first is the individual focus. Each telescope in binocular will be focused independently of the other.
The other focus type is the center focus, which consists of a big focusing ring situated directly in the center of the binoculars' optical system. This feature will cause your binoculars to focus both of their telescopes simultaneously. Alternatively, you may choose a focus-free binocular that will not require adjustment. This one is best for medium-distance runs, but it is not suitable for long or short distances.
Image Quality
If you're going to use your binoculars, you'll want them to be able to produce sharp pictures. Sharpness and clarity of vision are the two most essential factors in determining this characteristic.
You may be strolling under a dense canopy of trees that blocks off the sun or hunting in the early morning or late evening. In addition to the objective's size, other factors like the glass's coating and exit pupil all work together to provide a brilliant image.
Of course, higher-quality binoculars will set you back more money. However, investing in binoculars with high image quality is a fantastic option if you go hunting frequently. This will allow you to minimize the magnification you'll utilize when seeing your target from a distance.
Optical Coatings
One of the most frustrating aspects of hunting with binoculars is the light reflection. Light reflection can make it challenging to track your prey in the field. Fortunately, coated optics provide a solution to this problem.
Coatings are applied to the glass surface to reduce or eliminate light reflection or glare, which may interfere with your hunting experience. Thus, coated optics are superb hunting binoculars for the money.
Size & Weight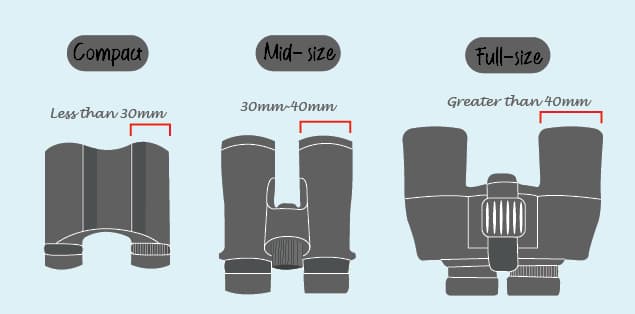 Two pounds or more is the maximum weight for full-size binoculars. Hunters looking to travel light, especially those out for several days at a time, will find this an inconvenience.
Compact binoculars with small lenses and a limited field of vision are the finest for hunting because their small-sized lenses can capture less light, lowering the picture's brightness you are viewing.
As a result, these models are suitable for usage during sunset or dawn. Furthermore, compact hunting binoculars often have a significantly greater minimum focus distance. As a result, you'll be able to receive a magnified view of your target even if you're only 5 or 6 yards away.
The most significant advantage of purchasing these binoculars is their small size. Unlike larger full-size ones, you ay tuck these binoculars into your pocket. They're also lightweight, so you can take them wherever you go hunting.
Waterproof
A waterproof binocular is a must-have if you intend to go hunting in any weather. Even if you don't plan on hunting in the rainy season, it's a good idea to have waterproof binoculars on hand just in case. These binoculars keep water out of the gadget.
Exit Pupil and Relative Brightness Index (RBI)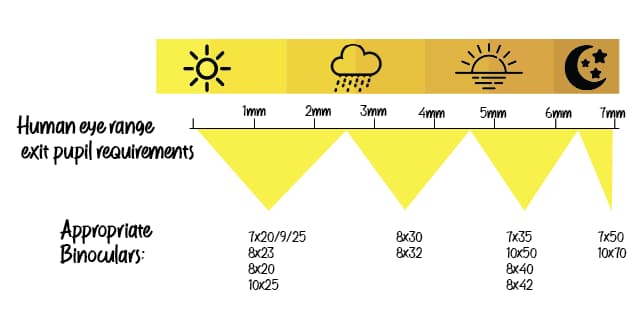 These phrases refer to light passages or transmissions through a prism of glass or lenses in binoculars.
The exit pupil is the quantity of light discharged from the prism to your eye while you focus. By holding the binocs a few inches away from your face, you can see the tiny dot in the middle of each eyepiece. These are the pupils of binoculars. You need to look out for the size of the exit pupil, which must be bigger than our eye's pupil, which is typically 1.5 mm to 8 mm, depending on the quantity of light or darkness entering it.
As you become older, your visual acuity diminishes, and so does your dilation range. So it's good to pay more attention to the exit pupil diameter if you're an experienced hunter.
A short math lesson will make it clear. By dividing the magnification of your binoculars' objective (end lenses), you may figure out how big your exit pupil is. For example, a 7×20 binocular has an exit pupil diameter of 2.85 millimeters, in contrast to the conventional 10×42 binoculars' 4.2 millimeters. As a result, the latter provides very little brightness.
The RBI, or relative brightness index, informs you how much light is available to your eyes through the exit pupils during the day and low light hours.
Interpupillary Distance (IPD)
This abbreviation refers to the distance between the eyepieces, measured in millimeters. It varies from person to person how far apart their eyes are. This is why you can pull out the barrels of most binoculars and adjust them to a distance of 66to 80 mm between your pair of eyes. Correct IPD appears to be critical in enhancing the hunter's chances of success.
Collimation
This phrase appears from time to time, and it relates to the capacity of binoculars to maintain the natural, parallel sequence of light rays in the field of view. When they don't, chromatic aberration will describe the pair of binocs that caused the problem. This problem occurs when colors appear to flash abnormally inside your field of vision.
Eye Cups & Eye Relief
Eyecups serve two functions: 1) to prevent peripheral light and dust or moisture molecules from entering the space between your pupil and the exit pupil of the binoculars; and 2) to provide the correct distance (or eye relief) your eyes require for their natural focus to prevail through the eyepieces.
The amount of space an eyecup leaves between the glass and the human pupil is essential for someone who wears glasses to see. There must be adequate room for the hunter's eyeglass lenses to avoid colliding with the binocs' eyepiece lens. There are three styles of eyecups; fold style, twist style, and horn, wrap-around or winged style.
The last one is useless for you if you wear specs as you need a specified distance between the eyepiece glass and your viewing glasses. The eye relief should be 14 to 15 millimeters if you wear glasses or sunglasses.
Roof Prisms & Porro Prisms
In a broad sense, these phrases refer to the form of the binocular body. The roof prism comprises two straight or occasionally flared barrels separated by a hood or bridge (often two bridges).
In the binocular market, the roof prism is the most popular. The glass inside the barrels is perfectly aligned. This straightness is critical for keeping a binocular's proportions small enough to fit in a pocket or bag while still being easy to control with one hand.
Porro prisms comprise lenses and glasses offset from one another (the barrel). You'll see that their forms aren't straight but somewhat different and artsy.
In most circumstances, the Porro prism binoculars provide a higher depth of field and broader FOV than roof prism binos while being a little clunkier and heavier than roof prism binos.
Accessories
As a standard, most binoculars for hunting come with a few add-ons. These binoculars are a better option than nothing if you're on a tight budget! Accessories like straps, cases, and lens cleaning cloths are ubiquitous and beneficial. Depending on the weight of the binoculars, the option to wear them around your neck or at least over one shoulder may be helpful. Cases and lens cloths, of course, offer some degree of protection in the event of a mishap.
Remember that binoculars aren't all that different from a pair of eyeglasses in terms of functionality. They both give sharper vision, higher clarity, and a more extended range of vision than your normal eyesight. Furthermore, they both need a period of break-in time for your eyes to get correctly adjusted to their settings.
Now, let's look at our top choices for hunting binoculars.
TOP 13 Hunting Binoculars
Here are 13 of our top picks for the best binoculars for hunting currently on the market.
1. Vortex Optics Diamondback HD Binoculars
Overall Best Binoculars for Hunting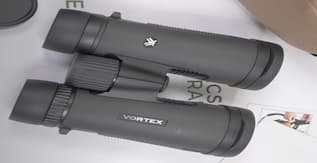 Excellent clarity and brightness
Fantastic close-up range and field of vision
Completely weatherproof
Simple to use
The armor rubber covering provides a good grip
Inexpensive binoculars
Come with a GlassPak harness case
Some users have complained about the rigidness of the middle hinge
For an 8×42, it's a little hefty
The Vortex Diamondbacks are elegant, with a short hinge design and a robust aluminum body with rubber protection and thumb indents that allow for more area for your hands, resulting in a more manageable, secure, and non-slip grip.
The Vortex Diamondback 8×42 boasts dielectric lens coatings that transfer more light and offer clearer and brighter pictures, making them the best deer hunting binoculars. These binoculars have an excellent close focus range of only 5 feet, as you can even spot the worm that accidentally lands on your shoes. Moreover, this range is shorter range than most of the competition.
Eye relief, which is always of particular relevance to individuals who use glasses, is a strength of the Diamondback, which boasts good eye relief at 17 mm, which is big enough to suit those who wear spectacles. Being comfortable with them is critical, primarily if you use them regularly.
The eyecups twist out and include three firm stops that fit the majority of users. The diopter knob on the right ocular adjusts readily but is strong enough that it would be pretty tricky to toggle it over unintentionally. This feature enables you to alter it to compensate for changes in your eyes' focus lengths.
In conclusion, we find that Vortex Diamondback HD has more pros than cons, plus they come with Lifetime VIP Warranty, so what more could we ask for?
2. Bushnell H2O Roof Prism Binoculars
Best Compact Binoculars for Hunting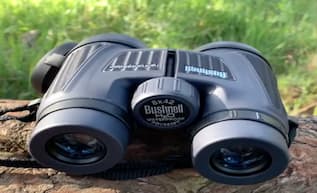 Very lightweight
Completely waterproof and fog-proof
Adjustable long eye relief
Comes with a strap and a carrying case
Very affordable price range
Sharp, bright, and clear images
The huge focus knob has several grippy regions on the sides and the top, making it easy to use
Entry-level binocular
Cannot compare image quality to high-quality binoculars
The H20 can survive demanding hunting conditions perfectly due to its non-slip rubber casing. This feature makes it cushion the stress of bumping against items while hunting. It also includes a sizeable textured surface area to ensure that you have a firm grasp on the binoculars even when they are wet.
It's also O-ring sealed and nitrogen-purged, making it entirely waterproof and fog-proof, which is essential for hunters because they confront various unfavorable weather situations.
The central focus knob is big and easy to adjust, and the twist-up eyecups provide up to 17mm of eye relief, making them ideal for individuals who wear glasses or sunglasses when hunting.
The prisms of the H20 use Premium BaK-4 material, which results in pictures with remarkable brightness, sharpness, and clarity. They are then multi-coated, allowing you to enjoy the incredible light transmission that results in brighter images.
The 10x magnification and 42mm objective lens lets plenty of light keep things bright even when you're looking at your target from a distance. Yet these binoculars are not bulky enough to hinder when you are out hunting.
In conclusion, we find that you must consider the Bushnell H2O for a rugged, no-fuss set of binoculars for an affordable price if you want to buy an entry-level binocular.
3. Upland Optics Perception HD 10x42mm Hunting Binoculars
Most Durable Binoculars for Hunting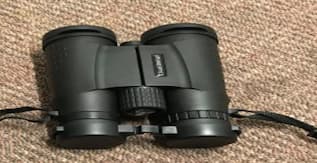 Excellent visualization
Robust construction
Preserves your settings
Excellent value for money
17.2mm eye relief is sufficient for persons with impaired vision
Fully multi-coated lenses and phase-corrected BaK-prisms
Outstanding low-light capabilities
It includes a carrying bag, lens covers, and a neckstrap
Lens coverings that flip down are inconvenient
A little bit hefty
Focus wheel has some free play
Upland Optics Perception HD has phase-coated BaK-4 prisms to reduce chromatic aberration, often known as color fringing. The lenses are coated with numerous coatings to allow more light to penetrate, resulting in crisp and clear images.
It is a robust, small, and light roof prism binocular. The body is built of magnalium, an aluminum alloy with trace amounts of magnesium, and is small and lightweight, making them easy to transport. We were blown away by the size of the field of view (FOV). If you appreciate binoculars with a large field of view, the Perception HD 10X42 will not disappoint, as it boasts a FOV of 339 feet at 1000 yards.
The Perception HD 10×42 includes a large center focus wheel that you may conveniently access. It also features rubber armoring for a secure hold. Using it while wearing gloves isn't an issue at all. Instead, it has adjustable eyecups for a pleasant viewing experience. The eyepiece and cup housings are composed of metal rather than plastic.
The Uplands Perception HD features a tiny ocular lens with a diameter of roughly 21mm. It does feature a 42mm objective lens, which is relatively common for hunting binoculars. And 10x magnification, which is the ideal power for hunting binoculars.
In conclusion, we find that Perception HD is designed for hunters. Its design and construction can survive the wear and tear of a day spent outside in harsh conditions.
4. Nikon 7577 MONARCH 5 10×42 Binocular
Best 10×42 Binoculars for Hunting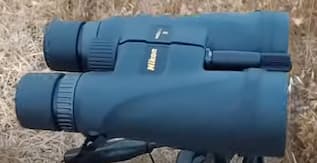 Glass of superior quality
Fully multi-coated optics
Adaptable to tripods
Completely weatherproof
High optical performance
Advanced low light brilliance
Body design that is easy to grip
The ED glass, Eco-Glass, and Dielectric High-Reflective Multilayer Prism Coatings of this Nikon Monarch 5 10X42 have earned it a spot on our list. Its rubber-armored shell, high point design, and all-weatherproof capabilities make it a binocular worth obsessing over.
It features a multi-layer coating and enhanced light transmission lenses and prisms that give a crisp natural vision of the visible light spectrum without losing light owing to reflection. Dielectric high reflecting lenses and prisms have the extra potential of providing the same brightness and naked eye perceiving capabilities for providing high-resolution pictures and highly accurate color replication.
The Nikon Monarch 5 10×42 features a smooth yet easy, center focus knob that you know gets your subject closer and more transparent than expected. Even in the harshest and wettest situations, Nikon 7577 is a hit as it has double solid rubber armor for safety and non-slip performance.
The binocular is also Nitrogen purged and O-ring sealed, making it entirely waterproof and fog proof.
In conclusion, we loved Nikon 7577; it's sleek and clean and produces the promised results: clear, crisp, and bright images. Nikon's Monarch 5 is an excellent choice if you insist on nothing less than the best.
5. Maven C1 10X42 mm ED Binocular
Most versatile Hunting Binoculars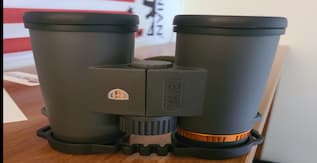 Simple to deal with in adverse working situations
Excellent all-purpose binoculars for hunting, birdwatching, and other activities
Due to Maven's direct-to-consumer business strategy, you receive greater quality for your money
The lenses include ED technology for enhanced color reproduction and picture clarity
Resistant against dust and scratches
Waterproof and fog-resistant
In other circumstances, the polymer structure may be less durable
Lacks a locking diopter, making the setup more complex
Maven C1 has a matte grey armor that lends it a tactical appearance, yet the metallic orange highlights distinguish it from a typical binocular. The rubber coating is very finely textured and rests atop a polymer chassis, yet it still gives superb grip, especially with the thumb indents.
The Maven C1 10×42 binoculars are in a class of their own owing to their multi-coated ED lenses with low dispersion rates. The general design and sealing characteristics protect the lenses from scratches and dust particle collection, a perfect feature for hunting in challenging terrain.
These binoculars will perform admirably in weather and challenging working situations. The design qualities of the C1 binoculars correspond to its price range, with the quality of higher mid-range competitors.
The C1's modest weight is due to its polymer frame. Since the C1 binoculars are small and light, they'll be a welcome addition to your hunting gear. However, if you're looking for long-lasting binos', these may not be the best option.
The Schmidt-Pechan roof prism produces pictures with excellent clarity and contrast. Maven C1 10X42 magnifiers perform admirably, with only minor edge distortion. Plus, you get a neck strap and a double-layered storage bag.
In conclusion, these binoculars may prove to be a great alternative to the several mid-range binoculars now available on the market if you are in the mood to buy one.
6. Steiner Marine Binoculars
Best Hunting Binoculars for Marine Hunting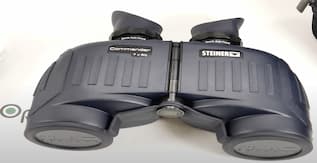 Excellent clarity of eyesight and field of view
Optics that are bright and anti-glare
Superior body structure
Ideal for use in a variety of weather situations, including rain and fog
Fully submersible to a depth of ten meters
Due to their robust build, they are highly durable
With a rubberized grip
Performs admirably in low-light situations
Adaptable to many climates
They are simple to operate, even for unskilled users
Excellent autofocus
A lifelong warranty
Not prohibitively pricey for good mid-range marine binoculars
Feel heavy
There is no built-in compass on this model
Quite large
The strap that comes with it is relatively tiny
The instructions are not apparent in the manual
The chassis of Steiner Marine is climate-resistant, keeping the binoculars at a consistent temperature in cold or damp conditions and preventing it from swelling and shrinking. In addition, the chassis protects against collision and corrosion.
The glass is entirely watertight because of its water-resistant surface and sealant. The Steiner proprietary nano-protection layer makes this feasible. The 50mm lens provides a wide-angle of vision. The binoculars' eyecups are adjusted to fit tiny and big spectacles. Their design allows no space between your skin and the eyecups. As a result, they are pretty pleasant to use.
Given the camera's hefty price tag, the image quality should be extraordinary. The 7×50 binoculars do not disappoint; it has high-precision lenses that provide images with a precise, defined shape.
The magnification provided by these binoculars through the 50mm objective lens is seven times that of a standard pair of binoculars, thus the name Steiner Marine 7X50. Therefore, you get accurate picture tracking and a wide range of views. And the cherry on the cake is that they provide a 356-foot field of view at a distance of 1000 yards.
In conclusion, these binoculars are a must-have if you are a daring spirit who wants to venture out onto the ocean.
7. Nikon 16003 PROSTAFF 7S 10X42 Inches All-Terrain Binocular
Best Hunting Binoculars for Use on All Terrains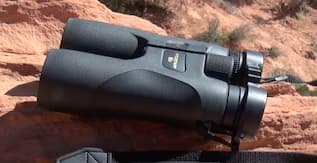 Easy to operate
Delivers sharp and clear images
Considerable magnifying power
Simple to adapt to the face
Neck strap is comfortable
Lens caps are not attached to the binos'
White dots appear in sunlight
Bulky
Not suitable for nighttime hunting
Nikon Prostaff 7S is one of the most user-friendly sets of binoculars we tested, featuring an easy-to-adjust focus knob, diopter, and the ability to adapt to various faces. Nikon has given it a trendy appearance to increase its classiness. The Prostaff 7S has a solid build quality reflected in its entirely rubber-armored design and is quite comfortable to handle.
The waterproof construction loaded with nitrogen gas allows you to use it in any outdoor environment. Prostaff 7S's mirror-coated prisms provide dazzling visuals. You will observe chromatic aberration at high magnification, especially when seeing darker items against a brighter background. However, the overall clarity is rather pleasant.
Its focus knob is straightforward to operate (even with your gloves). The most noteworthy aspect of this knob is its ergonomic clickable adjustment, which is placed directly in the center of both eyecups. You can change the magnification with your fingertips by turning the center knob on the binoculars.
You may alter the eye relief based on whether you're wearing glasses or not. The adjusting process is alright. However, the eyecups are extremely fragile. You can wind up losing them all since they fall off so quickly. With 10x zoom, you may not have many fields of view to work with, but a 42mm objective lens does wonders to capture crisper images and allow you to enjoy the outdoors by looking around closer. The Prostaff 7S 10X42 binoculars are excellent; however, you should use a tripod if you have shaky hands.
In conclusion, if you plan on hunting throughout the day, Nikon binoculars are an excellent choice because of the high quality of the images, sturdy construction, and attractive style.
8. Athlon Optics Midas Binoculars
Best Hunting Binoculars for Beginners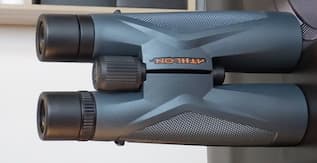 Very lightweight and has a durable construction
ED glass is of the best quality available
Sharp images with excellent viewing quality
Very compact
Very affordable price for the features provided
Supported by a rubber armor
Spectacular and unmatched optics
Relatively smaller sized lens
Less image coverage
Lens covers are clumsy in use
Close range focus radar is only 3 meters
Doesn't come with a side strap
Stiff focus knob
The Athlon Midas roof-prism pair of binoculars is the ideal optical device for travelers to acquire. These binoculars have a significant selling feature in this regard. The Midas is not only waterproof, but it is also shockproof. It is additionally protected from shocks by rubber armor.
The ED glass is of the best quality available. It produces a non-blurry image, providing you with crisp and sharp visuals. Its ESP, or enhanced spectrum dielectric coating, is a multi-layer prism coating covering about 99 percent of the image size, bringing in all the light to give you a clear, crisp image.
What we found impressive was its magnesium chassis which distinguishes the Midas from the competition, making the binocular incredibly light and sturdy at the same time, lowering weight by up to 35%. It also features a close focus option, which is helpful for nature enthusiasts and especially useful if you wish to view and catch butterflies or insects.
Midas has a long eye relief making you see the largest field of view possible. You will also appreciate that the outside lens includes an XPL coating that prevents oil, dirt, and dust from collecting. In addition, the Midas 8×42 G2 binoculars have a huge FOV of 426 ft, and not all high-quality binoculars have a tight focus of roughly 6.5 ft.
In conclusion, if you want a high-quality set of binoculars that you can use for a range of outdoor activities, such as bird viewing and stadium concerts, Midas are the ones you must go for.
9. Bushnell Legend Ultra HD Roof Prism Binocular
Most Lightweight Hunting Binoculars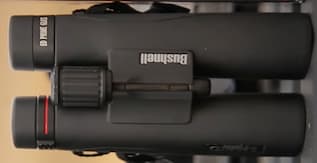 Weighing only 24.7 ounces, this binocular is extremely lightweight and simple to carry on all-day hunts
Image quality is exceptional, and you may utilize it in low-light circumstances
Build is exceedingly tough
Completely waterproof and fog-proof
Has an established track record with hunters
Pricing is competitive for binoculars of this caliber
Strap, carrying bag, and cleaning cloth are all included
It is a vintage model
Only available in a 10×42 configuration
Bushnell Ultra HD has 10x magnification which is ideal for glassing from a distance, yet it's not so high that stability will be an issue. The 42mm objective lens size allows in a lot of light and contributes to a crisp and bright view via the binoculars, making them an excellent choice for low-light circumstances.
Bushnell touts the usage of Prime ED Glass, which refers to the extra-low dispersion fluorite glass used in the lenses. This glass provides exceptional contrast and color resolution. It prevents issues like color fringing and chromatic aberration, allowing you to see crisp, precise details.
The lenses of the Bushnell Legend Ultra HD Binoculars are entirely multi-coated. The RainGuard HD coating provides continuous water repellent protection for usage in rain, snow, and cold weather.
The glass will not fog up even if the lens becomes wet or if you breathe on it. Lenses also contain an anti-reflection coating that increases the quantity of light that passes through the tubes, ensuring authentic colors and maximum brightness. Additionally, Bushnell Legend Ultra HD Binoculars come with a lifetime warranty with no questions asked.
In conclusion, if you're seeking one of the greatest hunting binoculars on the market today, go no further than the Bushnell Legend Ultra HD Binoculars. They provide a high-quality image in a durable yet user-friendly device, and the price is more than affordable.
10. Vortex Optics Razor HD Roof Prism Binoculars
Best HD binoculars for Hunting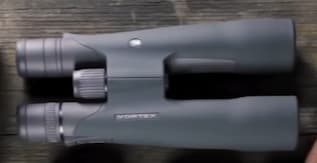 Shapely, sturdy, and fashionable magnesium composite chassis
A large field of view
Astigmatism sensational correction
Minimal chromatic aberration
Glass of exceptional quality
Superior coating quality
Adaptable to tripods
Completely weatherproof
Design with an open hinge
Expensive
Short exit pupils
We cannot stop ourselves from raving about its beautiful design. The binoculars are not only beautiful to look at, but they are also ergonomic, meaning they are pretty pleasant to hold and gaze through, and they have fantastic well-balanced proportions. It has many features, including the APO system, Plasma Tech, and XRPlus Fully Multi-Coated lenses.
It also has a lightweight magnesium frame with a locking diopter, multi-setting adjustable twist-up eyecups, and a simple open hinge design. That was a lot to take in, right! This Razor's optical system is unrivaled in picture sharpness and color integrity.
You can only obtain this formula for unrivaled quality with a high-end optic from a high-end brand, with phase correction coatings, HD elements, ED glass, and XRPlus completely multi-coated lenses. The special coatings on lenses provide them with excellent hardness, durability, and optical superiority.
The hinge and bridge combination is positioned closer to the back (the eyepiece end) of the binocular, allowing for a more stable hold on the entire binocular. The ergonomic shape allows you to wrap your fingers completely around the barrel for a more secure grip.
In conclusion, the Vortex Razor HD 10×42 is fantastic equipment. However, they are far superior to other binoculars with the exact specifications. The price is steep, but what would you expect from a binocular with everything?
11. Leica Ultravid BR 8×20
Best Portable Binoculars for Hunting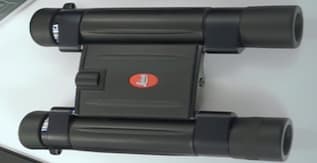 Outstanding price-performance ratio
Superior raw materials
Outstanding optics capable of performing in any condition
Water- and fog-resistant
Extremely close to focus
Ergonomic design
The Leica Ultravid 820 BR binoculars are completely waterproof and shockproof. As a result, it is scratch and dent resistant. The focal distance is 2.2 meters. For most purposes, a field of vision of 110 meters at 1000 meters is enough.
Overall magnification is available up to eight times, and the images are crisp to the edges. It weighs only 235 grams. These binoculars' chassis are magnesium, which explains their lightweight. The Aqua Dura coating is a fantastic feature worth giving attention to.
It includes a hydrophobic coating that repels water and grime, making it perfect for outdoor usage, and the binocular is relatively simple to clean. Furthermore, the coating protects the lenses from outside harm. So, if you want to take your binoculars and jump into a pool, you may! This binocular is waterproof up to 5 meters. The Leica binoculars are exceptional low-light binoculars as they deliver great images in low-light situations like twilight and dawn.
The rubber armor provides you a great feel while also providing a solid grip so that the binocular does not fall out of your hands. However, this model is also appropriate for those who wear glasses because of the long eye relief, diopter adjustment, and adjustable eyecups.
In conclusion, Leica's tiny, sleek, and lightweight design makes it an ideal option if you want to buy the best compact hunting binoculars that you can carry in your pocket. It does not require a harness or a carrying strap.
12. Bushnell 334211 Trophy Binocular
Best Budget Binoculars for Hunting
Waterproof and scratch-resistant
Thumb grips with a soft-touch ergonomic feel
High-contrast images
IPX7-Rated Water-Resistant and Fog-Resistant
Easy to use
Rubber armored casing with a non-glare finish
Fully Multi-Coated (FMC) optics
Slightly heavier in weight
After prolonged usage, some users developed strain
Bushnell 334211 Trophy Binocular has Fully Multi-Coated (FMC) Optics and features numerous layers of anti-reflective coating. These fantastic binoculars include an all-air-to-glass design that produces brilliant, high-contrast views.
Another intriguing feature of these binoculars is the non-glare rubber protective casing. It also boasts a Dura-Grip material, making it waterproof and scratch-resistant. These hunting binoculars have an excellent build quality. They can withstand a variety of environmental factors in the wild.
This set of binoculars has superior BAK-4 prisms of the highest quality. And has a lead-free glass, which provides clear images throughout your hunting and other excursions. Bushnell 334211 has soft-touch ergonomic thumb grips for comfortable operation and handling.
These features are handy, especially while you're out in the field. Hinge quick-flip lens coverings keep dirt, dust, and debris away from objectives when not in use. It also has O-ring sealed technology to keep moisture out and is Nitrogen purged, ensuring that all interior humidity disappears.
In conclusion, we strongly suggest Bushnell's Trophy binoculars if you want the best cheap hunting binoculars that deliver excellent results.
13. Vortex Optics Crossfire HD Binoculars
Best 8X42 Hunting Binoculars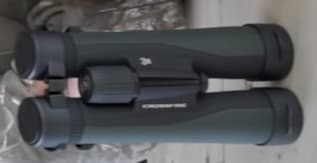 Completely waterproof and fog-proof
Lightweight, non-slip, and durable construction
Vivid and razor-sharp images
Tethered lens covers
Comes with a GlassPak binocular strap, which secures the binoculars to your chest
Somewhat heavier than higher-priced binoculars
The Vortex Crossfire HD Binoculars include a rubber armor casing that provides a firm, non-slip grip and long-lasting external protection. They are Nitrogen purged and o ring sealed for 100 percent waterproof and fog-proof performance in the field on wet days.
The HD Optical System of the Vortex Crossfire HD Binoculars produces clear, razor-sharp pictures. They have been tuned using specific glass elements to give excellent resolution, reduce chromatic aberration, and provide superb color accuracy, edge-to-edge sharpness, and light transmission.
With various anti-reflective coatings applied to all air-to-glass surfaces, you will notice an improvement in light transmission. The Vortex VIP Warranty is maybe the most impressive quality feature.
They include a smooth, central focus wheel for quick and easy focusing. Combine it with the Vortex Crossfire HD Binoculars' HD Optical System and Fully Multi-Coated Glass for outstanding low-light performance. You can understand why we picked the Vortex Crossfire HD Bin to be on our list of best-hunting binoculars.
In conclusion, if you're looking for high-quality hunting binoculars, the Vortex Crossfire HD is a good option.
Frequently Asked Questions About Hunting Binoculars
How to Adjust Binoculars?
First, you need to acclimatize yourself to the anatomy of binoculars. Most high-quality binoculars contain a diopter ring around the left or right ocular (the piece you see through) to adjust particularly for your eyes. To identify the diopter, you need to look for a ring or portion of the ocular with a plus and minus on each side of a 0 or an arrow.
Now when you have identified the diopter, the rest is easy. Unless you relocate the diopter or someone borrows your binocular and alters the settings, you should only need to do this once.
Locate an object roughly 30 feet (10 m) distant from you without using your binoculars.
Place your binoculars in front of your eyes. Close the diopter-equipped eye, generally the right, and use the flywheel to bring the item into focus for the left eye.
With both eyes open, place your right hand on the diopter. Close your left eye and adjust the diopter left or right to bring the object into focus.
You should have a clear direction and calibration for your eyes if you open both eyes.
What Do the Numbers on Binoculars Mean?
The model numbers on binoculars essentially tell you how strong (magnification power) and how large they are (in terms of size) (objective lens diameter). The first value, commonly called magnification, represents the power, or how many times the observed pictures look enlarged. A 12X50 mm binocular will bring the items (or subjects) 12 times closer, while a 10X42 mm binocular will magnify them 10 times.
The second number indicates the diameter of the objective lens following the x, which is represented in millimeters. A 12x50mm binocular has an objective lens with a diameter of 50mm, whereas a 10x42mm binocular has a lens with a diameter of 42mm.
Which is Better, 12×50 or 10X42 Binoculars?
It will depend on your need and requirements. For example, a 12×50 device will bring pictures 12 times closer than when viewed with the naked eye, while a 10×42 gadget would make them 10 times closer. It's fair to presume that a more significant number will yield better results. However, this is not always the case. The diameter of a 12×50 binocular is 50mm (millimeters), but a 10×42 binocular is just 42mm. The larger the lens, the more light the instruments will let in.
You need greater magnification if you are stationary and seeing tiny elements from a long distance. However, if you expect to use your binoculars while moving about and need to focus quickly, choose a gadget with a lesser magnification power. A larger lens also makes the binoculars bulky and not easily portable.
Which is Better, 10X42 or 10X50 Binoculars?
The 10X50 features larger objective lenses and performs somewhat better in brightness and focus towards the corners. The 10X42 may have a superior central focus. Advantage: 10X50 – albeit this advantage is only noticeable in low-light settings, such as early morning or early evening.
How to Clean Binoculars?
Follow these easy measures to keep your binoculars safe while you clean them.
Remove any loose dirt
Gently wet the lens with a cotton swab dipped in a lens-safe solution and clean in a circular motion
Using a soft, microfiber lens towel to dry the lenses
Cleanse the body as well
Store them in their case
What is the Difference Between Hunting Binoculars vs. Hunting Scope?
Hunting scopes are lovely if you want an optic device that is convenient to travel and has an excellent magnification capability. Binoculars don't have the same overall magnification as more powerful spotters, but they're still a perfect option for spotting wildlife.
Hunting scopes should almost always be used with a tripod on a steady platform to achieve the greatest visual results. At the same time, binoculars are ideal for monitoring a moving visual element since they do not require a tripod or a solid platform to provide high-quality views.
Final Words
Now that you have been through all of our favorite options consider what you need before purchasing a pair. If you want us to select the best hunting binocular, we would like to recommend Vortex Optics Diamondback HD Binoculars as the one you must go for.
Before shopping, ensure that you do your research and weigh all the features, shapes, and sizes of various binoculars. We hope you found our guide to purchasing quality hunting binoculars helpful.