The best gear in your inbox
All the tips you'll need to get started in Urban Survival:
We'll only use your email address for our newsletter and respect your privacy
Keychain multi-tools are great to carry around with you and there are a few that come with a lot of features nowadays.
I bet you didn't even realize you could have this amount of tools in such a small multi-tool keychain package.
My go-to tool is this Maarten Coin-Shaped multi-tool because it's the smallest I've seen to date with 14 tools which I use almost every day!
Of course, there are some other ones you can check out, even some with awesome concealment, so let's take a look at all of the options:
Best multi-tool keychains reviewed
Best small keychain multitool: Maarten Coin-Shaped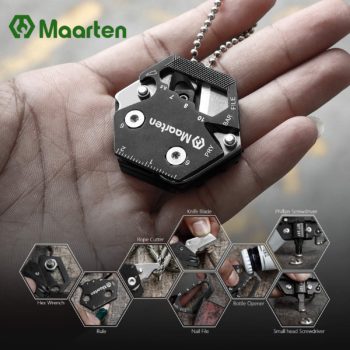 The Maarten Multi-Tool Keychain is a circular gizmo shaped like a large coin that can be carried in a kit or attached to your keys.
Coated black on fine stainless steel, this compact tool has many uses including a box cutter blade and a driver for the half dozen bits that fits into itself.
A minimalist's ideal urban survival EDC item for those that want utility capabilities without needing carrying the extra gear.
14 in 1 Multi-Tool Function
Equipped With 6 Piece Bit System
Chrome-Vanadium Steel Construction
Dimensions: 1.67″ x 1.67″ x 0.37″
TSA Carry-On Flights Accepted
Check prices and availability here
Best durability: A-Tech EDC Carabiner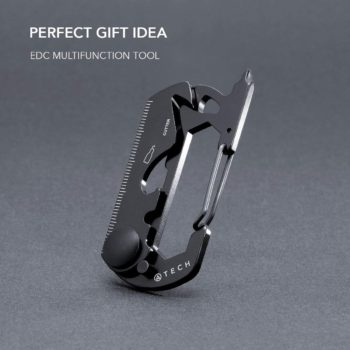 This carabiner from A-Tech, a top brand in the multi-tool industry, doesn't only clip to your keychain but to your bag, pouch, and everywhere you have a loop to clip it onto.
The carabiner design is a unique features that lets you use it anywhere you want.
It's got a
box cutter
Philips head screwdriver
flathead screwdriver
keychain
hex wrench
wire cutter
ruler
bottle opener
bicycle tools
It's one of the most durable designs I've seen, made from quality stainless steel that can withstand long-term use.
Check prices and availability here
Best key-shaped multi-tool: Geekey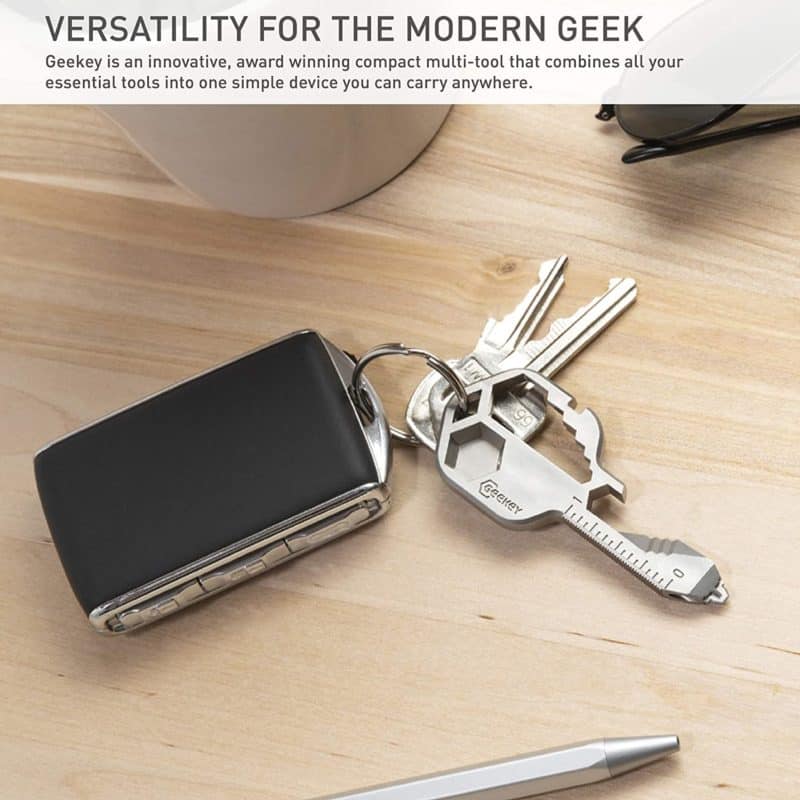 Ok, this one's a bit more of a novelty item than a life-saving device, but it does come with some handy features like the bottle opener, screwdriver tips, and even a lanyard hole.
It's not my first choice as a survival enthusiast, but it fits snuggly with all of your other keys and it does the job it's supposed to do quite well.
They even call their tool the keychain tool for the modern geek…
Best concealed pocket chain folding knife: Hocao Yigo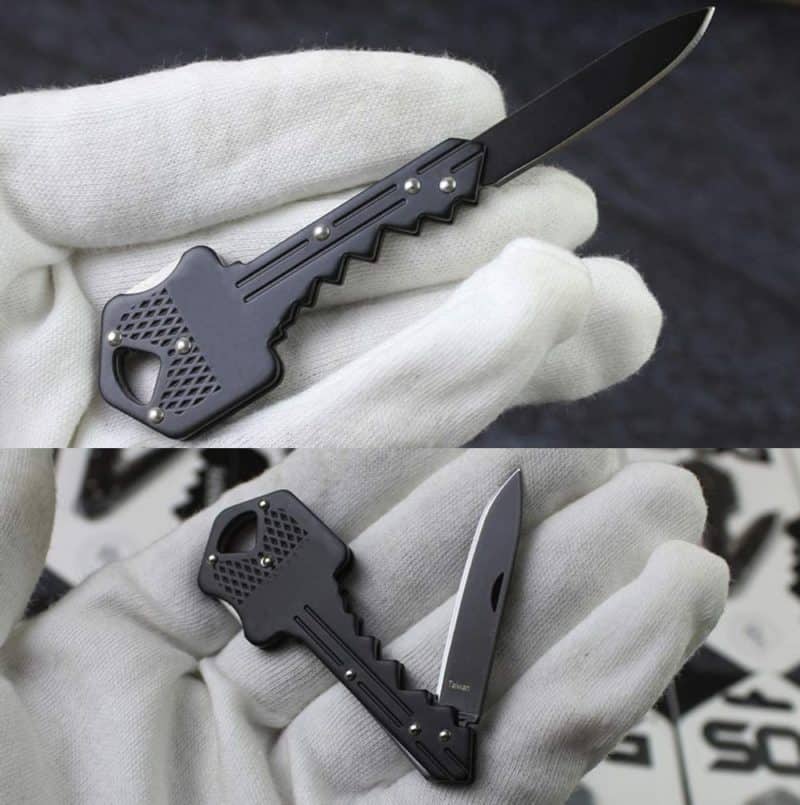 If concealment is your main priority here, I suggest you take a look at this key-shaped pocket knife by Hocao Yigo.
It's a pretty sharp knife for an aluminum alloy as the company calls it, and you can use it to sharpen sticks, open letters, and even self-defense if you're in a predicament.
It isn't a multi-tool per say, because it really is just a pocket knife. But it's one of the best concealed weapons you can have.
Conclusion
The field of keychain multi-tools has come a long way since I started urbansurvivalkit.com, and there have never before been so many cool gadgets to choose from.
I hope this article helped you finding a great tool you can carry with you anywhere.