The best gear in your inbox
All the tips you'll need to get started in Urban Survival:
We'll only use your email address for our newsletter and respect your privacy
Backpacks allow us to carry everything we need to get through the day, from our daily commutes to the great outdoors. When you got out of bed this morning, your first thought was probably, "Just buy a backpack." However, once you arrive at the store, you are awed by the variety of options.
These backpacks aren't just available in various colors and brands, but there appears to be a difference in size. However, how can you determine which size will most suit your upcoming journey?
A single backpack can save you money because you can use it to carry all of your belongings while traveling. The problem is that it will either be too big or too small. Size does matter, after all. This post will tell you everything from the different sizes of backpacks, how to measure the size, and which size will be suitable for different kinds of trips and purposes. So keep on reading to get answers to all of your queries.
5 Backpack Sizes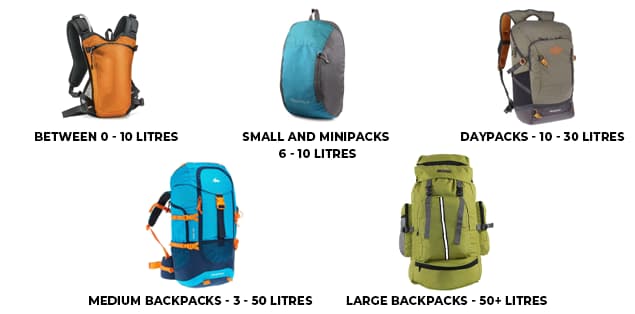 The backpack's size is always expressed in volume and thus in liters. Therefore, we can classify backpacks into four distinct groups based on their capacity, and we have listed them below.
Between 0 and 10 liters
Most hydration packs, trail running packs, and hip packs fall into this volume range. It is the epitome of simplicity when carrying only the most necessities like a hydration reservoir and lightweight rain cover.
Small and Mini Backpacks (6-10 liters)
They come in 6, 8, and 10-liter capacities. They are great for both day trips and long walks because of their adaptability. Packing a lunch, a drink, and a pair of lightweight raincoats is simple with an 8- or 10-liter backpack.
Daypacks (10-30 liters)
One-day packs, which range from 10 to 30 liters, are ideal for short outings. Weekend trips can be made more enjoyable with a 30-liter backpack, which is capable of storing extra clothing, water, food, and other necessities. We recommend this backpack to anyone in the market for a lightweight backpack with enough storage space. These backpacks are often used for everyday car as well! Here is our guide to some of the best everyday backpacks for you to choose from!
Medium Backpacks (35-50 liters)
Medium-sized backpacks carry more weight, and you can wear them for longer than daypacks. You'll get more than just a daypack's features; these backpacks have plenty of pockets, padding, and attachment points.
Large Backpacks (50 plus liters)
Whether going on a long hike or traveling the world, you'll need a large backpack. A lot of gear will fit in these backpacks, which are made to accommodate a lot of equipment and have a lot of pockets for storage. In addition, 70 and 80-liter backpacks are also available if you intend to go for more than one week.
How to Measure a Backpack Size?
There are two fundamental methods for estimating the measurements of a backpack. Measure its volume first, and then look at its actual size. Both measurements can provide helpful information about the bag and its intended use. We will elaborate on both ways to measure the dimensions of a backpack here.
Exterior Dimensions
Measuring the bag's exterior dimensions is a simple way to understand its actual size and weight. You only need a tape measure or a ruler to get started. Determine the bag's length, width, and height with the help of your preferred measuring device.
If you want to go the extra mile, you can also use this method to gauge the volume of the bag's interior pockets. Knowing what will fit in your backpack and what won't is a critical step in planning your trip.
Measurement of Volume
Calculating the volume of a backpack is another way to gauge its size. For example, measurements such as 6L or 35L when referring to a backpack's volume refer to the bag's capacity.
When calculating the backpack's volume, manufacturers typically add up all of the usable space in each compartment. It's easiest to approximate a bag's volume by multiplying its length, width, and height, as described in the preceding section on measuring dimensions. This method yields a reasonable estimate of the volume of a bag. The final volume is calculated by first converting the cubic inches to liters.
An additional complication is the inclusion of bottle or camera-holding side pouches by some other manufacturers in their measurement processes.
How to Measure Backpack Capacity?
Our experts feel that calculating volume by multiplying length, width, and height is, in fact, incorrect as the majority of backpacks are not rectangular like a box.
We will give you a straightforward way to calculate the capacity of your backpack, which is the main element you should be concerned about.
You'll require a large number of small balls or beans. You can use plastic balls with a diameter of 10 millimeters, Ping Pong Balls, or dried beans.
Add as many balls/beans as you can until your backpack is full. Some people would only use the main compartment, while others would also use the outside pockets. According to our experts, you should include the exterior pockets as they also make towards the overall capacity.
If you want to know exactly how much space your backpack has, count how many balls or beans you've put inside. In other words, if your backpack can hold 40 cups of ball or beans and your measuring cup is 1 liter, the backpack's capacity is 40 liters. Pretty straightforward!
How to Measure Laptop Size for Backpack?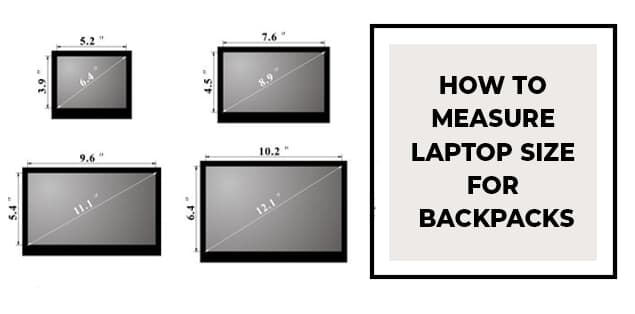 Choosing a laptop bag or sleeve can be a bit of a challenge. When it comes to your device, you don't want to deal with the hassle of getting the wrong size or finding that it is too tight.
Let us help you out. A ruler or tape measure is all you need for this.
Measure Diagonally
Using a measuring tape, begin measuring diagonally from the laptop's bottom-left to its top right corner to ascertain its actual dimensions. This measurement does not include a bezel, which can add inches to the total dimensions. According to TechTarget, a bezel is an enclosure around the screen.
Measure Height
To get the best results, shut down your computer first. Then, using a measuring tape, determine the distance between the lid's top and bottom edges, keeping them parallel to the laptop's shortest sides. To ensure that your laptop does not protrude from a bag or sleeve, multiply this measurement by a few centimeters or inches.
Measure Width
Right-to-left, measure the laptop's perimeter with a tape measure which should be parallel with the longest sides. If your sleeve is too wide, it won't protect your laptop if it slides around in its case.
Measure Depth
The end of your measuring tape should be resting on a flat surface. Take a measurement vertically up from the table's surface to determine how deep your laptop is.
Now you can go and search for a laptop backpack that meets the specifications of your laptop and gives it a snug fit.
How to Choose a Backpacking Pack Size for Traveling?
The subject of backpack size for traveling baffles everyone. Everyone is curious about the ideal pack size, but we must admit that there is no "best" backpack size. So when it comes to the size of your backpack, it must be proportional to your physique.
When the weight of a backpack is excessively heavy or too light, it might cause back pain or even lead you to fall. You don't want a backpack that bulges out of your back and looks overstuffed with your belongings.
Ideally, your bag should only be slightly larger than the items you intend to carry. You've found the correct backpack size if it offers enough capacity for all your belongings and is comfy to wear. We've found that the most straightforward approach to determining whether or not a backpack is a proper fit for you is to try it on. Manufacturers provide suggested torso length and waist measurements for each model they make.
You should be able to get your backpack stuffed with the equivalent of 30 pounds (15 kg) at a decent camping/outdoors store to feel how much weight is on your back.
If you are traveling on a plane, it's crucial to remember that the larger your backpack, the less likely it is to fit on a flight. Because liquids greater than three ounces are not permitted in carry-on bags, you will be required to check your luggage to see if it contains soap or other liquids.
When it comes to airline carry-on luggage, the standard is 45 linear inches (115 centimeters) or 56 x 36 x 23 centimeters (22 x 14 x 9 in). A 40-45L carry-on bag should be sufficient if that's all you want to bring.
How to Choose a Backpacking Pack Size for Camping?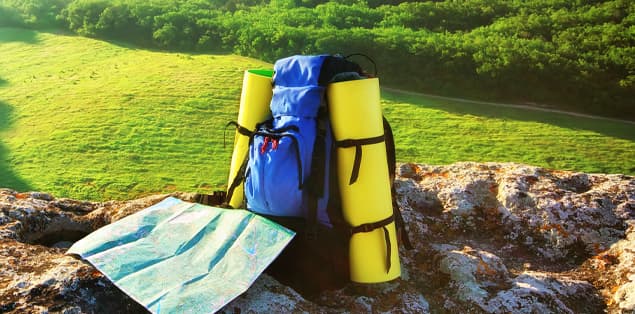 Outdoor backpacks come in various sizes based on the type of activity and the length of the trip. Carrying as little as possible without sacrificing essentials is generally the best strategy. Your comfort level and the nature of your planned camping or backpacking trip will significantly impact your pack size and weight choice. Let us give you an idea about the backpacking size depending upon the length of your camping excursion.
One Day Camping
You'll need a few things for a day of hiking: food and water, a first-aid kit, and possibly a few extra layers. There is a wide range of daypack sizes, from 10 liters to 35 liters; some incorporate hydration backpacks.
The only equipment you'll need for a single day is a water bladder backpack. Remember, packing light necessitates self-control and forethought.
Weekend Camping
Since a daypack won't do for an overnight journey, you'll need to upgrade to a larger backpack. A weekend camping backpack is the best option if you frequently go on multi-day backpacking trips. Depending on the weather, you'll want a pack that holds 35 to 50 liters of gear for a weekend trip. For a weekend excursion, you'll need to bring a sleeping bag, a sleeping pad, a tent, a camping stove, and a food storage container.
Multi-Day Camping
Traveling for a weekend or longer means bringing more food and doing more activities than you would for a weekend-long excursion when backpacking. Plan your bag accordingly if you're planning a four-day camping trip combined with fly fishing.
3-to 5 nights is about how long multi-day backcountry camping expeditions are. A pack with 50 to 70 liters is perfect for these travels. If you're planning a multi-day excursion through the mountains, desert, or any other terrain, you'll want a backpack of this size to carry your supplies.
Expedition Camping
With more than five nights in the outdoors, you'll need a large backpack to carry all of your supplies. As a general rule of thumb, you may want to keep your stuff as light as possible while out in the woods. Some people go weeks-long thru-hiking with only a 50L pack. Carrying as little weight as possible is always preferable.
You could prepare for multiple days and activities with a backpack that holds up to 70 liters.
Winter camping trips necessitate packs of this size since bulky clothing takes up a lot of space. If your children aren't old enough to carry their packs yet, they can be an excellent option for family backpacking excursions. Additionally, expedition backpacks are utilized for mountaineering excursions.
How to Choose a Hiking Backpack?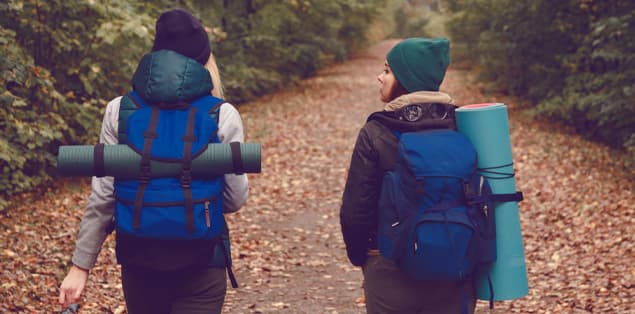 A backpack is a necessity when going on a hike. Like all other hiking accessories, backpacks come in many styles and designs. It may be challenging to choose from so many options.
We've compiled a list of helpful information to help you make the correct choice.
Material
There are backpacks made from many different materials. It is important to know which backpack fabric will suit you the most for hiking!
The most commonly used material for a hiking backpack is Nylon! But there are many others you can choose from, depending on your requirement.
Your Hike's Duration
How long are you planning on hiking? If you're only going for an afternoon hike, you'll need less stuff than going on a multi-day adventure.
While you may need a heavier pack for a shorter hike, do you want to carry around extra weight?
Suppose your treks are short, such as an afternoon or full day. In that case, a backpack with a capacity of 10 to 25 liters will provide you with enough space to pack up the essentials, such as a bottle of water, food, insect repellent, sun cream, first aid kits, and even a change of lightweight clothing.
We recommend a backpack with 20 to 35 liters for hikes lasting up to three days. It will allow you to bring more food and cooking and camping equipment with you.
If you're feeling very daring and have planned a multi-day walk, you'll need more room to stow all of your goods. We recommend something with a capacity of at least 35 liters; however, you could go much greater.
The Location and the Time of The Year
Another significant issue is the time and location of your hike. Your location and the time of the year will influence the conditions you'll encounter. For example, the gear you'll need for a walk through snow-covered mountains will be very different from the gear you'll need for a rainforest trip during summer.
Before you head out to get a new backpack, do some homework. Learn about the climate in the area where you'll be hiking and its weather patterns.
This information will assist you in deciding what to bring on your hike, but it will also help you determine the sort of pack you require or the size of the pack. The more variable the environment and weather, the more stuff you'll need to bring, and thus the larger the backpack you'll require.
Price
Before starting your purchasing spree, take a moment to consider your spending power. It's possible to buy a hiking backpack for as little as $100 up to several thousand dollars. As a result, you should consider how much money you're willing to spend before heading out.
There are few exceptions, but higher quality and larger backpacks will generally cost more. However, it is possible to locate good hiking backpacks at reasonable prices by researching.
Fit of the Backpack
Just as important as the backpack's size is its ability to conform to your body. Whether you're trekking for a few hours or a few days, you want to be as comfortable as possible. Your comfort depends on the fit.
The length of your torso, not your height, should be considered while purchasing a hiking backpack. To put it another way, if you're rather tall but your upper body is relatively short, you'll want a smaller pack.
Adjustable hip belts can be used for a wide range of sizes, from 20 inches to 40 inches or more in circumference, to help support the back of your back. When adjusting the bag's weight, you'll find an adjustable harness in many backpacks.
It is important to know that all bags may not be unisex. Some hiking backpacks are specifically for men, while others are hiking backpacks for women!
Padding
Choosing the right padding for your backpack is essential for your overall health. When the straps and back of your pack rub against your skin, it can cause chafing, highly irritating.
The best hiking backpacks have padding on the pack body, hip belt, shoulder straps, and lumbar region. Lightweight padding will ensure your back's health and comfort while avoiding extra weight.
Pockets
Pockets are also crucial. To keep things in order, they separate your back into many compartments, so you can find what you're looking for quickly and efficiently.
There are a lot of pockets to watch out for.
Buckle-closed shovel pockets are attached to the pack bag's front with a strap. Originally intended to contain a shovel, you can now utilize these pockets to store various lightweight goods, including maps and jackets.
The shovel pocket often has a front pocket on the outside. You can store small, lightweight goods in this style of pocket. You can store water bottles in mesh pockets.
Another one is an elastic pocket, and as the name suggests, this style of pocket is elastic and can be pushed out to fit items like hiking poles or a water bottle, for example.
A hip belt pocket is a way to go if you need to access stuff fast without taking your backpack off. You may probably infer that they're on the outside of the hip belt because they're located along the length of the hip belt. Adding heavy items like snowshoes or bulky sleeping pads to your backpack is easy with the addition of external attachments, like water bottles and rain gear.
Access
There are two ways to gain access to your pack:
Top-loading
Bags with a top-loading construction are the most popular. Using these packs will put things you don't need to have as close at hand on top and things you do need at hand on the bottom.
Panel
Some packs also include pockets on the front panel, which is nice. If you zip open the panels, you'll be able to see into the entire interior of the bag, and you can have access to the things.
Points of Attachment
Finally, if you want to travel with equipment like an ax or poles, you should seek a pack with outside attachment points that you can quickly attach to your bag.
What Size Backpack Fits Under Airplane Seat?
Alaska Airlines: The airline uses personal things such as purses, briefcases, and laptop bags as samples of what can fit in the space below seats. 22 inches by 14 inches by 9 inches is the maximum size for carry-on luggage. Approximately 17 inches is the breadth of the seat.
American Airlines: Any personal things that must be stowed under a seat must not surpass 18 inches by 14 inches by 8 inches, according to airline policy
Delta Air Lines: Delta's carry-on dimensions are 22 inches by 14 inches by 9 inches – no bag can exceed 45 linear inches.
JetBlue: On all JetBlue flights, under-the-seat luggage cannot exceed 17 inches by 13 inches by 8 inches. If you're flying Blue Basic, keep in mind that you can only bring one personal item.
United Airlines: Personal items that fit under a United Airlines seat must be no larger than 9 inches by 10 by 17 inches.
How to Measure Torso Length for Backpack?
To get an accurate reading, you'll need the help of a friend and a flexible measuring tape.
Step 1: Tilt your chin forward and look for the bony protrusion where your shoulder blades meet your collarbone. The 7th cervical vertebra, often known as the C7, is located at the very top of your torso.
Step 2: Make sure you're touching each of the sides of your rib cage down to the bone (aka the iliac crest). Your index fingers should point forward, and your thumbs should point backward to form an imaginary straight line between your thumbs. Your lumbar spine meets your torso at this location.
Step 3: Your friend can help you in this endeavor by measuring the distance between C7 and the imaginary line between your thumbs. That's your torso length.
How Many Liters Is a Standard School Backpack?
School backpacks usually have the capacity of 21-30 liters. Generally speaking, backpacks come in this size. The bags are large enough, but not excessively so. Numerous little compartments are standard in most school backpacks.
Final Words
When it comes to the volume of a backpack, "one size does not fit all." Therefore, when planning a hiking excursion, it is best to consider the circumstances in which you will be hiking. With a backpack of the right size, you can do the rest like a cakewalk or even a cake hike.