The best gear in your inbox
All the tips you'll need to get started in Urban Survival:
We'll only use your email address for our newsletter and respect your privacy
Walking is the best treatment. Consider a hike if you want to get your mind off things and get back on track. Don't let the fact that you've never done any hiking before dissuade you. Many of the world's most inspiring hikes are accessible to those with little prior experience, and they provide views that rival those of their more strenuous counterparts.
There are many things to keep in mind while embarking on a hiking trail for the first time: Beginner-friendly trails, look for those with easy topography, plenty of signs, easy access to help, and gorgeous scenery. Additionally, amenities like shelters, loos, and bear lockers might help you adapt to a new lifestyle on the road.
Each of the following hikes can be completed by beginner hikers, regardless of fitness ability, and each one is spectacular in its own right. All you need to do is take a good look around and accept the road ahead.
Here are some of our all-time favorite hikes.
Top 20 Beginner Hiking Trails Near Me
If you've just started hiking, you must take it easy. Just a short walk will suffice. Taking a few short day treks is all you need. We hope you'll discover a trail close to you on this list, including locations around the United States.
Also, do your homework about each destination. Moreover, we've included hiking tips in the following list so that you can tailor your packing list to the weather and the conditions of the trail.
Coyote Valley Trail, Rocky Mountain National Park, Colorado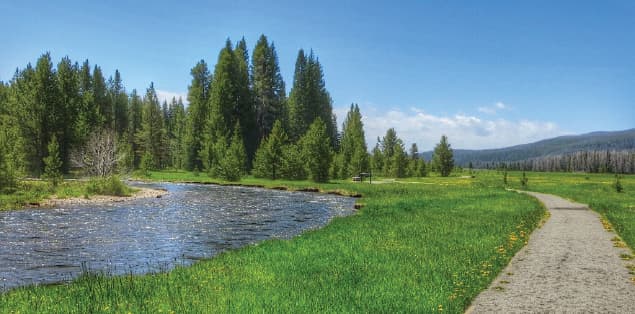 Distance: 1.0 miles
Highest Elevation: 8885 feet
Elevation Gain: 15 feet
Difficulty Rating: Easy
Hikers of all skill levels and inexperienced hikers will enjoy the Coyote Valley Trail, which takes them through the picturesque Kawuneeche Valley and provides opportunities to see a wide range of species. This track is one of only two wheelchair-accessible trails in the park; the other is Bear Lake Nature Loop.
You're likely to see elk and moose roaming freely here in the valley, especially along the river and near the wetlands. You may spot deer, wolves, beavers, eagles, owls, ospreys, and kingfishers.
It is possible for everyone who wants to spend some time in nature to enjoy the majority of the route, which is paved. It's an excellent hike for families with young children or older people who want to relax and enjoy the scenery.
Visitors can take a break at any of the numerous rest areas along the walk to take in the valley's expansive vistas. The Kawuneeche Valley's huge meadows put on a spectacular show of wildflowers during the spring.
There's no better beginner's hiking trail in Colorado than this one!
Hurricane Hill Trail, Olympic National Park, WashingtonDistance: 3 miles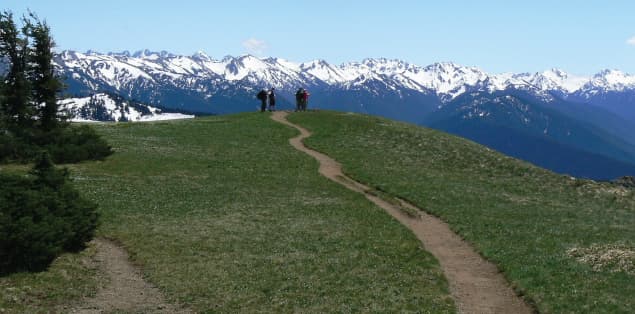 Highest Elevation: 5757 feet
Elevation Gain: 750 feet
Difficulty Rating: Easy
The Hurricane Hill Trail is a popular choice for those looking for a short, picturesque hike. Located in the middle of the Olympic National Park, it is one of Washington State's most popular and beautiful tourist attractions. You can view incredible panoramic views while hiking this hike.
At the end of Hurricane Hill Road, at the Hurricane Hill Visitor Center, the Hurricane Hill Trail begins its ascent. Wikipedia tells us this is a 3.2-mile, well-maintained and paved path that barely rises 700 feet to the end of the 3.2-mile route.
Families with young children can quickly complete the Hurricane Hill Trail. Due to the trail's popularity, you should be prepared to encounter wildlife and large groups of hikers. Hike early in the morning or on a weekday to avoid crowds.
Hurricane Hill is conveniently located near a slew of noteworthy sights. You can stroll around Lake Crescent's shoreline or trip up Mount Storm King to see Marymere Falls and the surrounding area. It's great for those who are new to hiking.
Port Angeles is a convenient option nearby for lodging or a bite to eat. One of the most admirable and accessible walks in the United States is Hurricane Hill in Olympic National Park!
Mossy Cave Trail Near Bryce Canyon National Park, Utah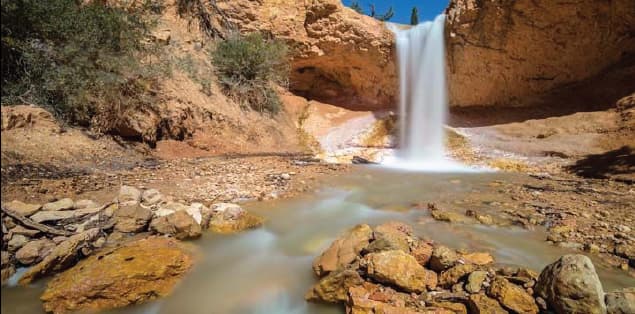 Distance: 0.8 miles
Highest Elevation: 7023 feet
Elevation Gain: 300 feet
Difficulty: Easy
Short but mighty, the Mossy Cave Trail is one of the best short hikes. The route includes several exciting sights, such as a cave, a waterfall, an arched turret, a creek, and two bridges. You'll find a stunning waterfall surrounded by Bryce Canyon's famous hoodoo rock formations at the end of the trails. The waterfall is also an excellent place to cool off in the summer heat by going for a swim.
There is a 120-foot elevation increase on this trail, which follows a stream into a deep canyon. We believe it would make an excellent picnic setting to round up the perfect lunch. Your food and picnic supplies won't have to travel far, either, due to the hike's short length.
After passing the second bridge, the trail splits into two separate directions. First, you'll find the mossy cave to the left up a little way, and Tropic Ditch Falls to the right of the path. Because the trail is so short, you can easily see them both.
We strongly encourage you to include this trek in your schedule!
Twin Falls Trail, North Bend, Washington
Distance: 2.6 miles
Highest Elevation: 1000 feet
Elevation Gain: 500 feet
Difficulty Rating: Easy
Ollalie State Park, just west of North Bend, Washington, is home to the Twin Falls Trail, a secluded, easy hike. There are other cascading waterfalls in the park, but Twin Falls is the most impressive.
The Twin Falls climb is well-liked because of the lush forests, old-growth trees, and numerous riverside vantage spots. As a result of its accessibility to hikers of all ability levels, the trail may be busy when you arrive. The trailhead parking lot fills up quickly, so come early morning if you want to have a good place.
Twin Falls is visible from a vantage point on the trail halfway through the hike. One of the best trails for beginners. If you want to see even more beautiful scenery, stick around! There is a platform with stairs to see Twin Falls from above for those who want to come up close and personal.
You can hike the Twin Falls Trail at any time of year. When it comes to hiking, summer is the busiest time of year. Spring hiking is an excellent option to get away from the hustle and bustle of everyday life. If you're planning to hike the Twin Falls Trail in the dead of winter, double-check the weather and trail conditions first.
Hanging Rock Trail, Hanging Rock State Park, Danbury, North Carolina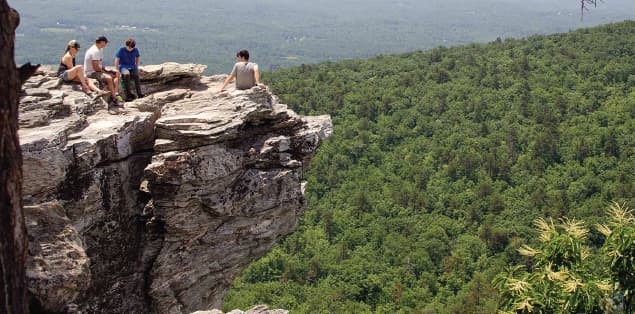 Distance: 1.30 miles
Highest Elevation: 2,159 feet
Elevation Gain: 603 feet
Difficulty Rating: Easy to Moderate
One of the most popular hiking paths in North Carolina is the Hanging Rock Trail. Hiking this trail and exploring the park's namesake peak draw visitors to Hanging Rock State Park from all over the state.
Although the trail is only 1.3 miles long (2.6 miles roundtrip), it contains steep portions. Another advantage of the Hanging Rock Trail is its milder climate, which allows you to hike it for most of the year if the weather permits.
The pathway begins at the side of the parking area of the visitor's center and is a paved road. The path progressively changes from dirt and gravel to rocks as it rises in altitude. As you ascend, you can view a variety of beautiful landscapes and rock formations.
The ideal time to go is early in the morning, as this is a popular trail. Visitors can avoid both hordes of people and biting insects by visiting in the fall or winter.
We recommend the Hanging Rock State Park's 5 Peaks Challenge for anyone searching for an additional challenge.' There are a plethora of other trails and breathtaking waterfalls to explore. For example, Pilot Mountain State Park, located approximately 20 minutes from Hanging Rock State Park, has numerous hiking trails.
Denny Creek Trail, Washington
Distance: 6.0 miles round trip
Highest Elevation: 3642 feet
Elevation Gain: 1345 feet
Difficulty Level: Easy
It is a popular trail because of its easy, family-friendly slope and incredible views. Keekwulee Falls provides a breathtaking vista from a location that is both accessible and beautiful. Although it's a bit more challenging to see from the route, Snowshoe Falls is a stunning natural phenomenon.
While the trail's elevation increase of over a thousand feet in just over six miles may be too much for some, those willing to put in the time and effort will be rewarded handsomely. Beginners will appreciate this trail because it is well-maintained and straightforward to follow. It is an excellent introduction to more challenging hikes in the Cascade Mountains.
The Alpine Lakes Wilderness, where you'll see the creek, mountains, and even beautiful waterfalls, is accessible via this trail. It is a popular destination for camping, hiking, and snowshoeing, so you'll likely come across families and other trail runners while out and about. It would be great to make this trail in the spring and fall months, from April to October. It's okay to bring your dog, but they must be on a leash.
Hole In The Rock Trail, Papago Park, Phoenix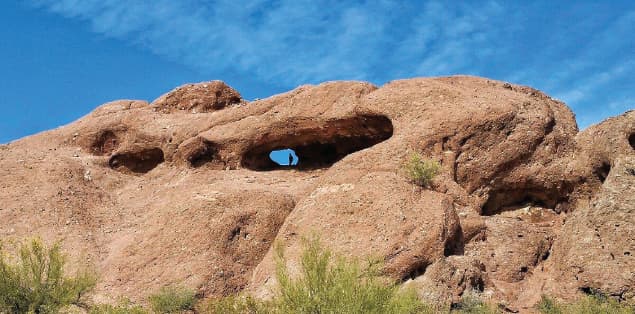 Distance: 0.2 miles
Highest Elevation: 200 feet
Elevation Gain: 67 feet
Difficulty Level: Easy
Papago Park's famous Hole in the rock is a great area to soak in the scenery and snap some memorable images!
The Phoenix Zoo is just a few blocks away from Papago Park. The park's rock formations and short hiking and running pathways have made it a local favorite.
Atop the short route, you'll find the park's prominent feature, the Hole in the rock, an excellent spot for taking photos because it's the highest point in the area. To get there, park in the small parking lot (don't worry if it's packed. You can also park at the Phoenix Zoo, located next to the park, which is one option.) Take the Hole In The Rock route to the back of the rock formation. Children can efficiently complete the trek as it is only a few hundred feet in elevation. Take caution, as the trail is narrow and rough, and it's possible to trip or sprain an ankle.
You may see a few small lakes where you can fish from the viewpoint spot at the trail's end. You can also spot other pathways if you turn your back on the Hole in the rock and look around the park.
Park Avenue Trail, Moab, Utah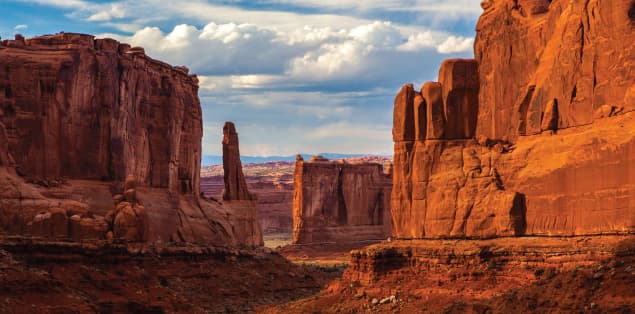 Distance: 1.8 miles
Highest Elevation: 4550 feet
Elevation Gain: -316 feet
Difficulty Level: Easy to Moderate
A popular trail near the Arches National Park entrance is Park Avenue, a mile-long route through a short canyon framed by red sandstone fins and pinnacles. There are sheer, straight cliffs to the east, while to the west, the rocks (also called Courthouse Towers) are separated by various side ravines, creating an irregular escarpment. For beginners, it is one of the best easy hikes.
It is one of the best hiking trails for beginners. It's possible to get to the overlook at the canyon's head via a wheelchair-accessible paved path for about 250 feet before the proper trail descends a bushy slope and into the rocky streambed, followed by an alternate trailhead further down the road. The Organ, the Tower of Babel, and the Three Gossips may all be seen clearly from the path's final mile or so.
Many people park at the southern Park Avenue trailhead and merely walk the final 250 feet to get to the overlook. The continuation route is nevertheless highly popular. An easy walk descends about 150 feet into a dry wash formed by two minor drainage channels and ends up on a level area near the exposed rock floor.
In the spring, there are some wildflowers, but by the time summer rolls around, most of them have faded away. The trail continues northward down the canyon, with its apex already visible ahead. Following benches for a while, the path continues on a flat streambed, which drops over a few minor waterfalls.
Colchuck Lake, Leavenworth, Washington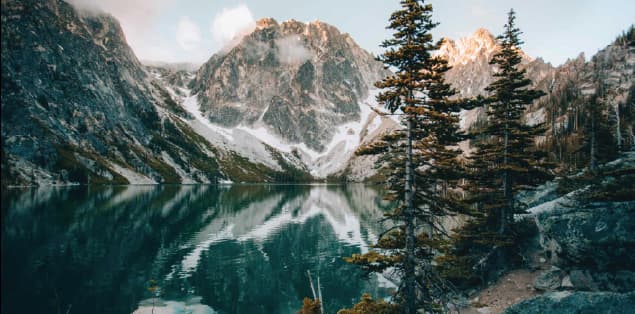 Distance: 8.5 miles
Highest Elevation: 5580 feet
Elevation Gain: 2280 feet
Difficulty Level: Moderate to Hard
At Colchuck Lake, the first time you come out of the trees is like a religious experience. At the end of the lake, the peaks of Dragontail and Colchuck Peaks appear to fill the sky, while the icy waters beneath your feet are deep blue in the shade and bright aquamarine in the sunlight.
Colchuck's 2,300-foot elevation gain makes its stunning scenery accessible to hikers of all abilities, even those who aren't ready for the final push to the lake. In addition to being the gateway to the Enchantments, Colchuck Lake is also the trailhead for Stuart Lake, a more accessible but no less spectacular destination.
Even though the trail is gentle at first, it is the most strenuous hike we've included. So, if you're just starting, don't start with this one. As the trail approaches the lake, it becomes steeper and more rugged. On the way up, views open up to the valley you just climbed out of and then up to Dragontail Peak's gnarled ridgeline.
The trail appears to end at a large granite outcropping that offers spectacular views of the lake. Having lunch here while admiring the view is a must. The imposing Dragontail Peak massif can be seen directly across the lake.
The "shortcut" to the Enchantments, Aasgard Pass, is located to the left of Dragontail. After winding its way through the forest, the trail ends in a rock field at the Colchuck Glacier's terminal moraine base.
Meadow & Forest Loop Trails at Lookout Mountain Nature Center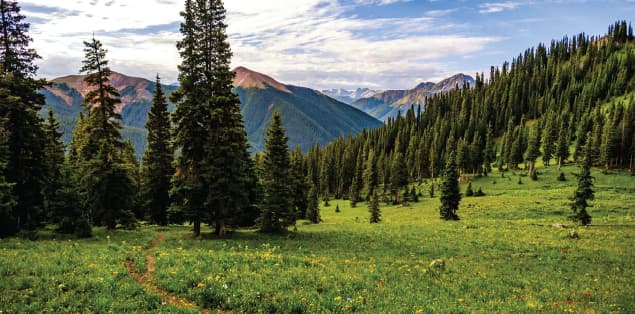 Distance: 0.6 & 0.8 mile loops
Highest Elevation: 7,500 feet
Elevation Gain: 40 feet
Difficulty Level: Easy
Looking out over Golden, Colorado, this short hike is part of the Lookout Mountain Nature Preserve and Lookout Mountain Park. Butterscotch-scented ponderosa pines and wildflower-strewn meadows fill the shady groves of the enjoyable stroll. Adults will appreciate the interpretative signage as much as children will enjoy exploring the woodland.
This natural area is home to a variety of wildlife. Visitors can expect to encounter a wide variety of wildlife in the park, including deer, mule deer, and squirrels. There are many wildlife exhibits to see while you're here at the visitor center, so be sure to take a look! Several wildlife corridors have motion-sensing cameras. A screen in the visitor center's foyer displays fantastic candid photos of raccoons, foxes, bears, and other predators in the area.
Lookout Mountain has long been a favorite of hikers and campers because of its tranquility and abundance of natural resources. You can view the loop trail in the opulent Boettcher Mansion, built-in 1917 by wealthy Denver industrialist Charles Boettcher as a hunting lodge.
The forest loop and other Lookout Mountain Nature Preserve trails are well worth a detour if you're in the Denver or Golden region or just passing by on I-70. Cyclists and runners frequently use the narrow, winding, two-lane route up the mountain, so take care when driving.
Sabino Lake Loop Trail, Tucson, Arizona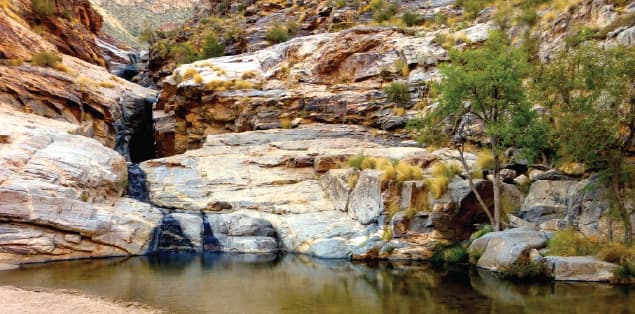 Distance: 2.33 miles
Highest Elevation: 2746 feet
Elevation Gain: 144 feet
Difficulty Level: Easy
Near Tucson, Arizona, Sabino Lake Circle is an easy 2.3-mile loop that includes a small lake and hiking along the Sabino Creek waterway. The water level in the canyon may necessitate that you get your feet wet.
Sabino Canyon Recreation Area in Arizona offers an up-close view of desert landscapes. The canyon is a unique location, with its towering mountains, deep valleys, and the stunning Sonoran Desert as its backdrop.
The Sabino Lake Loop is one of the greatest beginner hikes since it is an easy trail that anyone can walk. The trail starts at the Visitors Center and proceeds east to the Sabino Dam before turning around and returning via a network of trails to the same parking lot.
The trail is best used from September to May for hiking, birdwatching, and other nature-related activities. In addition, there are numerous picnic tables throughout the trail. We advise against hiking during the summer months unless it is in the evening or early in the morning when temperatures are cooler.
Sabino Canyon is a favorite day trip for Tucson residents because it is just a short drive from there. Tucson's many outdoor attractions are Saguaro National Park, Tucson Mountain Park, and Catalina State Park.
Horseshoe Bend, Page, Arizona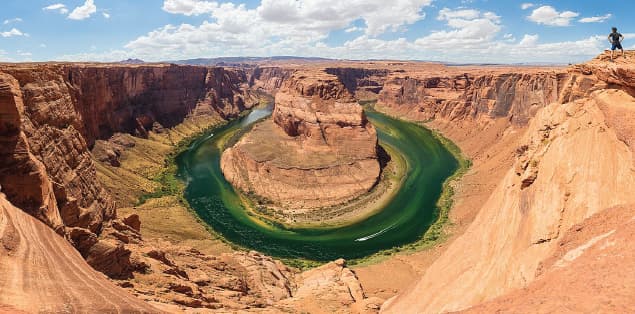 Distance: 1.25 miles
Highest Elevation: 4373 feet
Elevation Gain: 46 feet
Difficulty Level: Easy
There aren't many spots like Horseshoe Bend where the scenery is stunning, yet it's accessible to individuals of all hiking abilities. To see Horseshoe Bend and the Colorado River over 1100 feet below, you need to take a short stroll off the highway.
As the Colorado River meandered its way out of the Grand Canyon and up to the Colorado Plateau, it sculpted a natural beauty known as Horseshoe Bend. Getting to the overlook isn't difficult, but a little gazebo about halfway there is the only place to get shade. You can complete the hike in less than an hour, starting at the parking lot.
First, there is an upward trek, but it's not that steep. Upon reaching the gazebo, you can relax on the benches beneath it or continue to the overlook. Either option involves a downhill hike.
Horseshoe Bend, a breathtaking natural wonder in Arizona, is located near Page. Horseshoe Bend is a year-round vacation spot since it is open round-the-clock, 365 days a year.
The trail is rocky and sandy, and there are no trees to shield you from the sun. Because temperatures in Arizona can soar in the summer, it's a good idea to pack some water if you're planning on to the Horseshoe Bend overlook.
An hour or so is all it takes to complete a somewhat easy loop trail. As a result, it's one of the easy trails for beginners.
Grotto Falls Hike, Great Smoky Mountains National Park, Tennessee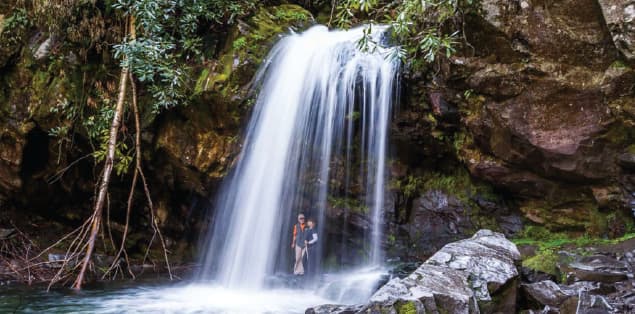 Distance: 2.5 Miles
Highest Elevation: 3,777 feet
Elevation Gain: 585 Feet
Difficulty Level: Easy
Grotto Falls, one of the park's many spectacular waterfalls, may be found in the Great Smoky Mountains National Park. You may mix it up with other driving attractions like Cade's Cove and Clingman's Dome if you want an easy trek in the park to break up the journey.
The Trillium Gap route cuts through a dense hemlock forest as you go to Grotto Falls on the Grotto Falls trail. Throughout May, you can spot the wildflowers ranging from white and yellow trillium to white violets and stitchwort.
This moderately strenuous journey will take you through four tiny streams on a wide worn-out path that will calm your thoughts. You will see Grotto Falls in the distance after approximately a mile on the walk, where hikers come across a falling cascade.
In the Great Smoky Mountains National Park, this waterfall is the only one that has a walking route immediately behind it, making it a one-of-a-kind sight. Summer hikers can take a refreshing rest in the mist and cool off in this unusual location. You can spot salamanders also.
With a distance of 2.5 miles and an elevation rise of roughly 585 feet, this is one of the easy beginner hikes for family and novice hikers alike! Please check ahead of time to see if this trailhead is open during your preferred season! Visitors should carry a paper map and download a GPS-enabled map ahead of time, as most parks do not have mobile coverage.
Waterton Canyon Trail, Littleton, CO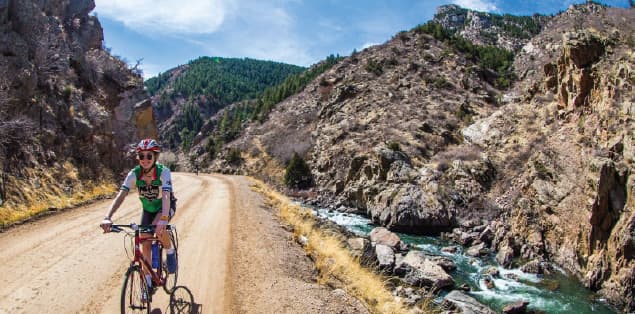 Distance: 12.4 Miles round trip
Highest Elevation: 13,271 feet
Elevation Gain: 700 Feet
Difficulty Level: Easy to Moderate
It's possible to see Bighorn sheep and eagles in the heated air currents that rise from the rock in Waterton Canyon, which winds through the South Platte River into a deep canyon.
There is a tiny pullout with restrooms and a picnic area at the three-mile mark. On a hot day, you may cool down in the river by wading in with your feet. Additionally, expect to see a lot of mountain bikers and a few Denver Water vehicles along the trip, though neither are standard due to the road being off-limits to motor vehicles.
The slope gets steeper as you approach a little man-made dam and reservoir. The road becomes narrower, and the rock outcroppings are more noticeable than the previous miles. You'll notice a notable increase in the road's incline after this point as you wound your way up past the Strontia Springs Dam.
A sign indicating that the Colorado Trail continues on the other side marks the end of this hike. Take a moment to appreciate the surroundings as you make your way back to your vehicle!
Heybrook, Mount Baker-Snoqualmie National Forest, Washington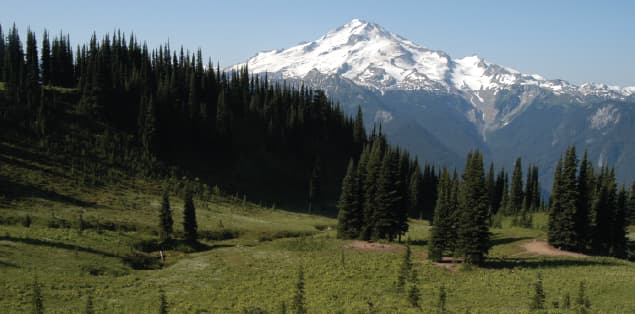 Distance: 2.6 Miles
Highest Elevation: 1700 feet
Elevation Gain: 850 Feet
Difficulty Level: Easy
For those who prefer a less strenuous but no less enjoyable way to see the surrounding mountains, Heybrook Lookout is the place to go. It is the trail for you as a first-time hiker, someone who has a tight schedule, or if you're looking for an additional outdoor adventure.
Upon entering the Mt. Baker-Snoqualmie National Forest from the west, the path begins in a gravel parking area. As soon as you're on the trail, make your way east along the highway. Then, turn left and walk away from it. Take in the lush greenery of the ferns and mosses as you stroll through the shady forest. You can hear birds singing while looking out for squirrels or chipmunks.
The trail is a peaceful walk through the woods until you arrive at the lookout, where you get a stunning view of the surrounding mountains. To get the best views, turn around and head up the hill; you'll be able to see more than you can from this vantage point.
Since 1925, a lookout has been stationed here, each one growing in height. The Everett Mountaineers were responsible for the most recent upgrades. Hikers can reward themselves for their efforts by ascending the 89 steps to a viewing platform where they can enjoy a snack and take in the valley views thanks to them.
Skyline Loop Trail, Mount Rainier National Park, Washington
Distance: 5.5 Miles
Highest Elevation: 6800 feet
Elevation Gain: 1450 feet
Difficulty Level: Difficult
Hiking the Skyline Loop Trail is a great way to see Mount Rainier in its full glory! Parking at Paradise is busy, but the crowds disperse as you hike further into the path. It is one of the favorite summer hikes, especially in July and August, when the wildflowers are at their peak.
It is possible to hike either clockwise or counterclockwise along the Skyline Trail. The counterclockwise option is following the sign for Myrtle Falls and hiking 1 mile uphill to the falls before completing the rest of the Skyline Trail.
On the Skyline Trail, the majority of people go counterclockwise. Counterclockwise, hiking Skyline Trail Loop is more complex, but the steepest point of the hike is also shorter (by at least a mile, if not more). So making the trail counterclockwise will help you get through the steepest part of the route more quickly. So it's entirely up to you whether you want to go clockwise or counterclockwise.
This trail is best hiked early in the morning or late in the afternoon because it is mainly exposed to the sun, making it extremely hot and congested throughout the day.
Perkins Central Garden Trail, Garden of the Gods, Colorado Springs, Colorado
Distance: 1.1 Miles
Highest Elevation: 6456 feet
Elevation Gain: 30 feet
Difficulty Level: Easy
Garden of the Gods, about an hour and a half south of Denver, is a great place to go trekking and take in the landscape. The bright sandstone rocks contrast beautifully with the snow-covered Pikes Peak.
You don't need to be an expert hiker to enjoy many of the Garden of the Gods trails because you will have a paved trail. It is an excellent place for novice hikers as the trail is reasonably flat. Perkins Central Garden Trail is a must-see for first-time visitors. If you want to see the park's red rock formations from a distance, this 1.5-mile path is ideal.
This place has some of the most beautiful views you'll ever see! Garden of the Gods is a popular tourist destination for people from all over the country who want to see the spectacular red rock formations.
Because it is a National Natural Landmark, you can get in for free. Arrive early since, especially on weekends; this venue becomes crowded quickly. Colorado Springs, the closest town to Garden of the Gods, has various lodging options and eateries.
Solstice Canyon Loop Trail, Malibu, California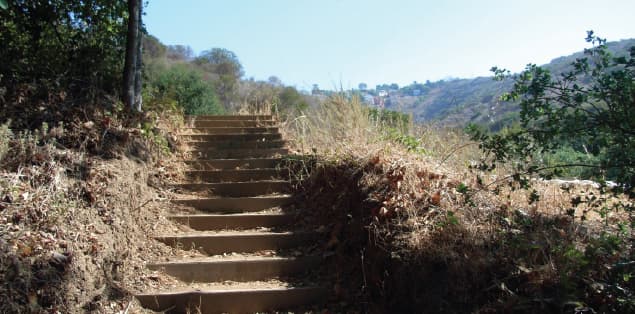 Distance: 3.2 Miles
Highest Elevation: 770 feet
Elevation Gain: 800 feet
Difficulty Level: Easy
The Solstice Canyon Loop Trail in Malibu, California, is one of the top treks in the United States for getting the most views for the least effort. This 3.2-mile hike has an elevation rise of 800 feet, making it a relatively easy one. The Santa Monica Mountains and the Pacific Ocean may be seen clearly from this trail, which you can hike slowly and leisurely to appreciate the scenery fully.
Seeing the beautiful views this hike offers will make you feel like the luckiest person alive! It encapsulates the best of California. A slight detour from the main trail leads to a small waterfall early in the hike. It's a peaceful spot to take a break, savor the scenery, and recharge your batteries. The trek is also an excellent place to go bird viewing!
The trail begins just beyond that point. After a gradual rise in elevation, you will be rewarded with amazing views of the surrounding mountains, valleys, and ocean until you reach the peak. It is the reward for completing this trek, and you'll be sighing in awe at sight.
One of the advantages of hiking in Southern California is the year-round beauty of the trail. Make a trip during the week to avoid the weekend crowds.
Calico Tanks Trail, Red Rock Canyon, Las Vegas, Nevada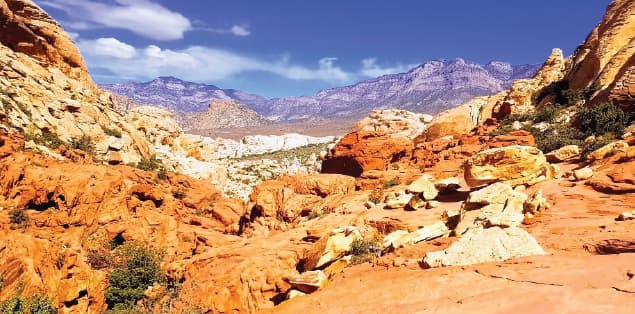 Distance: 2.5 Miles
Highest Elevation: 4720 feet
Elevation Gain: 450 feet
Difficulty Level: Easy to Moderate
Red Rock Canyon is a national park located about 30 minutes from Las Vegas, Nevada. It's possible to take a 13-mile scenic drive through the park with stops for photos or hikes for a small entrance fee.
The Calico Tank Trail is one of the best hikes in the area. Moreover, this 2.5-mile out-and-back trail has an elevation gain of 450 feet and takes about two hours to complete. It leads to the peak through a canyon, past hills, and rocks.
Even though the Calico Tank Trail has a few challenging sections, its short length makes it a moderately difficult one. You'll be rewarded with stunning views of the park's mountains and red rocks at the trail's end.
If you visit at the right time of year, you might even see some wildflowers! But, even though this hike is technically possible at any time of year, the heat of summer makes it unsuitable. To avoid the summer heat, plan this trip between October and May.
Mono Trail, Bass Lake, California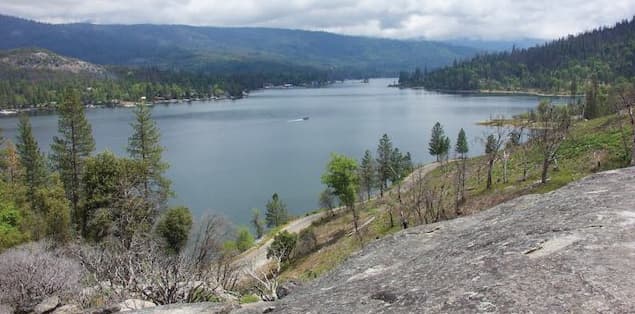 Distance: 0.6 Miles
Highest Elevation: 3530 feet
Elevation Gain: 141 feet
Difficulty Level: Easy to Moderate
Bass Lake is also an excellent hiking destination and a popular summer fishing spot thanks to well-maintained trails. The way of the Mono is one of the best and most accessible trails in the United States.
Hikers of all abilities will appreciate this easier hike of the half-mile out-and-back path with only a 141-foot elevation increase. The trailhead is easy to spot as there is a sign in the parking lot that you can spot from the road. It's also possible to park elsewhere if necessary.
There's a lot to like about the Mono trail, not the least of which is the abundance of trees providing shade. There is a well-marked trail through mossy, shaded areas. Plaques narrating the history of the Native American hunting and gathering society known as The Mono can be found all along the trail.
You can have a breathtaking view of Bass Lake from the top of the hike. To get a better view, hikers can scale the boulders or return on the same path as they came.
Final Words
We are sure that now you can choose your perfect hike from the wide variety of hikes we have included in our list. It's no secret that hiking is a terrific way to get your hiking jitters out of the way, enjoy everything nature offers, and get some outdoor recreation.
You will need different gear for each hike on this hiking list. Bear spray, mosquito repellent, and everything in between is critical! Research what you'll need to make your hiking vacation the best it can be after picking a path (or two!).