The best gear in your inbox
All the tips you'll need to get started in Urban Survival:
We'll only use your email address for our newsletter and respect your privacy
Camping is more fun when you have everything you need for outdoor adventures. That includes being prepared for unexpected changes in the weather and finding ways to be comfortable even with essential gear. Best camping tarps are a must-have item in outdoor gear.
A tarp? But why? We'll explain.
A tarp is a multi-purpose and versatile camping item that you can use in several ways. Let's see how:
You can turn it into a hammock and take a nap at noon.
You can also use it as an awning to provide shelter from the hot sun.
You can turn it into a tent footprint to keep away the chill seeping from the earth.
You can convert it into an emergency tarp shelter during sudden showers or animal attacks.
A waterproof fabric tarp should be an integral part of your camping gear, along with sleeping bags and tents. But, of course, you'll have to find the right tarp for your adventures, and that's where we step in. As avid adventurers and backpackers, we love nothing more than camping outdoors.
We have learned over the years and would love to share our experiences with others. In this article, we'll be talking about camping tarps, the hows, whys, and whats. We've tried various tarps available in the market and have listed the top seven best camping tarps in 2022.
Roundup of the Best Camping Tarps
| | |
| --- | --- |
| Best Tarp for Hammock Camping | ENO, Eagles Nest Outfitters ProFly Ultralight Hammock Rain Fly Tarp |
| Most Durable Camping Tarp | Kelty Noah's Tarp Sun Shelter Rainfly |
| Most Versatile Camping Tarp | Sea to Summit Escapist Tarp Bug Tent |
| Best Waterproof Camping Tarp | Aqua Quest Safari Tarp |
| Best Budget Camping Tarp | Amazon Basics Waterproof Camping Tarp |
| Best Camping Tarp for UV Protection | Bearhard Waterproof Camping Tarp |
| Best Camping Tarp for Car Camping | Trademark Supplies Store Tarp Cover |
What is a Tarp Used for in Camping?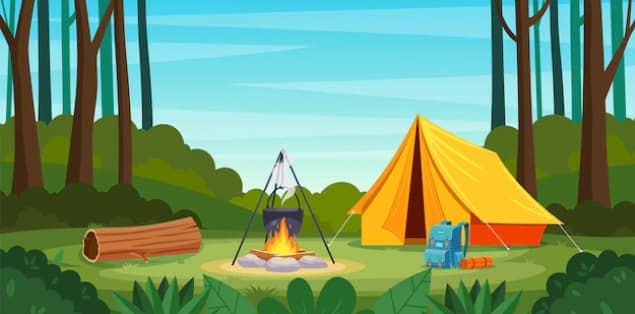 A backpacking tarp or a tent tarp has several uses when camping. You can use it for the following purposes:
The primary use of a tarp is to provide shelter from the elements. Most tarps are dust-proof and waterproof. A durable and robust tent tarp can protect you from a thunderstorm no matter where you are.
The tarp acts as an effective windbreaker and shields you from gusty winds. A camper knows that dealing with the wind is more difficult than rain. The wind can blow away a tent if you aren't careful. The tarp will prevent this if you tie it to the right angle.
The lower part of your tent needs protection from the ground. The tarp will take care of it by doubling as a tent footprint and preventing the rocky/muddy/wet/hard ground from affecting you inside the tent.
Specially designed sun shade tarps can protect you from UV light. Even otherwise, a tarp can be draped as an awning to provide shade when there is no place to take shelter from the hot sun.
You can also use the tent tarp to cover your backpacking gear and keep it safe. Also, you can wrap the items in the tarp and ensure that they don't get damaged.
You can also use the tarp to set up a makeshift boundary for your campsite. This greatly helps secure a place for kids to roam around or stop the breeze from stamping out the camp stove. It's perfect when on family back-country outings.
Finally, the tarp also works like a hammock. Yes! You can use a hammock tarp to rest for a while or take a nap without lying on the ground.
What Type of Tarp is Best for Camping?
Tarps are used for camping and non-camping purposes. The best backpacking tarps most suitable for camping are:
Waterproof tarp
Lightweight tarps
Multi-layer tarps
UV protection tarps
Heavy-duty tarps
In short, a tarp suitable for camping should be strong, durable, lightweight, and tear-resistant. It should come with reinforced corners, reflective guy lines or rust-resistant grommets, and waterproof coating. Most tent camping tarps are made of nylon, polyester, and polyethylene.
How to Set Up a Large Camping Tarp?
Setting up a camping tarp can be particularly difficult if you haven't done it before. The larger the tarp, the more challenging it gets. But here's a way to make things easier for you.
You need a rope, ground stakes, poles/ wooden sticks, and a knife to set up the tarp. The process of setting up the tarp depends on why and how you want to use it.
Setting Up the Trap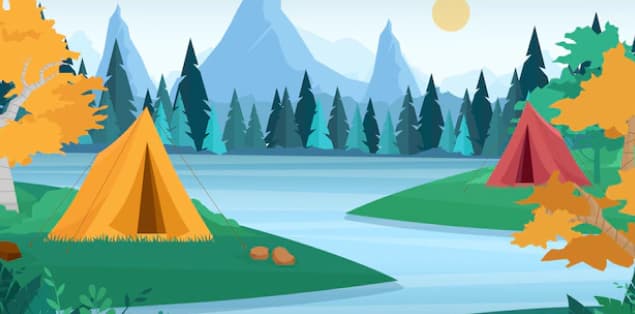 If the location has dense trees close to each other, you can tie the tarp directly to the trees. Also, remember that the tarp shouldn't be close to the fire. It is inflammable and can lead to accidents if you aren't alert.
Start by tying the rope to the nearest tree. Check the height to ensure that it's not too close to the ground.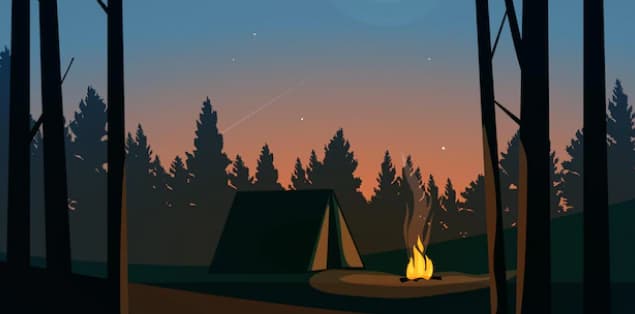 Hang the tarp over this rope and center it. Now loop more rope through the grommets. If the tarp has guy lines, you just have to un-knot them and measure the distance to spread the tarp.
Then fix the ground stakes into the earth and attach the guy lines to these stakes. Then, loop them securely and ensure that the stakes are deep enough and won't get easily uprooted.
Use poles of sticks to support the two ends of the tarp hanging over the main rope. Following the steps mentioned above will give the tarp a stable structure.
Make the final adjustments by tightening the guy lines and ropes to fix the tarp in place.
Things You Should Consider While Looking for the Best Camping Tarps
The following are some critical aspects that you must consider when searching for the suitable camping tarps:
Weight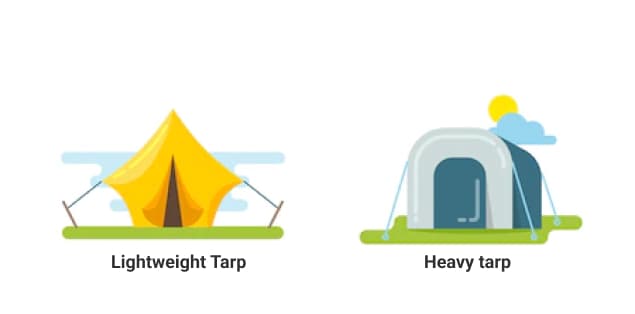 The first factor to consider when buying a camping tarp is its weight. Lightweight and ultra-lightweight models are the preferred choices. That's because the weight of the camping gear will bog you down. So it would be best if you had a tarp that is both reliable and less heavy.
Shape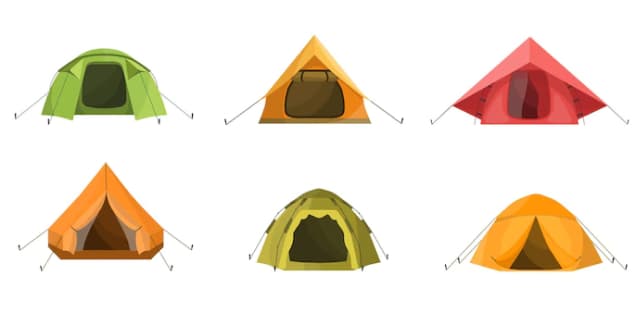 A tarp isn't restricted to a rectangle or a square. It can be asymmetrical, hexagonal, or in a diamond shape. Then, four-season tarps are suitable for spring, summer, autumn, and winter and come in an extra-long length and shape.
Size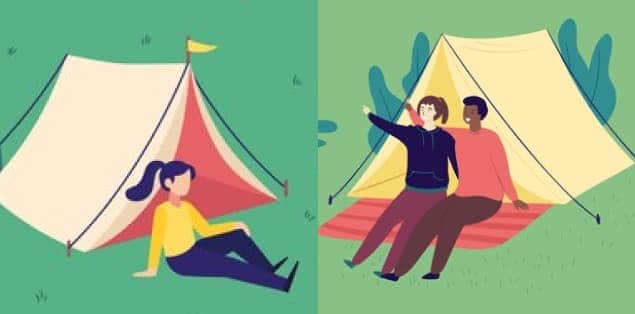 Tarps are available in various sizes, ranging from a tarp for a single person to a tarp for a group of eight to ten people.
Material
The rain-fly sheet needs to be made with a waterproof material or at least coated with a water repellent so that it keeps you dry. You can opt for single-layer nylon tarps or triple/multi-layer heavy-duty tarps designed for extreme adventures. Ripstop nylon fabric and polyester are usually the best materials for tarps.
Ease of Set up
Tarps generally take time to be set up. However, some models come with guy lines, corner pockets, stakes, poles, pegs, etc. Even if you have to buy these separately, make sure to get a tarp with clear instructions about how you should set it up.
Waterproofing
A tarp isn't of much use if it's not waterproof. Look for models that specifically state the words "waterproof tarp." Nylon and polyester tarps have polyurethane or silicone coating that allows water droplets to slip down the tarp. The tarp should also dry fast after the rain ends so that you can pack it.
Other Features
Look for tarps that have more grommets/web loops/guy lines so that you can secure it properly. Reinforced corners, double-stitched edges, corner pockets, rust-free rope rings, etc., are features that show that the tarp is high quality and can protect you from changing weather conditions. Don't forget stuff sacks. A tarp that comes with its stuff sack is undoubtedly easy to manage on the camp.
Versatility
A tarp is most valuable when it is versatile. Can you use the tarp to cover the tent, spread it on the ground, drape it as a picnic mat on the table, build a wall around the camp, etc.? If yes, then the tarp is versatile and perfect for camping.
Budget and Value
Like every other camping item, tarps also come in varying price ranges. For example, there are budget-friendly models, mid-range tarps, and high-end camping tarps designed for regular adventurers. If you don't go camping often, the pocket-friendly model will be enough for your requirements.
Top 7 Tent Tarps for All Types of Camping
The following are some of the best tent tarps available in the market for different types of camping requirements:
1. ENO, Eagles Nest Outfitters ProFly Ultralight Hammock Rain Fly Tarp
Best Tarp for Hammock Camping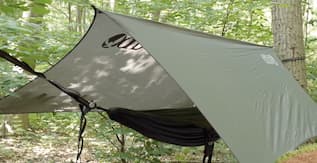 Ultra-lightweight and waterproof
Good looking and cheerful
Versatile and convenient
Quality stitching
It doesn't come with the stakes
ENO, Eagles Nest Outfitters ProFly Ultralight Hammock Rain Fly Tarp is the best tarp for hammock camping and is made using 210D ripstop nylon. It is waterproof, versatile and probably the lightest camping tarp that we tested.
Firstly, we love the bright and cheerful print on the ProFly tarp. It adds color to the setting and has made the kids very happy. The stitching and material are super good. We have no complaints about the quality of the tarp.
Secondly, the tarp comes with six connecting points. You can stake four points to the ground, and you can secure the other two to trees around you. The tarp is easy to fold and carry along with the gear in the stuff sack.
To conclude, the ENO ProFly rain tarp is a worthy camping tarp that sheds water like a duck. No kidding, guys. We set it up right before the clouds burst overhead, and it took all the lashing with ease. The tarp survived the howling winds and stood steady to protect us. Isn't that what we want? Just remember that the tarp doesn't come with stakes. That's good in a way because we use different stakes based on where we're camping.
2. Kelty Noah's Tarp (2020 Update) Sun Shelter Rainfly
Most Durable Camping Tarp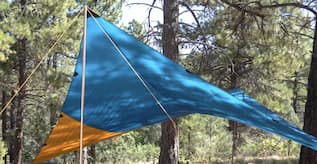 Suitable for three seasons
Lightweight tarp
Has pockets for guy lines
Durable and reliable
The colors fade over time
Kelty Noah's Tarp is the best and most durable camping tarp made with 68D polyester. It comes in three sizes and is suitable for use in three seasons. The tarp is perfect for minimalist campers.
Firstly, the largest size of the tarp, the 16-feet tarp, is enormous. All of us could happily huddle under it as the sun decided to roast us alive. It did take a couple of tries to set it up, but we got it sorted. The tarp stayed put. It works great as an awning and sunshade.
Secondly, the lightweight tarp comes with corner pockets to store the guy lines. We'd say that's a superb idea. Moreover, we've noticed that the tarp dries quickly. That's rather useful because we don't have to wait for it to dry and then pack it up.
In conclusion, Kelty Noah's Sun Shelter Tarp is versatile and can sustain heat, rain, and wind with the same efficiency. You can use it any way you want, and the tarp will last for a long time. It is that durable. The poles don't come with the tarp. You make sure to buy them from the same brand. They are sturdier compared to other options.
3. Sea to Summit Escapist Tarp Bug Tent
Most Versatile Camping Tarp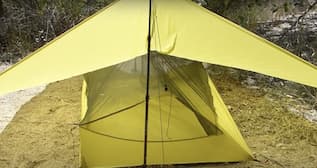 Waterproof
Ultra-lightweight
Various pitching styles
Suits changing weather conditions
Sea to Summit Escapist Tarp is the most versatile camping tarp made of waterproof 15 Denier Ultra-Sil Nano nylon. It is waterproof, ultra-lightweight, and easily portable. The seams have been sealed to increase their longevity.
Firstly, the tarp has reinforced corners with cord lock and guy lines. We could adjust these even when under the tarp. The most significant advantage is that setting up the tarp in different ways is doable depending on the surroundings. So there wasn't a need to find a special place.
Secondly, it comes in two sizes. We have the larger one, which is perfect for a group of our size. It is probably the best tarp to use between trees. Then, of course, the lime green color sort of blended in.
To conclude, the Escapist tarp feels like an obvious choice if you're in the mood for some light camping trips. It weighs less than a pound. So we stuffed it into the backpack and took off. Once, we used the tarp as a picnic spread right in the backyard and went on to build a shelter for the kids to play camping. That said, the perfect combo for the tarp would be the Escapist Bug Tent. So we got them separately but used them together.
4. Aqua Quest Safari Tarp
Best Waterproof Camping Tarp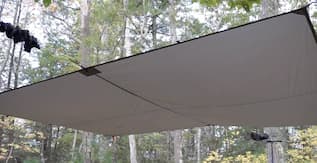 Comes with non-toxic Polyurethane and Silicone dual coating
Lightweight and versatile
Lifetime warranty
The material is sturdy and reliable
The new tarp smells
The size is a bit small
Aqua Quest Safari Tarp is undoubtedly one of the best waterproof camping tarps made of nylon. It comes with dual coatings of non-toxic polyurethane and silicone, ensuring that the rain tarp keeps you safe even during extreme weather conditions.
Firstly, the tarp comes with its stuff sack and can be folded into a small pack. It has many web loops, along with one at the top and in the center. Trees or no trees, the tarp will do its job. We used it as protection that covers the camper tent, and it kept the whole place nice and cool.
Secondly, the material is solid, and we mean it. This is the tarp we'd take out when going on extreme adventures. Rocks, deep forests, gushing stream-side, and what-not! Rough use doesn't seem to affect it.
To conclude, the name Safari tarp is apt. We couldn't find anything to complain about with the material or the construction. Of course, we'd have liked a couple of more loops, but the existing ones work just as well. After all, it protected us from a thunderstorm up the hills, and that wasn't the first either. The tarp is a bit expensive but worth the price.
5. Amazon Basics Waterproof Camping Tarp
Best Budget Camping Tarp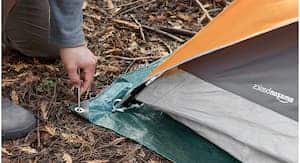 Pocket-friendly
Waterproof
Reinforced corners
Versatile to use
Not good looking
The material feels thin
Amazon Basics Waterproof Camping Tarp is the best budget camping tarp made of waterproof polyethylene ripstop nylon. It comes with rust-resistant grommets at the edges. The rope reinforced edges offer extra strength and durability.
Firstly, the tarp has a simple yet efficient design. It is tear-resistant as well. We spread it on the ground with some pointed rocks. You can imagine our ease when we saw that it didn't have any holes or scratches.
Secondly, it withstood heat and rain effectively. We are yet to try it out in a storm but hope it'll hold up great as a rain tarp. But, of course, it depends on the ropes and stakes used to secure the tarp. Since it doesn't come with guy lines, the responsibility was on us to use thick and robust ropes to set up the cover for the tent.
Lastly, we use the camping tarp for more than just camping. Yes! We've once draped it over the furniture when shifting from one place to another. It worked great. Now, we intend to do the same in winter to protect the patio from being snowed. The tarp doesn't precisely look trendy. It is dark, thick, and ordinary. But it withstands harsh conditions, and that's more important.
6. Bearhard Waterproof Camping Tarp
Best Camping Tarp for UV Protection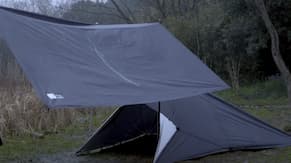 Lightweight and convenient
Easy to set up and use
Lifetime warranty
Great for camouflage
Bearhard Waterproof Camping Tarp is the best tarp with UV protection. It is made using 210T polyester taffeta ripstop fabric with PU aluminium lamination to stop the UV rays from reaching you inside the tarp.
Firstly, the tarp is suitable for three seasons. Depending on our requirements, we've used it as a tent footprint, hammock, and awning. The three layers and double stitching at the edges ensured that it took sustained everything.
Secondly, the tarp is big enough to cover more than 100 sq ft. on the ground. What we love the most is it comes with four aluminum stakes, six para-cords, one accessory bag, and another packaging bag. No need to buy anything else for the tarp. Cool, right?
To conclude, this is a must-have tarp if you go camping during summers and hot climates. Also, it offers excellent camouflage. You can hide your tent in plain sight by covering it with the tarp, and no one would even know of your presence. It is similar to other lightweight tarps, so that's another definite plus. Just remember not to use it as a beach blanket.
7. Trademark Supplies Store Tarp Cover Silver/Black Heavy Duty Thick Material
Best Camping Tarp for Car Camping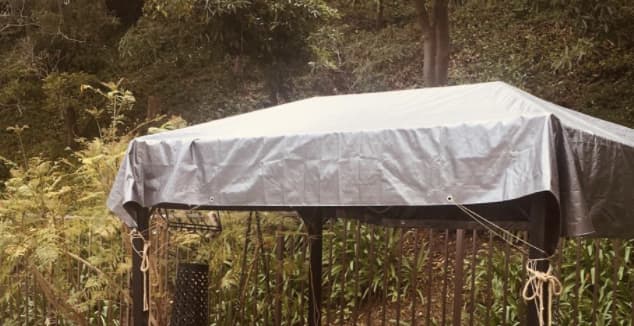 Heavy-duty material
Versatile use
Budget-friendly
Suitable for rough use
The tarp needs more grommets
Trademark Supplies Store Tarp is the best camping tarp for car camping and comes with waterproofing and high durability. The tarp is genuinely a heavy-duty model designed to withstand rough usage.
Firstly, you can tie the tarp down to block the wind in open camping areas. We like to drive the kids and go car camping during weekends. This tarp suits the purpose very well. It works as a tent footprint and a tent cover.
Secondly, the tarp is versatile and can be used for camping and at home. We aren't talking about setting up backyard camps either. During summers and winters, you can use the tarp to cover the deck, swings, pool, etc.
To sum up, the tarp is cost-effective and sustains wear & tear. However, it comes with rust-resistant grommets. We had to use our rope to set it up. Also, if it's too windy or raining heavily, the trap might need additional grommets to be secured. So it's better to make a couple of them in advance and clip rust-free rings. Apart from that, the tarp is perfectly waterproof and safe to use.
Frequently Asked Questions About Camping Tarps
Are Camping Tent Tarps Worth it?
Yes. Camping tarps are worth the investment. The trap can keep you safe and protect you from rain and sun when camping outdoors. It can cover your tent, outdoor gear and create a cozy tent for you to spend the night in the open.
How Big Should a Tarp Be for Camping?
Technically, the tarp should be bigger than the camp tent; however, you can choose a camping tarp based on the number of people it needs to be shade.
Two people- 6*8 ft
Three people- 7*9 ft
Four people- 8*10 ft
Six people- 9*12 ft
Eight people- 10*14 ft
Are Tarps good for Tents? Is Tarp Camping Possible Without a Tent?
Tarps are versatile and can be used by campers in several ways. For example, you can use a tent tarp to cover/protect the tent from extreme weather. However, a tarp cannot substitute a tent or replace it. It can only add additional protection to the existing tent. Therefore, it is not recommended to use a tarp alone when camping.
How to Put a Tarp Over a Tent?
Tie a rope to a tree and create a ridge-line that runs over the tent. Then, hang the tarp and center it to cover both sides of the tent.
Un-knot the guy lines and tie them to the ground stakes. Make sure to fix the ground stakes deep into the ground.
The tarp should be taut over the tent while not leaving too much space for the wind to pass through. Tighten the rope and guy lines at the end.
Final Words
Camping and sleeping outside are great experiences filled with beautiful adventures. You can fully enjoy your adventures if you are prepared to deal with the unexpected. We hope our article has helped you understand the importance of tarps and why you should use them.
We recommend ENO, Eagles Nest Outfitters ProFly Ultralight Hammock Rain Fly Tarp for its sturdiness, Amazon Basics Waterproof Camping Tarp for its cost-effective price, and Bearhard Waterproof Camping Tarp for UV protection.
That said, take your time to evaluate the options and buy a tarp that suits all your requirements. A worthy tarp can last for a long time and sustain wear and tear. Compare the options and make the right decision. Pair them up with some of the best camping tents on the market!
Let us know which camping hammock tarp you've purchased. Drop a comment below.
Happy camping!