The best gear in your inbox
All the tips you'll need to get started in Urban Survival:
We'll only use your email address for our newsletter and respect your privacy
How do you carry all your daily essentials when stepping out of your house? Do you use a sling bag, a backpack, or multiple handbags? What do you take when going on a weekend trip? What about camping or trekking? Are you familiar with everyday carry backpacks?
EDC is your everyday carry backpack, used for a variety of purposes. Irrespective of whether you are an employee, a student, a traveler, or a businessperson, you have a bag to hold and carry all the stuff you require for the day.
It might seem like no big deal to buy a backpack. After all, you need something small enough to fit everywhere and large enough to hold a bunch of items. Aha! Already confused, aren't you?
That's how it gets. Buying an EDC backpack needs research. What's more important is to first understand your requirements and then search for the most suitable backpack.
Do you know that there are at least a dozen types of bags and backpacks in the market? Yes! We've compiled all the information in detail and have listed the top fifteen best EDC backpacks in the market.
We've personally tested each bag to weigh the pros and cons and analyze how it would suit. Shall we start reading without delay?
| | |
| --- | --- |
| Overall Best EDC Backpack for Multiple Uses | Maxpedition Entity 21 CCW-Enabled EDC Backpack |
| Best EDC Sling Bag | Tomtoc Compact EDC Sling Bag |
| Best EDC Travel Backpack | Maxpedition Falcon-II Backpack |
| Best High-End EDC Backpack | Briggs & Riley @Work Medium Backpack |
| Best EDC Camera Bag | DYJ Multi-Functional Tactical Camera Messenger Bag |
| Best Waterproof EDC Backpack | Peak Design Everyday Backpack |
| Most Durable EDC Backpack | Maxpedition Entity 35 |
| Best Tech EDC Backpack | TIMBUK2 Parkside Laptop Backpack |
| Most Versatile EDC Backpack | MYSTERY RANCH Urban Assault 24 Backpack |
| Best EDC Backpack for Work | Carhartt Legacy Standard Work Backpack |
| Best Concealed EDC Backpack | Maxpedition Entity 27 |
| Best Cargo EDC Backpack | Briggs & Riley @ Work-Cargo Backpack |
| Best Tactical EDC Backpack | Monoki Military Tactical Backpack |
| Best EDC Backpack for Gym | Champion Life Stealth Sling Backpack |
| Best EDC Backpack for Students | MATEIN Travel Laptop Backpack |
Types of Backpacks on the Market
Everyday Carry Backpacks
EDC backpacks are the most commonly used bags as they are versatile and highly efficient for day-to-day use. These backpacks are further classified as:
Basic Daypack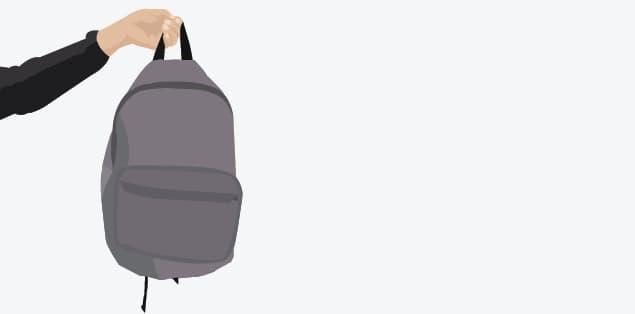 It has a standard design and is used by school kids.
Anti-Theft Backpack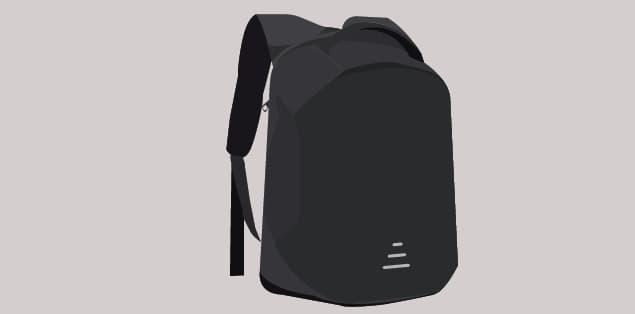 It comes with cut/tear-proof fabric and hidden zippers. They also have RFID-blocking ability to prevent electronic theft through scanners.
Laptop Backpack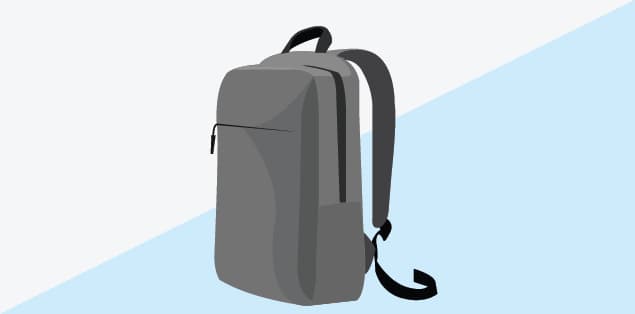 It is designed to store the laptop and its accessories like a USB drive, headphones, charger, etc. It is used by students and employees.
Rucksack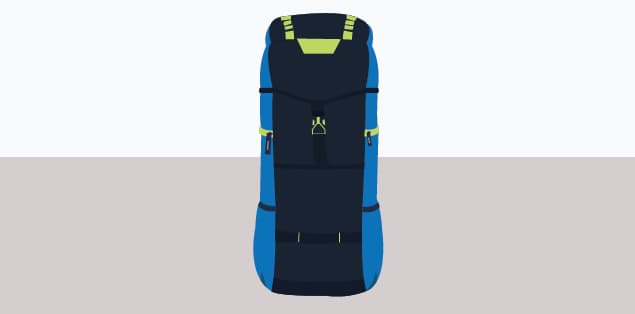 The main zipper is replaced by a drawstring in this model. It can be made of canvas, leather, or fabric.
Tote Backpacks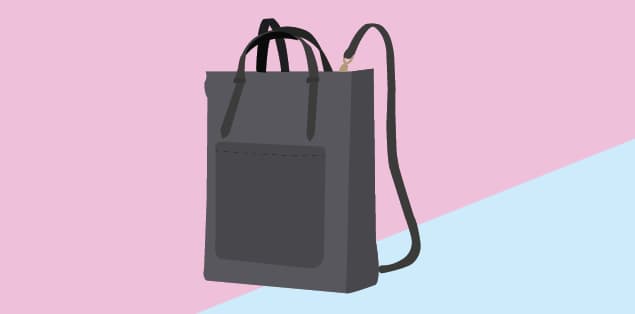 These are just tote bags with thin shoulder straps and are mainly used by women. Women don't only use tote bags, though! They're as adventurous as men, if not more! So, check out our guide for the best hiking backpacks for women!
Duffel Backpacks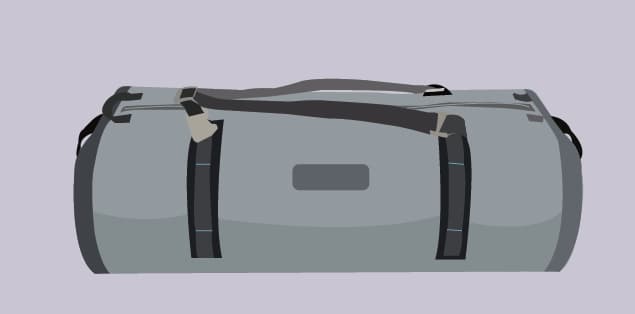 These are sturdy backpacks shaped like a sausage and perfect for short trips.
Mini Backpacks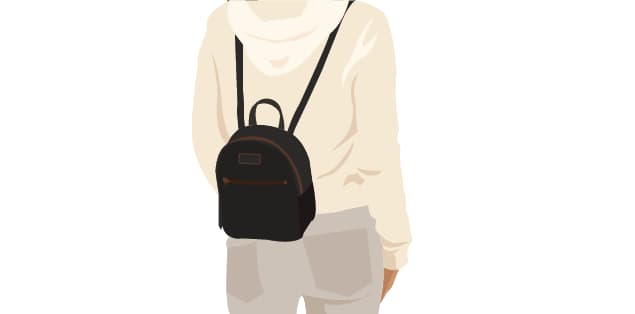 These are smaller and cute-looking backpacks. Though the bags can't hold many things, they look attractive.
Travel Backpacks
TSA-Friendly Backpack
These come with a padded laptop compartment, apart from the main one. They have been designed to easily pass through airport security checks.
Backpack with Wheels
This backpack has wheels and can be used as a trolley bag as well. However, it is smaller than the average suitcase.
Carry On Backpack
It is a small backpack with two main compartments and many smaller compartments and is a carry-on backpack. It has been designed for short trips.
Backpacking Backpack
These are huge backpacks designed exclusively for wanderers and explorers. They are heavy but can easily accommodate all your essentials needed when exploring the world.
Adventure Backpacks
Snowsport Backpack
These waterproof backpacks are designed to accommodate skiing and snowboarding equipment. They are compact and lightweight.
Framed Backpack
The frame helps in organizing your items neatly in each compartment of the backpack. However, these are heavier models.
Frameless Backpack
These are lightweight and perfect to carry smaller loads when hiking, traveling, or camping.
Biking Backpacks
As the name talks, these backpacks are used by bikers during their long biking trips and adventures.
Hydration Backpack
These are lightweight bags meant to carry water and a few other essentials.
Gear Backpack
These are slightly larger and accommodate all the items you'll need when riding long distances.
How to Buy Everyday Carry Backs – Things to Consider
It's easy to find the best EDC backpack once you know what's important and what's not. Look at the things to consider when buying Everyday Carry backs for your use.
Usage
The first factor to consider is the usage requirements of the backpack. What are you planning to use the backpack for? A waterproof and dustproof backpack would be an added advantage when hiking or trekking.
Durability
Some people like to invest in a versatile and durable model so that they can use the same EDC backpack for day-to-day activities and short trips. If you are an adventurer, you'll need a tough backpack that can sustain rough usage.
Size and Capacity
Which size of backpack would be the best for your needs? If it's for daily use, something lightweight, small, and compact would be a better choice. Unless you plan to pack spare clothes and a whole lot of other items, stick to a small EDC backpack.
Quality Construction
Even the everyday carry bag needs to be of good quality to last for a long time. The material used should be strong and sustain wear and tear. Pay special attention to the stitches. If they come loose, the bag is going to fall apart when you least expect it.
Adjustability
A backpack of any size or shape will not do. If you have a slight build, can you carry a large and heavy EDC backpack? Wouldn't it be awkward and uncomfortable? But what if you can adjust the shoulder straps and the waist belt?
If you want to buy an EDC bag that can be used by everyone in the family, go for the models that allow adjustments in the straps. That way, the backpack will rest correctly on your back and prevent you from getting back pain or shoulder pain.
Pockets and Compartments
The best EDC bag would be the one with multiple slots, compartments, and pockets. Instead of stuffing everything into one main compartment, you can organize your items in each pocket. A bag with inner secret pockets is even better as you can hide your cash and cards in them. The outer compartments can be used for pens, chargers, ID tags, etc.
Hydration System
Explorers, travelers, and campers need a backpack with separate water bottle pockets. Not only will the other items be safe, but you can easily take out the bottle and drink water without removing the backpack from your shoulders. At the same time, ensure that you find a bottle that exactly fits into the slot. Anything smaller will easily fall out when you're walking.
Features
The best EDC backpack will have at least some of the below features. The more features it comes with, the better it would serve your needs.
Padding for extra cushioning and comfort, especially if you intend to carry the backpack for long durations
Wide and strong adjustable shoulder straps that rest on the shoulders and don't bite into your skin
Chest and hip belt to ensure equal distribution of load and to secure the backpack
Small, medium, and large pockets on the inside and outside for various purposes
Elastic side pockets or molle webbing to store items you want to access instantly
Hidden pockets to store your valuables
Slash and tear-proof material
Water-resistant/ water-repellent/ waterproof so that your belongings are safe inside the backpack
Corrosion and rust-free zippers that don't get stuck and break over time. Lockable zippers are a better option
A laptop/ tablet sleeve to carry smaller laptops and notebooks, along with other necessary items
Budget and Price
Though we've listed it at the end, you should not ignore your budget and the price of the EDC bag. While high-end models have an array of features, you may not need them for regular use. In such instances, there's no use in spending more money on the backpack. You want something that'll last for a decent time and has the basic features. Such backpacks can be bought for cost-effective prices.
Top 15 EDC Backpacks for Travelers, Students, Gym Enthusiasts, and More
The following are some of the best EDC backpacks for travelers, students, and gym enthusiasts available in the market:
1. Maxpedition Entity 21 CCW-Enabled EDC Backpack
Overall Best EDC Backpack for Multiple Uses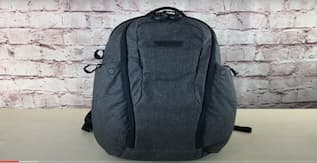 Padded shoulder straps
Low profile design
Interior lining for durability
Strong stitching
Maxpedition Entity 21 is the overall best EDC backpack that can be used by anyone. We carried the backpack to work and on a weekend trip with friends. The padded shoulder straps made it easy to walk with the backpack for hours. We didn't feel our shoulders protest in strain.
Firstly, the backpack is 100% nylon and looks sturdy enough to last for a while. It comes in a single size and can accommodate up to 21 liters. The charcoal color of the bag is another advantage as it doesn't call attention to our presence.
Secondly, the EDC backpack has side pockets where we stored a couple of candies and chewing gum, along with a few spare dollars. It's easy to grab them from the pocket without halting the walk. We were a little worried about how the drawbridge straps would help the main compartment, but the design works well. Impressive.
To conclude, the multi-use EDC backpack has great stitching and comes with strong zippers. These won't break after a couple of uses. The magnetic snaps are good too, much to our delight. Moreover, the inside pockets have a transparent lining so that we knew what was inside. There's no need to dig through the pockets when urgently looking for something. That said, we'd have loved it more if it had a mesh pocket. Oh, well. Still, this is a great buy if you want an EDC bag for multi-use.
2. Tomtoc Compact EDC Sling Bag
Best EDC Sling Bag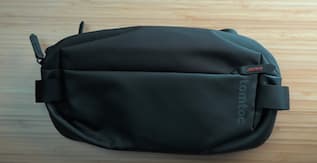 Lightweight
Versatile use
Has a hidden safety pocket
12-month warranty
The strap needs a little adjustment
Tomtoc has designed the best everyday carry sling bag that's a great companion when going to work, gym, sports practice, and other such activities. The sling bag is lightweight and has three compartments, including a hidden pocket to safely store our cash, keys, and cards.
Firstly, the sling bag rests across the back without being heavy or pressing into the spine. It comes with Duraflex buckles that make it easy to remove the bag at security points. We didn't have to tug the bag over the head every time we stopped at a security checkpoint.
Secondly, the material of the sling bag is better than we expected it to be. It does get a bit heavy with the camera in it, but a bit of adjustment will solve the issue. We tinkered with the strap a little and found the right way to carry it.
Finally, the sling bag is perfect for short trips and outings where you need only limited items. Of course, we hooked a water bottle on the side, and it stayed put throughout. That's a bonus. Of course, it won't be as good if you wear the bag on the front (we tried). It's a sling bag for a reason and works best when left on the back. Considering the price, it's a worthy bargain.
3. Maxpedition Falcon-II Backpack
Best EDC Travel Backpack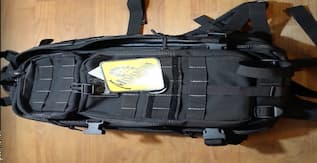 Durable and sturdy
Comes with concealed pockets
Has five color options
Multiple compartments
The mesh can be of better quality
Maxpedition Falcon-II is the best EDC travel backpack with an upgraded version of the military assault daypack. It is rugged, durable, and can sustain rough usage. We could carry a whole lot of items in this bag without any trouble.
Firstly, the adjustable straps worked their magic because the trip would have been painful otherwise. However, the bag could be a bit bigger. The description said medium, but the backpack is smaller than that. The space wasn't an issue, though we'd have liked a little more space to add a couple of extras.
Secondly, the concealed pocket was as good as it should be. The external webbing made it easy to attach a few more items to the backpack. The multiple compartments and pockets are perfect to plan an organized packing for the trip. No more messy main compartments.
In conclusion, the EDC travel backpack is something we loved to carry on our short trips. The hydration pocket held the water bottle, and the retention straps secured all pockets to the maximum. Just don't forget to buckle on the sternum strap and hip belt. These two center the backpack and take the weight off the shoulders.
4. Briggs & Riley @Work Medium Backpack
Best High-End EDC Backpack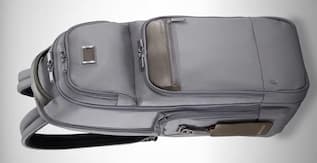 Lightweight and durable
Abrasion-resistant
Dust and moisture-resistant
Padded shoulder straps
Not suitable for long trips
No zipper on the water compartment
Briggs & Riley @Work is the best high-end EDC backpack we've come across in the market. It's a classy and highly durable travel backpack perfect for working professionals or students. The bag is lightweight and easy to carry, even when running.
Firstly, the EDC bag is made using ballistic nylon. It is dust, moisture, and abrasion-resistant. Our laptop was safe inside the bag. Not a bit of dust or moisture after a long day out in the fog. We put the ID papers and mobile phone in the front compartment designed exclusively for these items.
Secondly, the padded straps cushioned our shoulders, though we had to adjust the length a little. The space inside was neatly organized to place the items (chargers, folders, some stationery, etc .) in individual compartments.
To sum up, this medium-sized bag is suitable for an overnight stay or two. We liked how comfortable the bag felt despite the weight inside. We did carry a pair of clothes and wore the jacket as it won't fit inside. There's a water compartment on the side for easy access. Wish it had a zipper, but this is good too. The bottle stayed put.
5. DYJ Multi-Functional Tactical Camera Messenger Bag
Best EDC Camera Bag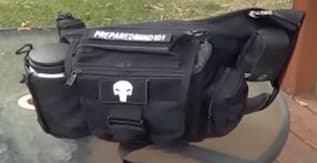 Waterproof lining
900D nylon material
Wide and padded shoulder strap
Breathable and comfortable design
Some users received defective backpacks
DYJ Multi-Functional Tactical Camera Messenger Bag is the best EDC Camera backpack to carry during outdoor adventures. We had it throughout our hiking trip, and it was so easy to carry the camera and other tiny items in this bag.
Firstly, the bag is waterproof. Some water from our bottles spilled on it, and the insides were perfectly safe. The shoulder strap has been ergonomically designed for active people. We just moved the padding a little and could easily climb the hills with this bag on the back.
Secondly, the camera backpack has outer and inner compartments. The keys, wallet, and mobile were safe inside, and the map, IDs, gum, etc. sat in the external pockets. The prime compartment has a drawstring closure, and luckily it is secure.
Finally, the water bottle pocket on the side is in the right place. The bag has been designed for the camera and a couple of other electronics and essentials. We could fit the tablet and the camera together, along with the chargers and spare batteries. Our team member is already planning her wildlife photography trip because she's in love with this bag.
6. Peak Design Everyday Backpack
Best Waterproof EDC Backpack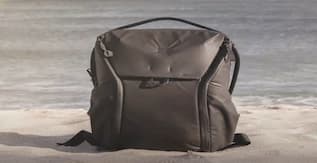 Waterproof backpack
Expandable for up to 80%
Weatherproof zippers
Multiple internal and external pockets
The shoulder straps can be wider
The side pockets can be bigger
Peak Design Everyday Backpack is the best waterproof bag made using 400D nylon canvas shell and comes with poly coating and waterproof zippers. This is the backpack we'd want to carry when traveling in rainy conditions.
Firstly, the backpack expands and can hold almost 80% extra of what it originally can. We took our time organizing the items and found that it gave us more space than expected. The bag can be accessed from the side, no need to remove it every time.
Secondly, this backpack is a wonderful companion when adventuring or going on outdoor photoshoots. The DSLR and the lens were super safe inside. Our teammate carried a laptop, fully cushioned from being bashed against the trees and rocks.
To conclude, the EDC backpack has sturdy hooks to attach extra gear. Yep, we hooked a tripod once and a heavy jacket another time. What we love the best about this model is the adjustable dividers inside the bag. Oh, so convenient to put everything in neat slots and take them out when necessary. The design is professional and elegant. We took it on our adventures and professional trips.
7. Maxpedition Entity 35
Most Durable EDC Backpack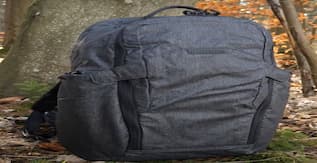 Tuckable magnetic wings
Comes with an interior frame
Suitable for rough use
Has a travel sleeve
Not enough compartments inside
Maxpedition Entity 35 is the most durable backpack we've seen in recent times. It has an internal frame that holds the shape so that the bag feels comfortable even when it is full. Be it the padded shoulder straps or the lockable main compartment, this one is a must-have for official and personal trips.
Firstly, the laptop sleeve is padded and can hold a 17" laptop with ease. One thing we like in this design is the side port for headphones, chargers, etc. We could tug them out without the slightest discomfort.
Secondly, the main compartment has additional draw bridge straps for security. It also has magnetic wings to quickly close the compartment. The adjustable buckle helped center the backpack.
To sum up, this durable bag can sustain wear and tear no matter where you go. The main compartment can be fully opened (like a clamshell) so that you can hook the other necessary items in the internal pocket. There's no need to peek into the bag and search for the pocket. However, we do wish it had a couple of more compartments inside.
8. TIMBUK2 Parkside Laptop Backpack
Best Tech EDC Backpack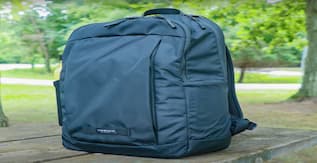 Designed for airline travel
Custom-designed strap
Ventilated back panel for breathability
Roomy compartment
TIMBUK2 Parkside is the best tech EDC backpack designed for laptops, notebooks, and other such items. Students and working professionals can rely on this backpack to safely carry their valuable gadgets.
Firstly, the padded laptop backpack is suitable for airline travel. The side water pocket or the front compartments make it easy to access necessary items with ease. The custom straps are so good that we could adjust the bag for each of us.
Secondly, the main compartment is nice and roomy. We could fit a light jacket without disturbing the MacBook in the padded laptop compartment. That's cool, right? The internal pockets were good for the keys and extra cash.
To conclude, the tech EDC laptop bag is so convenient that we've decided to use it regularly when going to work. The pens and a small spiral notebook go into the front pocket. We just have to open the zipper and take them out to make notes. The fabric looks great too. After all, as a laptop bag, it needs to be water-resistant, isn't it? Don't worry. It did survive a moderate shower.
9. MYSTERY RANCH Urban Assault 24 Backpack
Most Versatile EDC Backpack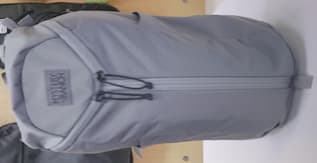 Versatile backpack
Durable and sturdy
Multiple internal pockets
Quick access to necessary items
MYSTERY RANCH Urban Assault 24 is the most versatile backpack inspired by the military assault rucksacks. We love its clean design and durable construction. From a laptop to a camera, a couple of folders, and a few more items, we could fill it to the brim.
Firstly, the backpack has multiple internal zipper pockets to organize smaller and bigger items in their respective slots. Our team member took this to rifle shooting and was delighted that he could store the ammo in safe pockets.
Secondly, the adjustable straps ensure that the backpack will rest where you want it. If it didn't cause any trouble with our height differences, it's not likely that you'll have any problem. The main compartment looked a little small, but we were surprised by how much we could fit into it.
Finally, quality is something we cannot stop gushing about. It is that good. Even though the water compartment is not stretchable, we were okay with the space. We used this backpack when camping, attending a weekend seminar, for a hunting trip, and even traveling down the country for a couple of days. It is versatile and worth the price.
10. Carhartt Legacy Standard Work Backpack
Best EDC Backpack for Work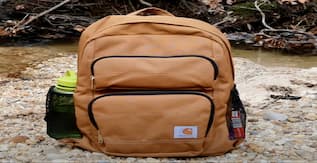 Water-repellent
Abrasion-resistant
Padded shoulder straps
Great for organization
No zippers for internal compartments
Carhartt Legacy is the best everyday carry bag for work. It's pretty much the standard design the company claims. This budget-friendly backpack lasts for a good time. What's more, we can choose from different colors offered by the brand.
Firstly, the backpack is water repellent and abrasion-resistant. Since we want it for daily use, these two features are a must. Our kids took the backpacks to school and said they liked the bags.
Secondly, the zipper compartments on the front come in different sizes. We could organize our items neatly in each one. The bigger compartment easily held the headphones. Just remember not to put weight on it.
In conclusion, this heavy-duty backpack can carry the laptop, chargers, books, files, and many other items, along with a water bottle on the side. We tried to stuff in a coat, and it was a tight fit. The bag looked better when we removed it. If you have to carry a coat, jacket, or hoodie, drape it on your arm or buy a bigger bag. Keep an eye on the bottom layer of the backpack. We got another layer added for extra strength.
11. Maxpedition Entity 27
Best Concealed EDC Backpack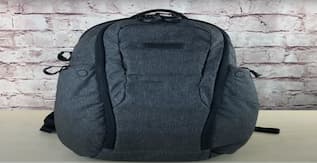 Lockable laptop compartment
Ergonomic design
Removable main compartment
Durable and study travel handle
The zippers can be a little smoother
Maxpedition Entity 27 is the best EDC backpack with concealed design and an additional step handle. Made of 100% nylon, the bag comes with various ergonomic features like adjustable straps, sternum and waist belts, etc.
Firstly, the separate laptop compartment is lockable, and the main compartment has drawbridge straps for extra security. We put the water bottles in the side slip pockets and the earphones, keys, pens, and candies in the other side pockets.
Secondly, the design is discrete and doesn't grab attention. There's two-way access to the full loop-lined at the rear. Since the main compartment is removable, we could use the internal organizer without stuffing them at random.
Finally, the concealed backpack is great for work, travel, college, and mini outdoor trips. It's the standard size and sits easily on the shoulders and back. We are happy that the travel handle is also sturdy. We've used it in airports and found it comfortable. And guess what, the backpack can hold a laptop and tablet, some folders, and even a small umbrella, apart from stationery and smaller items.
12. Briggs & Riley @ Work-Cargo Backpack
Best Cargo EDC Backpack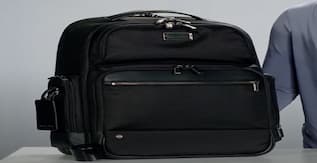 Lightweight and durable construction
Lifetime guarantee by the manufacturer
Comes in two sizes and colors
Suitable for people from all industries
The smaller compartments are not easy to access
No key keeper
Briggs & Riley @ Work (large size) is the best Cargo EDC Backpack designed to stock up as much as you want. The bag offers the same features and advantages as the one we've discussed earlier. The only difference is the storage capacity.
Firstly, the brand offers a lifetime of customer support and promises to repair the bag free of charge. While we love this offer, we can see that not many will have to take it up. The backpack is sturdy enough to not end up tearing anytime soon.
Secondly, it is durable and resistant to weather, water, dust, and abrasion. It's pretty much our go-to backpack when going for week-long trips. Since it can accommodate the 17" laptop and tablet, we hardly had any trouble packing it.
To conclude, this cargo bag is perfect for professionals from various industries. We are a bit disappointed that it doesn't have a key keeper. Also, we can't easily access the small compartments at security checks or in the airport. Still, the build is solid, and the backpack looks decent. It can also carry a lot of loads. All in all, we vote for this bag as a reliable cargo backpack.
13. Monoki Military Tactical Backpack
Best Tactical EDC Backpack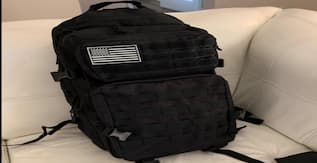 D-rings on shoulder straps
Water-resistant lining
Comes with MOLLE web
Comes with ten accessories
The quality could be better
The zippers need to be stronger
Monoki Military Tactical Backpack is the best tactical bag with durable and water-resistant nylon lining. It has a fab molle mesh lining in three rows to attach pouches and bags.
Firstly, the dual zip closure, the internal pockets, two main compartments, and the back compartment are perfect for adventurers, travelers, and explorers. We were excited to carry this backpack on our mountain biking trip.
Secondly, the company provides ten accessories with the bag. Yes! From multipurpose D rings to a water bottle pouch and a stainless steel saber card, the backpack comes with all that we wanted and more.
To sum up, the tactical backpack isn't just convenient and efficient. It comes in two sizes (35 liters and 42 liters) to choose from. We have both sizes and enjoy packing all our essentials for the trips. The pockets are so practically designed that we've used all of them. We even tied the sleeping bag at the bottom of this backpack.
14. Champion Life Stealth Sling Backpack
Best EDC Backpack for Gym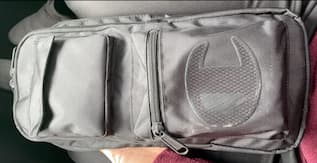 Designed for gym-goers
Comfortable to use
Bigger in size
Minimalistic design
Some users received defective sling bags
Champion Life Stealth Sling Backpack is the best EDC backpack for gym-goers. You don't need to carry much to the gym, right? We put in a towel, a water bottle, and our belongings in the internal pocket.
Firstly, we can wear the sling bag at the front or back. It works both ways and is just as comfortable. Yep, tried and tested. We even tried to fit in a 13" mac pro. It did fit, but there wasn't a place for anything else.
Secondly, the bag is bigger than expected, and that's an advantage. It's much like a mini backpack and is just as efficient. We love the hidden compartment on the inside. The top pouch has a magnet, though. We're hoping it won't come off.
To conclude, the sling bag is a great choice to carry to the gym. It'll easily fit in the locker and looks good with the minimalistic design. Even if you need to go anywhere else after the gym, this sling bag is a good choice. The best part is that it doesn't look awkward on any of us.
15. MATEIN Travel Laptop Backpack
Best EDC Backpack for Students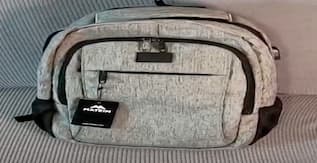 Has a built-in charging cable and USB port
Designed for students & professionals
Water-resistant EDC pack
Spacious pockets
Padded laptop sleeve
Floppy design
No bottom padding
MATEIN Travel Laptop Backpack is the best EDC backpack for students and comes at an affordable price. It is TSA-friendly and is suitable for versatile usage, be it weekend trips or daily college classes.
Firstly, the bag comes with a USB charging port and a built-in charging cable. We've used it on a couple of occasions and found it quite good. The bag can be opened in 180 degrees to place on the scanners without dislodging the laptop and tablet. There is a padded laptop pocket for further protection of your devices.
Secondly, the backpack is water-resistant. It is made of eco-friendly polyester and durable metal zippers. The pockets are spacious and fit all our essentials with ease. We've even stuffed spare clothes in it.
Finally, the elastic side pouches, the inner pockets, and other features like the waist strap make this a worthy EDC backpack for students. Our children carried the bags to school and have declared that these as the best. Though the backpack comes in just two colors, it is perfect for students who prefer efficiency over appearance.
Frequently Asked Questions About EDC Backpacks
What is EDC Gear?
Everyday carry gear includes the items you would carry with you daily. Items, such as wallet, keys, mobile phone, Swiss knife, watch, flashlight, pens, pencils, notebook, glasses, etc, are known as EDC gear. There is no standard listing of items that can be declared as EDC gear. The items change depending on your occupation, region, gender, and cultural background. EDC for women contains pepper spray, moisturizers, lip balm/ lipstick, tissues, tampons, and other items women perceive are necessary to carry along when stepping out of the house.
What is the Use of an EDC Backpack?
The main use of the EDC (Every Day Carry) bag is to help you carry all the essentials in a simple, effective, and organized manner. Instead of searching for the items at the last minute, you can store them neatly in the EDC backpack. The backpack is also useful if you have to stay out all day long or go on mini trips for a day or two.
What To Carry in an Everyday Carry Backpack?
The answer to this depends on who you are and what you do. The items a student should carry would be different from what a businessman or a sportsperson would carry in the EDC backpack. However, the following are some of the must-haves in every EDC backpack:
First aid kit (or least a couple of band-aids and a small tube of antiseptic cream)
A good water bottle
A sharp Swiss or Army knife (multipurpose knife)
A handkerchief or a few tissues
Identification papers/ cards
Money (cash, coins, and cards)
A notebook and pen
Mobile phone charger and other relevant power cords
Personal protection items
A small flashlight (even if your mobile phone has the flashlight feature)
An additional pair of clothes (or at least clean innerwear)
Headphones
A book or two to read when free
Final Words
So have you decided which EDC backpack you want to buy? We recommend Maxpedition Falcon-II for travel, Briggs & Riley @ Work for cargo backpacks, and Monoki Military Tactical Backpack for adventures and long trips.
However, we suggest you take adequate time to understand your requirements and choose the best EDC backpack accordingly. Make the right investment and reap the benefits of a backpack.
Let us know your choice in the comments.