The best gear in your inbox
All the tips you'll need to get started in Urban Survival:
We'll only use your email address for our newsletter and respect your privacy
Hiking is something that everyone enjoys, provided they have the legs for it! One of the essential elements for a hiking trip is a hiking backpack. We often assume that hiking backpacks suitable for men will also be ideal for women. Although there are a lot of unisex backpacks, we recommend that women use backpacks exclusively designed for them for additional comfort.
You don't need to wonder, out of the 100's of backpacks out there for women, which are the best women's hiking backpacks. Why? Because we have done the hard work for you by reviewing the best hiking backpacks for women. We tried a lot of these bags and read reviews of others to bring to you the best buying guide for the best hiking backpacks for women!
Roundup of the Best Hiking Backpacks for Women
| | |
| --- | --- |
| Overall Best Hiking Backpack for Women | Aura AG 65 |
| Hiking Backpack for Women With Best Ventilation | Osprey Renn 65 Women's Backpacking Backpack |
| Best Women's Hiking Daypack | Osprey Daylite Plus Daypack |
| Most Lightweight Hiking Backpack for Women | Osprey Eja 48 Women's Backpacking Backpack |
| Most Durable Hiking Backpack for Women | Osprey Kyte 46 Women's Backpacking Backpack |
| Best Small Hiking Backpack for Women | RUPUMPACK Insulated Hydration Backpack |
| Most Stylish Hiking Backpack for Women | Deuter Aircontact 60+10 SL Backpacking Pack |
| Best Hiking Sling Backpack for Women | WATERFLY Crossbody Sling Backpack |
| Best Budget Hiking Backpack for Women | TETON Sports Oasis 1100 Hydration Pack |
| Best Hiking Waist Backpack for Women | WATERFLY Hiking Waist Bag |
| Most Versatile Hiking Backpack for Women | Osprey Sirrus 24 Women's Hiking Backpack |
What Kind of Backpacks Are Suitable for Hiking?
No rule states you cannot use a standard bag for hiking, but we recommend against it. Some backpacks have been specifically designed for hiking.
What do they have that sets them apart from the normal backpack? The backpack should be spacious, spacious enough to be able to house all essential tools and necessities for a hiking trip. We also recommend that the backpack you choose for hiking should be a lightweight backpack. A water and dust-proof backpack would always be a welcome addition to your list of priorities.
Let us look at some of the important factors when buying a hiking backpack for women!
Things to Consider When Looking for the Best Hiking Backpacking Packs for Women
Overall Size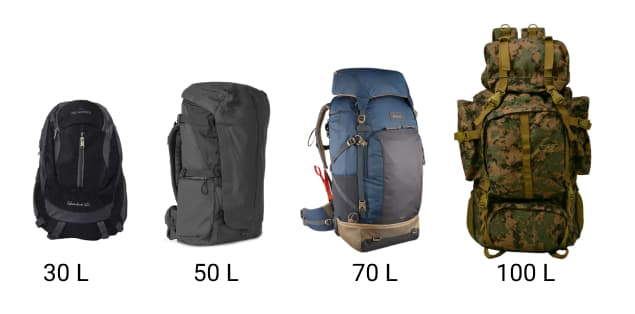 The size of the backpacks, without a doubt, should be of utmost importance. Neither do you want to over-pack or under-pack. Below is a chart that tells you the size of the backpack you should go for, depending on the length of your hiking trip.
Day-Pack = 30 liters or less
Weekend Pack (1-3 nights) = 30 – 50 liters
Multi-Day Pack (3-5 nights) = 50 – 70 liters
Extended-Trip Pack (5+ nights) = 70+ liters
Durability
A hiking backpack should be one that should be able to deal with all kinds of wear and tear because it is for sure to butt heads with the forces of nature. Imagine packing up for a weekend hike and having your backpack give up on you once at the hike. A single tear can lead to catastrophe. When considering durability, the backpacks' fabrics are of utmost consideration.
Make sure to go for a backpack that is made from sturdy material but at the same time isn't too heavy.
Backpack Weight
As discussed above, sometimes people look for sturdy materials but get backpacks that are very heavy by themselves. It goes without saying that we expect a hiking backpack to carry heavy loads. If the backpack is heavy, it becomes challenging to have a comfortable hike. A few extra grams can be the difference between a comfortable and an uncomfortable hike.
Therefore, finding a sturdy backpack and a lightweight pack is essential. The perfect balance is what makes for a great hiking backpack.
Volume
By volume, we don't just mean the weight capacity or size. Imagine wanting to carry something bulky, but your backpack does not have enough give to fit it in. Users should always go for stretchable backpacks or have enough space expansion to fit in bulky or oversized items.
Torso Length
Why should your torso length be significant when selecting a hiking backpack? Because if your torso length matches your backpack's, you're set to have a comfortable hike, thanks to even weight distribution.
While your go-to backpacking choice should match your torso length, a hiking daypack may have adjustable torsos for micro-adjustments to the torso length.
Type of Hydration System
For obvious reasons, hydration systems are of utmost importance when on hikes or treks. There are mainly two types of hydration systems that you may find on backpacks: an internal hydration sleeve (also called a hydration reservoir) or an external hydration bottle pocket.
A reservoir is a plastic bladder that can be filled with water and usually has its compartment in the backpack. There is a long tube attached to this bladder for ease of convenience. You will not need to dig out your water bottle every time you feel thirsty.
The drawback of the reservoir is having to take it out and refill it every time because the reservoir pocket is often deep in the pack. You may avoid this inconvenience by using a side water bottle pocket.
Water/Weather/Dust Proof
The likeliness of coming face to face with the forces of nature amidst a trek or hike is very high. It could rain, snow even have dust flying here and there while you're frolicking about on your hike. We do not want our backpack or the things inside it to be compromised. So it is in your best interest to purchase a hiking backpack that is dust-proof and waterproof.
Padding and Customization (Shoulder Straps and Belts)
Foam padding is an excellent addition to any wearable gear for comfort. Users should choose backpacks that have foam-padded backs and shoulder straps. They never feel any uneasiness. On top of that, what can make a backpack even more comfortable to carry? Adjustable shoulder straps and waist belts. Loosen or tighten it up as per whatever feels comfortable at that point in time.
Number of Pockets/Hip Belt Pockets
Another obvious one. The more pockets, the better, or is it? There needs to be a balance between the size and the number of pockets a backpack has. The main compartment should always have enough space to house bulky or oversized items, and multiple interior and exterior pockets should complement it.
Many backpacks come with a hip belt pouch. The number of hip belt pockets should also be an essential factor if you are looking for extra space for keeping handy items such as a pocket knife, torch, etc.
Ventilation
Carrying a backpack on your back for long periods while on backpacking trips can be exceedingly uneasy. That is because it causes a lot of heat and sweat. To avoid such uneasiness, manufacturers of these backpacks usually use open-cell foam and mesh lining on the back and shoulder straps. This gives users the "air" they need.
Budget
And in the end, it all comes down to the price. Not everyone would want to splurge a lot on hiking backpacks. We can relate when someone says that the budgeted nature of a hike makes it so much more fun. But at the same time, compromising on quality because of the price will cost you more if anything was to go wrong with your backpack. So choose wisely, not miserly.
Top 11 Women's Backpacks for Hiking
Now, let us get into the list of the best hiking backpacks for women. We have covered multiple categories and have tried most products to give you an accurate guide.
1. Aura AG 65
Overall Best Hiking Backpack for Women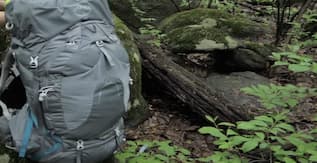 Available in 3 beautiful color variants
Anti-gravity suspension system
Removable floating top lid for lidless use
Has on the go attachments for trekking poles
Has a hydration sleeve that can accommodate a 3L reservoir
Anti-gravity harness and hip belt are adjustable for a better fit
Stretch pockets at the side and front for keeping handy gear
Sternum strap with integrated whistle
No rain cover
Reservoir for water sells separately
One of the leading brands in the hiking backpacks space is Osprey. You will be seeing more of Osprey showing up throughout our guide. But out of all the products, if we were to pick the overall best hiking backpack for women, it has to be the Osprey Aura AG 65. Why is that so? Let us take a look.
The Osprey Aura AG is available in 2 size variants, 50L, and 65L. It also comes in 3 beautiful color variants, viz. Gamma Red, Vestal Grey, and Challenger Blue. Lastly, there is a separate women's specific pack and a separate one for men. The women's model has been specifically designed for the body structure of women, so all you pretty ladies out there will never have to complain about your backpack! This backpack is one of the highest-rated ones due to its many welcome features.
Firstly, the Aura AG 65 uses Osprey's AG technology, which stands for Anti-gravity. This suspension system enables users to adjust the backpack's suspension system. It allows maximum customization of the shoulder straps and the waist belt. It is one of the most comfortable backpacks for women.
Secondly, the backpack has a detachable floating top lid with double zippers. The top lid can be attached to the backpack as a cover to use the backpack as lidless. The backpack has many other attachments, such as loops for trekking poles and ice tools. Therefore this is the best backpack for a hike on any terrain.
Lastly, this versatile backpack is full of pockets for your convenience. This includes several stretchable pockets at the side and a front pocket for easy access to essential gear. The pockets include the top lid and a bottom pocket for sleeping bags. The backpack also has a sleeve for a reservoir. It can house a reservoir of up to 3L, but the bag does not come with a reservoir; you need to buy it separately.
Although slightly expensive, the Osprey Aura AG 65 is one of the best backpacking packs available to users. The AG technology takes care of your comfort and feels lightweight even after being bulky in size. Thanks to the mesh back and shoulder straps, the bag is very well ventilated. You will never run out of space to keep your things in this backpack.
2. Osprey Renn 65 Women's Backpacking Backpack
Hiking Backpack for Women With Best Ventilation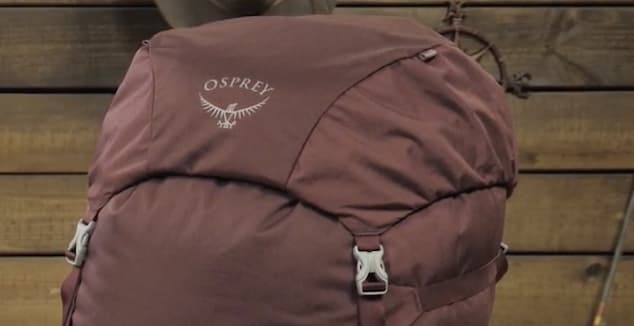 Available in 3 beautiful color variants
AirSpeed back-panel for heightened ventilation
Integrated removable rain cover
Extremely durable pack
Has a hydration sleeve that can accommodate a 3L reservoir
You can adjust shoulder straps up to 4 inches to accommodate various torsos
Has a zippered bottom sleeping bag compartment
Has zippered hip belt pockets
No AG technology like Aura
Reservoir for water sells separately
Osprey is back on our list but with its Rook/Renn series this time. The Osprey Renn 65 is one of the best women's hiking backpacks on the market when your crucial consideration is ventilation. So why is that the case? Let us take a look.
Similar to the Aura series, the Osprey Renn is available in 2 size variants, 50L, and 65L. The three gorgeous color variants available are Aurora Purple, Cinder Grey, and Challenger Blue. There is a separate women's specific pack: the Renn series and a separate one for men, which is the Rook series.
Firstly, the Renn series is, without a doubt, the best backpack for women when it comes to ventilation. That is majorly thanks to the backpack's AirSpeed back-panel that helps maintain a gap between your back and the back of the backpack. Ventilation often isn't paid much heed to by people, but trust us, it makes a world of difference for your overall comfort.
Secondly, the backpack has an adjustable suspension system that you can adjust by up to 4 inches. This allows for a more accurate and comfortable fit for your hikes.
Lastly, this backpack has a fixed top lid, unlike the Aura series. It also has a sleeping bag compartment with a floating divider. It also has adjustable straps for sleeping bags. There are lots of pockets – internal, mesh, or zippered. The backpack, like the Aura, has a 3L hydration sleeve (bought separately), so you do not need water bottle pockets for your hydration needs.
The Osprey Renn 65 is your go-to choice if you search for a backpack with lots of ventilation, comfort, and ample space for your items. Although the Aura has more features, the Renn is an excellent alternate at a considerably lower price. We personally tried the Aurora Purple 65L variant, and although the backpack is slightly heavy, we did not feel any discomfort, primarily due to the AirSpeed backpanel and adjustable suspension system.
3. Osprey Daylite Plus Daypack
Best Women's Hiking Daypack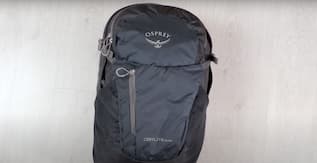 Affordable
Lightweight
Durable
Multipurpose
Has shoulder strap and waist belt
Available in seven colors
Lacks high-end features
Size is small
Not stylish
Only comes in one size
Osprey Daylite Plus Daypack is a great hiking pack and a good laptop, travel, and daily bag at the same time. The Daylite Plus's meticulous proportions are comfortable. The shoulder straps are tiny, yet they are curved and proportioned adequately for most users.
This daypack weighs about 20.6 ounces, which is a lot for a tiny daypack with a 20-liter capacity. The main compartment provides enough room, and the fabric is tough enough to endure severe handling without ripping or breaking during transport. You'll like the ten pockets on this bag since they're perfect for storing keys and other tiny items, so nothing gets lost while hauling a bunch of stuff in one bag.
Zippers of Daylite Plus glide smoothly, buckles snap securely, and when a strap crosses a zipper, it is primarily out of the way. It has a mesh-covered foam back that allows air to circulate.
In conclusion, although it's not a very stylish backpack, it wasn't designed to be one either. Instead, the appearance of the Daylite Plus is on usefulness rather than elegant lines. So, all fans of construction and comfort should choose this option.
4. Osprey Eja 48 Women's Backpacking Backpack
Most Lightweight Hiking Backpack for Women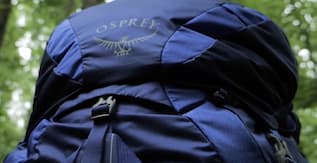 Many choices for storing equipment
Exoform harness that is well-cushioned
The AirSpeed suspension improves ventilation.
All-mighty guarantee
Stowing and retrieving stuff while wearing the backpack is perfect due to the external elastic pockets.
Excellent organizational features
Strain on the lower back due to back panel and hip belt
Hipbelt is not adequately padded
No rain-cover
The Osprey Eja 48 weighs 2 pounds, 7.2 ounces, which is minimal, considering its features and nylon construction. To further minimize the weight of the Eja, you can remove the lid and cover the top of the pack with the otherwise unnecessary FlapJacket.
Despite its simple design, the pack is surprisingly comfortable to wear. A 4-millimeter aluminum frame provides the pack's base to maintain its form and stability. The Eja also has side compression straps, retractable front straps that you can use for a sleeping pad, and an ice-ax connection and bungee tie-off that keeps tools safe while on a hike.
The mesh back panel of Eja 48 provides an open area between your back and the main compartment, enabling air to move between them easily.
In conclusion, Eja48 is an excellent all-around hiking bag for women who want to spend 1-2 days in alpine getaways. You will definitely not regret getting this backpack if lightweight is what you're seeking. Although, to accommodate the lightness, we believe there was some compromise on the padding.
5. Osprey Kyte 46 Women's Backpacking Backpack
Most Durable Hiking Backpack for Women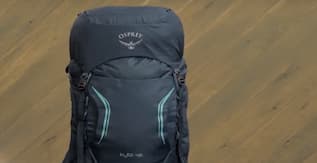 Long-lasting
Ability to carry bigger weights with ease
Streamlined characteristics
Excellent attachment points on the outside of the pack
Comes with a rain-cover
Main compartment is a touch tight
Water bottle holster is inconvenient
It's necessary to pack your gear carefully as it will not hold too much
The Kyte has features where you need them, and despite its compact size, it offers enough space for most hiking excursions. The LightWire frame suspension technology of Kyte effortlessly distributes larger weights to your hips, making the pack seem as light as a feather.
With the Kyte, the list of features appears to go on indefinitely. Even though the pockets aren't the largest or the most convenient to utilize, their storage capacity is impressive. If you are the one who is fond of capturing shots or scrambling over rocky terrain, and you want your hands to be free to do so, Osprey's "stow-on-the-go" pole attachment comes in useful. While the Kyte weighs 3.6 pounds, it is worth the weight for the correct user due to its durability and functionality.
The Kyte uses 1.5-inch webbing on the hip belt, so the broader webbing should compensate even if the cushioning is lacking. In conclusion, it's easy to carry and has all the features you need at a reasonable price.
6. RUPUMPACK Insulated Hydration Backpack Pack
Best Small Hiking Backpack for Women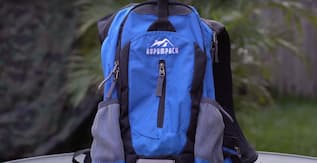 Comes in a variety of colors
Large storage space
Extra pockets for phone and key
Straps across the waist
Includes hydration pack
Water-resistant but not waterproof
Side-pockets are not able to water bottles
RUPUMPACK makes it to our list primarily as it contains a 2L inflatable hydration pocket with an insulating layer that protects the user from sweating cold drinks while on the go. It has a capacity of 2.5L of water and weighs only 1.4 pounds when empty.
The triple-stitched backpack straps, designed with comfort in mind, make it simpler to take the weight off the neck and give stability while jogging or cycling. Two waist straps are attached to the bottom of the backpack, which provides additional support while carrying bigger loads. Moreover, you can quickly reach your phone or other valuables from two external pockets on the broad waist straps, securely hidden yet easily accessible.
It features an open storage pocket that is ideal for storing food items such as fruit, energy bars, and peanut butter sandwiches and for storing apparel like a jacket when the weather becomes cool!
In conclusion, this option is great for those who want to carry lighter loads and go jogging, hiking, or walking and are not going for the extended trip as it can only pack so much. So, if that's what you're looking for, this is the best pick for you.
7. Deuter Aircontact 60+10 SL Backpacking Pack
Most Stylish Hiking Backpack for Women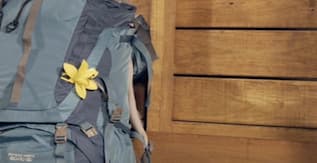 Very comfortable
Impressively balanced
Highly adjustable
Performs admirably with big loads
Inexpensive
Heavy waist belt
Very tall pack
Lacks some high-end features
Aircontact is a very comfortable pack to hike in even when filled to its total capacity of 70 ltr. Because of the additional cushioning surrounding the lumbar spine, the lower back is protected against pressure points. The luxuriously cushioned hip belt prevents bruising, and the equally padded shoulder straps stay comfortable even while carrying 65+ pounds of gear, which is no small achievement.
Moreover, the weight distribution system of Aircontact is such that it keeps everything where it should be, and this feature is vital as it does not put extra pressure on joints. The Variquick system guarantees that the suspension system works as intended, as a bad fit will completely decimate any benefit.
The AirContact Lite only features three enclosed compartments, one of which is the main compartment. It weighs 4.3 pounds, but we believe it is well worth it because the AirContact has a more straightforward design, and the pack's well-padded back panel and suspension system contains much of it.
In conclusion, this is a good choice if you search for a basic and efficient backpack without any bells and whistles. Its spacious body and compartments can comfortably withstand 4 – 7 days on the trail. Can't complain about that, can we?
8. WATERFLY Crossbody Sling Backpack
Best Hiking Sling Backpack for Women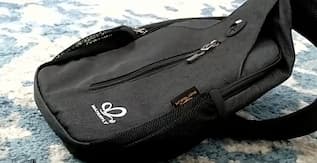 Comes in a variety of colors
Sleek and straightforward design
Ultralight pack
Adjustable, reversible shoulder strap
Sling strap has a handy compartment for fast access to goods
Anti-theft design
Water bottle holder is a little tiny
Waterfly Crossbody sling backpack looks fantastic and can accommodate all of your everyday commuting or traveling necessities thanks to its minimalist design. This sling is made of water-resistant nylon and has a 10-liter capacity.
This bag features water bottle mesh on both sides, and it can hold your favorite insulated mug ( and a tiny water bottle (both 16 oz) – or your travel umbrella. Moreover, the design is such that somebody attempting to unzip your bag and retrieve anything would have difficulty doing so. This sling bag is composed of unique linen materials that are water-resistant, simple to clean, and anti-friction, preventing it from tearing, wetting, and ripping.
Crossbody has seven pockets to fulfill your daily needs. The main pocket is large enough to hold a 13-inch computer. To accommodate different body types, you may alter the shoulder strap from 23.6 inches to 43.3 inches. A little mesh pocket on the strap will keep your phone secure and accessible.
In conclusion, this is a great small sling backpack among the ultralight packs on the market that you can take just about anyplace. If sling is what you like, the Waterfly Crossbody is the best choice for you.
9. TETON Sports Oasis 1100 Hydration Pack
Best Budget Hiking Backpack for Women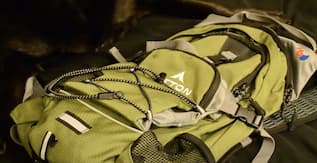 Compact design
Comes in 3 different colors
Sewn-In rain rover
Water Bladder of appropriate size
Great storage options for day hikes
Tube mechanism is simple to operate
Solid zipper quality
Shoulder straps may be uncomfortably tight for certain people
Bladder pack is not of the greatest quality and is relatively fragile
The Oasis 1100 Hydration Backpack from TETON Sports is a budget-friendly hiking pack with plenty of features to keep you well-hydrated on the trail. The Sports Oasis 1100 has various features to keep the weight off of your shoulders and your stuff secure, including three color options.
The full-length main pocket has a weather protector and a reversed zipper. Keeping your things organized couldn't be more accessible with the butterfly storage compartment. Instead, the main zippered pocket has an organizer and key clip to keep your valuables safe, while the side mesh pockets are great for storing energy bars, sunscreen, and water bottles.
In addition to the 2 liters (70-ounce) hydration bladder, the Oasis 1100 Hydration Backpack has a total capacity of 1100 cubic inches, an 18-liter capacity, and is puncture-resistant and sturdy.
In conclusion, with an excellent hydration backpack at an incredible price, the TETON Oasis 1100 Hydration Backpack is one of the finest buys on the market. Hydration will never be a problem with this backpack on your back!
10. WATERFLY Hiking Waist Bag
Best Hiking Waist Backpack for Women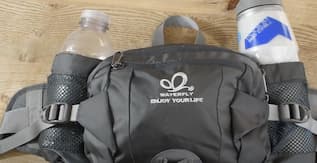 Multiple color options
Lightweight and easily transportable
Multiple, spacious, and deep compartments
Water bottle holder
Water-resistant
Reflective strips ensure your safety during the night
Zipper is quite frail
The waist strap is a little too small
The Waterfly Hiking Waist Bag is the best pack on the market today, owing to its sturdy construction and dependable performance. The primary material of the waist bag is water-resistant nylon, making it resistant to even the tiny shower that can happen on your backpacking trip.
The adjustable buckle belt of the Waterfly Hiking waist bag assures that the bag will fit properly around your waist, and the bulk closing makes it easy to fasten and unbuckle the bag. Additionally, the pack has a ventilated back mesh pad that helps keep your waist dry and fresh as you go for a hike.
The bag has two separate zippered pockets and a tiny front pocket to keep your belongings safe. Furthermore, the Waterfly Hiking waist has reflective stripes that aid in your visibility at night and help you avoid any mishaps. You can rest confident that your water bottle is safe and secure thanks to an elastic rope attached to the water bottle holder's mouth when you're on the go.
In conclusion, despite its small size and slim profile, Waterfly Waist is spacious enough to hold a 380ml bottle of water, passport, and a small handbag, making it a great bargain. So, you don't need to think much and go for it!
11. Osprey Sirrus 24 Women's Hiking Backpack
Most Versatile Hiking Backpack for Women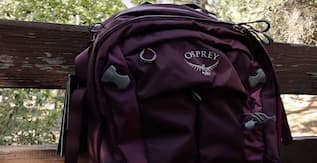 It is well ventilated.
You can adjust torso Length
Includes Rain cover
Smart and Practical Features
Comfortable
Adjustable hip belt
Hip-belt is heavy
Inadequate Hip-Belt Padding
Hydration pocket is tough to access
Stiff structure
Bulky
The Osprey Sirrus 24 Women's Pack is a classic-looking daypack that has been updated with current features for ventilation and optimal organization. The Sirrus 24 can take a beating thanks to its heavy-duty 210D nylon construction that is fit for carrying heavy loads.
Moreover, the mesh back panel of the pack, along with Osprey's unique Airspeed Suspension, allows the bag to breathe effectively and keep air moving even while working hard. This feature makes a significant impact while trekking uphill and can help prevent the dreaded sweaty back.
In addition, the pack's adjustable torso length was a big plus. As a result, if you start hiking and the hip belt starts riding up over your waist, you may quickly stop to adjust the rear panel to be anywhere between 15-19 in (38-48 cm). In addition, a cell phone slot on the shoulder strap and several tops and side pockets make the Sirrus 24 an excellent travel companion.
In conclusion, the Osprey Sirrus 24 has a lot going for it. It's the best hiking daypack that is well-padded and ventilated and ideal for you if you are the one who loves to move quickly uphill.
Frequently Asked Questions About Hiking Backpacks for Women
What Size Backpack is Best for Hiking?
For a backpack, the most crucial consideration is how much time you will spend outside. It would help if you had a small backpack for a quick stroll in the afternoon, but a larger pack is required for longer hikes, such as those lasting three days or more. The more experienced you are, the more likely you will need additional storage space for your gear.
For hiking, in our opinion, choose a backpack with a capacity of 20-40 liters. You'll have enough space for all of your necessities, including water, food, a map, extra layers, and a few other things. But, most importantly, these backpacks are well-designed and small. This means they won't weigh you down or stifle your progress.
How to Pack a Backpack for a 3-Day Hike?
It's good to load your backpack in three sections: bottom, middle, and top, while going on a 3-day camping or hiking trip. Keep heavy items in the center and your trail necessities on top while packing, and start at the bottom. You'll never have to take your pack off and rummage through it again if you do it this way.
How Big is a 60l Backpack?
Quite big. Going on a longer trek of 5 days needs a 60-liter backpack as you will need much more gear and goodies to go with. These backpacks may accommodate gear weighing 8-13 kg. Wider straps and hip belts make it easier to distribute your weight and reduce pain appropriately. You can complete a five-day hike with a 60-liter backpack.
Are Osprey Packs Waterproof?
Osprey bags are water-resistant but not waterproof. Osprey has stated that it will introduce a new category of waterproof, non-submersible packs rated IPX4-6 in the spring of 2022. So, wait for a little while to get your hands on that.
The company announced that the Arcane Waterproof is for the energetic urban commuter, and the Transporter Waterproof is to suit the technological requirements of multisport outdoor enthusiasts.
Final Words
We compiled this list of best backpacking backpacks for women after extensive testing and research for all those women hikers who want to buy a pack best suited to their needs and requirements. And some of you might not like to dip your style quotient even while hiking, so we have made this list incorporating all the factors.
We would recommend Aura AG 65 for all your hiking needs as we found it best-fitting and very comfortable, and to top it all, it comes with a lifetime guarantee. To cut a long story short, we would like you to go through our list when you shop for your next hiking backpack and select the best one.