The best gear in your inbox
All the tips you'll need to get started in Urban Survival:
We'll only use your email address for our newsletter and respect your privacy
Hunting with bows has been in practice from the olden days. The bows and arrows used for hunting have come a long way, from being made of branches and sticks by the cavemen. We now see the latest bows with built-in cams, safety cables, adjustable draw length, and draw weight to suit different people. In this post, we'll talk about the best hunting bows on the market.
Archers and hunters tend to use similar kinds of bows at times. That's because both of them want the same result. To hit the bull's eye and with full force! Speed, agility, and customization are some important factors that separate the best hunting bows from the rest.
This article is all about hunting bows, the types, the factors to consider when buying one, and the best hunting bows in the market. We have tried each model to understand how it works in real life and shared the insights in this article.
Roundup of the Best Hunting Bows
| | |
| --- | --- |
| Best Compound Bow for Hunting | Bear Archery Cruzer G2 Adult Compound Bow |
| Best Recurve Bow for Hunting | Samick Sage Takedown Recurve Bow |
| Best Budget Compound Bow for Hunting | Archery 2021 Dragon X8 Hunting Compound Bow |
| Best Youth Hunting Bow | Ghost Hand Youth Compound Bow |
| Best Beginner Compound Bow for Hunting | Barnett Vortex Lite Youth Compound Bow |
| Best Traditional Hunting Bow | TOPARCHERY Traditional Recurve Bow |
| Best Long Bow for Hunting Deer | Deerseeker 62″ Takedown Recurve Bow |
| Best Crossbow for Hunting | Barnett Whitetail Hunter STR Mossy Oak Bottomland Crossbow |
| Best Bow for Bowfishing | Cajun Fish Stick Take-Down Bowfishing Bow Set |
Types of Hunting Bows on the Market
The following are the four different types of bows we see in the market. Even if you are a novice in this field, you'd have heard of a crossbow. It's a deadly weapon.
Long Bows
This is what we call the traditional bow that's been in use since yesteryears. It is made from wood (laminated wood in modern times) and has a long tight string tied from one end to another. Instead of arrow rest, it has an arrow shelf. The draw height and weight are not fixed but are in proportion to each other. If the draw length is less, the draw weight will also be reduced. The longbow is effective only if you are highly skilled and have years of experience in archery or hunting.
Recurve Bows
The recurve bow is just like the longbow except that the ends curve outwards, thus making it more forgiving than the longbow. The modern-day recurve bows are lightweight and a perfect choice for bowhunting. They come with advanced fittings and look quite similar to compound bows. They are even made of similar materials. The recurve bow is less expensive than the compound bow.
Compound Bows
The compound bow first entered the scene sometime in the 1960s. It looks complex and feels more like a scientific instrument. However, they are easier to use and more efficient than the older bows. The fittings that come with the bow have been designed to help even beginners aim better at the target. In short, you are more likely to hit closer to the target when using a compound bow. Moreover, modern compound bows are real fast and can touch up to 350 fps.
Crossbows
The crossbow you see today is an enhanced version of the traditional model. We can say that the crossbow is nothing more than a compound bow mounted horizontally on the stock. Instead of having a mechanical release, it comes with a standard trigger.
Which Bow is the Most Popular in Hunting Today?
The compound hunting bows are the most popular bows for hunting. You'll also see many target archers using a compound bow during the practice.
Of course, the compound bow comes in many styles. That said, they have similar parts and work more or less in the same manner. The wheels and cams are attached to the limbs. They help the bowstring store energy required for the shot and allow you to hold the bow easily, even for the full draw. The main advantage of compound bows is that they reduce the draw weight by around 50%. Buy compound hunting bows that come with adjustable draw length and draw weight. This ensures that you can use the bow even as you get better and stronger.
Things to Consider When Buying a Bow for Hunting
The following are some important things to consider when buying a bow for hunting:
Left or Right Handed
Unlike the traditional bows, the modern bows, especially compound bows, are designed separately for the right-handed and the left-handed. The hand with which you pull the drawstring determines the handedness. Check the specifications to see if the bow is meant for everyone or limited to either.
Dominant Eye
How do you aim and shoot the arrow? You see and focus on the target with your eyes, isn't it? We tend to have one dominant eye that helps us look straight at the target. Similar to the handedness, you need to identify your dominant eye and then shortlist hunting bows.
Let Off Percentage
The let-off percentage will determine the draw weight you'll need to hold to shot the arrow at full draw. Hunters typically use a high let-off percentage, as it helps them ready the shot with the lesser draw weight. Archers prefer a lesser let-off percentage, as they like to hold more draw weight when aiming at the target.
Axle to Axle Lengths
Do note that this length is measured with the draw weight bottomed. Traditionally speaking, a bow with more axle-to-axle length is considered accurate. It is also heavier to carry around. Hunters don't need to worry about this as the difference is marginal. Professional archers and Olympic players pay more attention to this factor.
Draw Weights and Lengths
You first need to know your preferred draw length and draw weight. Since many hunting bows these days come with adjustable settings, you can set them accordingly. However, the IBO speed depends on the draw length, and 30 inches is the average or preferred draw length.
The draw weights range from 10 pounds to 40 pounds (child to adult). That said, hunting bows to hunt deer need a minimum draw weight of 40 pounds.
IBO Speed
This is the standard measurement of how much speed the bow can generate. Hunting bows do well with an IBO speed of a minimum of 300 fps (feet per second). A bow with more than 320 fps is termed a fast one.
Riser and Limb Styles
The risers and limb styles are made of aluminum or fiberglass to reduce the bow's weight without affecting its overall design and efficiency. The limb styles also affect the vibration of the bow. Parallel limbs help reduce the noise created by vibration as the limbs move in opposite directions. Split limbs aren't always preferred, though.
Eccentric Systems
This is the mechanical system that is used in compound bows. The drawstring, cables, and harness are controlled by the eccentric system (or cam). A bow can have one cam (at the bottom) and a wheel at the top. This allows you to shoot accurately, irrespective of the draw length. However, the single-cam system is not suitable for all draw lengths.
A hybrid bow is one with two cams connected so that the change in the bowstring length will not affect the arrow flight.
For maximum efficiency, you can use binary bows that have identical cams at the top and bottom. In this system, the harness is connected between the cams to deliver the best results. This helps store more energy to power the arrow. Also, the bowstring length is automatically adjusted.
Brace Height
The distance between the bowstring and the back of the handle is known as brace height. You'll want a hunting bow with a shorter brace height for more speed. The 7-inch brace height is considered a standard by the hunting community.
Top 9 Bows for a Great Hunting Experience
The following are some of the best bows available in the market for a great hunting experience:
1. Bear Archery Cruzer G2 Adult Compound Bow
Best Compound Bow for Hunting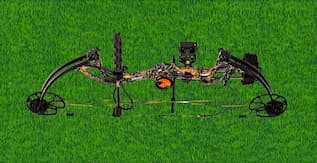 Highly versatile
Suitable for all age groups
Easily adjustable
Lightweight and easy to use
Extremely smooth and quiet on release
Looks attractive
The string is somewhat sensitive; needs to be pulled with care
Bear Archery is known for manufacturing some of the best compound bows in the market, and you can say that the Cruzer G2 is the best compound hunting bow for all age groups. The bow is so versatile and adjustable that it can be used by kids and adults. The draw length ranges between 12 and 30 inches, and the draw weight ranges between 5 and 70 pounds.
Firstly, the 6.5-inch brace height is almost perfect for bowhunters. With a speed of 315 fps, we know that our chances of hitting the target before it moves away increase considerably. What's more, the bow weighs only 3 pounds and doesn't feel heavy in the hands.
Secondly, the compound bow is available separately for left and right-handed people. The grip is oh so perfect! The smooth draw cycle and the 70% let-off only add to the accuracy of the shot. One thing we observed is that the bow vibrates and generates noise despite the string top.
Finally, the Bear Archery Cruzer G2 Adult Compound Bow comes ready to hunt. The company has armed it with a stabilizer, five-arrow quiver, d-loop, wrist sling, four-pin Trophy Ridge sight, peep sight, and Whisker Biscuit arrow rest. We also found three cams in the package. Any adjustments you want to make to the bow can be done using an Allen wrench. There's no need to search for a bow press either. The bow will easily last for five years or more and become a favorite hunting companion.
2. Samick Sage Takedown Recurve Bow
Best Recurve Bow for Hunting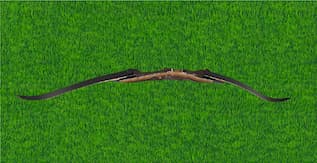 Highly durable and sturdy
Lightweight
Looks beautiful
Grip feels natural
Suitable for beginners and experts alike
Easy to assemble
Does not come with an instruction manual
Samick Sage Takedown Recurve Bow is popular as the best recurve bow for hunting. It is a great choice for beginners and skilled hunters/archers. It is a lightweight bow and has been ergonomically designed to ensure that the user is always comfortable handling this bow.
Firstly, the bow comes with two fiberglass laminated limbs that can be interchanged and used. It has a draw weight adjustability of 25 to 60 lbs and is surprisingly accurate given the price. Yup, it's budget-friendly too.
Secondly, we found it easy to make the adjustments as it didn't require any tools. The riser is super durable, thanks to the mix of Maplewood and Dymond wood. Moreover, it is quite forgiving when it comes to which arrows we should use with it. We tried a few of them, and the results were all noteworthy.
To conclude, the takedown bow is easy to use and fine-tune and will last for a long time. We know we'll have to upgrade the limbs and other parts as we become more skilled, but hey, this bow is worth it. The Dacron string is good enough, but we'll be upgrading it in the coming months.
3. Archery 2021 Dragon X8 Hunting Compound Bow
Best Budget Compound Bow for Hunting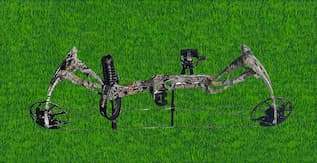 One of the most affordable hunting bows on the market
Draw length and draw weight is easily adjustable
Easy to assemble
Has the speed of high-end bows
Bow shoots smoothly and quietly
Zero vibration while shooting
Comes with a lighting system
Wrist strap is less durable than the other parts of this hunting bow
Trustworthy compound bows can be expensive, but if you want the best budget compound hunting bow, try Archery 2021 Dragon X8. With 6.6 inches brace height, 18-30 inches draw length adjustment, and 0-70 lbs draw weight adjustment, Dragon X8 sure has all that you need from a hunting bow.
Firstly, the bow speed is 310 fps, though we got up to 325 fps by reducing the draw weight a bit and loosening the limbs bolts. The let-off percentage is around 70-80% to ensure that the shots go in the right direction. The axle-to-axle length is almost 30 inches.
Secondly, we found that the bow is useful even for skilled bowhunters though the company sells it as a beginner package. Just make sure to buy stronger arrow tips if you want to hunt anything bigger.
To sum up, the bow is easy to assemble and start using. We downloaded the manual from the company website and followed the instructions. The draw cycle is smooth enough, and the vibration noise can be reduced with a few tweaks. It does weigh close to five pounds after fitting it with the attachments, and there is some give when you go for a full draw against a solid back wall, but Dragon X8 is worth the investment.
4. Ghost Hand Youth Compound Bow
Best Youth Hunting Bow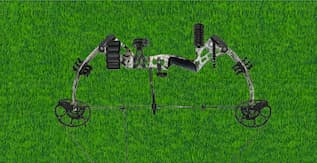 Durable and sturdy
Comes with a lighting system
High-quality product
Easy to assemble and use
Compact and lightweight
Shooting is consistent, fast and straight
We experienced minor issues with the lighting system at first; however, the same resolved in a day or two without any repairs
Ghost Hand Compound Bow is the best young hunting bow with a speed of 320 fps, 75% let off, and 6.8 inches brace length. Made of aluminum alloy, the bow is strong and durable, with a smooth draw and great fiberglass limbs.
Firstly, the bow comes with five pins bow sight, Brush Arrow Rest, one arrow quiver, a d-loop, a wrench set, a peep sight, a rubber stabilizer t-ring silencer set, a target paper, and an instruction manual. In short, it has all that you need to teach your young one.
Secondly, the adjustable draw length range and draw weight range make it convenient to increase the weight as the teen gets stronger. We do wish the bow was available for left-handed archers as well.
Lastly, we can confirm that this bow is good not only for teens but also for women. It's pretty lightweight and is almost assembled to use right away. Our young girl has been firing arrows fast and good ever since we handed it over to her. The shots are steady and accurate, much to our delight. It's a solid bow to start your young ones with archery or bowhunting.
5. Barnett Vortex Lite Youth Compound Bow
Best Beginner Compound Bow for Hunting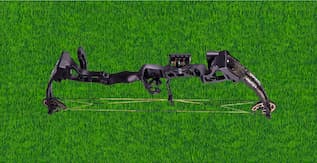 Versatile
Easy to set up and use
Suitable for beginners
Comfortable and firm grip
Lightweight
Arrows are not as durable and sturdy as the hunting bow
If you want a versatile yet beginner-friendly compound bow for hunting, Barnett Vortex Lite Youth Compound Bow should be your go-to choice. Though the draw weight range is only 18-29 lbs, it has a let-off percentage around 60-70%, and it offers an accurate shot.
Firstly, the starter bow comes with a synthetic string, cams, and a cable system. It is threaded for a stabilizer. It's a compact piece and can be adjusted for several preteens and teens.
Secondly, the fiber optic sights are decent, and the overall functioning is good. However, we had to get a separate grip to cover the bare aluminum one for additional safety.
To conclude, the Barnett Vortex Lite Youth Compound Bow is not perfect by any means, but it is pocket-friendly and a reliable model to train kids in archery. It'll hold good even after they get stronger and last easily for 3-5 years. Just don't use it for hunting bigger animals.
6. TOPARCHERY Traditional Recurve Bow
Best Traditional Hunting Bow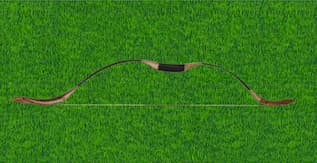 One of the most attractive and stylish traditional hunting bows on the market
Easy to string
Consistent and fast shooting
Well-made bow with a flexible string
Excellent for beginners
Not as durable as the mechanical compound bows on our list
Made using strong fiberglass with a draw length of 28 inches and draw weight ranging between 30 and 50 lbs, TOPARCHERY Traditional Recurve Bow is the best traditional hunting bow in the market. It comes pre-strung, which we replaced with the actual string by following the detailed instructions provided by the company.
Firstly, the aesthetic appeal cannot be ignored. We love how this looks so much like the ones used by the ancient hunters. It's stronger and better, and that makes us even happier.
Secondly, the accuracy of the bow is amazing. It comes with flexible limbs and a super riser. We've used this as a mounted bow (yep, one of us can ride a horse very well), and it delivered just as good.
Lastly, there's no cracking, no imbalance, or any issue that'll mess up your game. We are thinking of sanding it a wee bit for better performance. Remember that you are not supposed to cut the paracord until you string the bow. It's used to retain the shape and make stringing an easy job.
7. Deerseeker 62″ Takedown Recurve Bow
Best Long Bow for Hunting Deer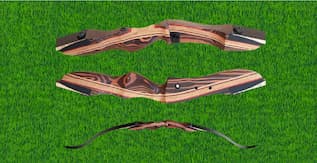 Great build quality
Easy to assemble
Shoots perfectly
Suitable for beginners
Perfect for hunting deer
Riser is specially designed to provide excellent grip
Comes with a variety of draw weights
We did not experience any issues with this hunting bow
Deerseeker 62″ Takedown Recurve Bow is a beautiful and efficient longbow for hunting deer. We'd say it's perfect in many ways if you love to hunt the old-fashioned way.
Firstly, if you want a bow that's reliable for hunting deer, elk, or wild boars and is also suitable for bowfishing, look no further.
Secondly, the limbs are laminated using Maplewood and fiberglass. The bow ends curve similar to a recurve bow and give you great speed and low vibration. The Dacron B-55 bowstring and pre-installed threaded bushing are the highlights of the bow.
To sum up, the aluminum pockets ensure exact limb placement, making the bow consistent. It comes with the necessary attachments and can be upgraded as you require. Use the Allen key to assemble and adjust the bow. You don't need anything else. And yes, this is a lightweight bow and great for men and women. Check out the bow on Amazon.
8. Barnett Whitetail Hunter STR Mossy Oak Bottomland Crossbow
Best Crossbow for Hunting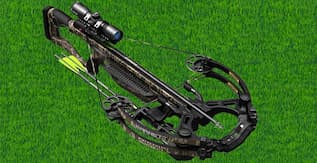 Fast and powerful shooting
Compact and lightweight
Easy to assemble out of the box
Highly suitable for deer hunting
Requires adjustment to shoot perfectly
Barnett Whitetail Hunter STR Mossy Oak Bottomland is the best crossbow for hunting, with a speed of 375 fps and a lightweight design. The trigger-tech trigger system and step-through riser need a special mention.
Firstly, the crossbow comes with an integrated crank technology and anti-dry fire trigger. We were happy that the company sent the crossbow almost assembled and ready to use. We didn't have to do much to make the adjustments and try the bow.
Secondly, the crossbow generates kinetic energy of 118 ft. lbs, and the energy transfer system is just great. The company provides various accessories, such as a rope cocking device, multi-reticle scope, a lightweight quiver, headhunter arrows, and lubrication wax.
Finally, we had a wonderful time using this crossbow for hunting. We could take a couple of bucks with ease. The accuracy and speed were spot on. Being an experienced shooter helps, but even otherwise, this one will be an asset for bowhunters.
9. Cajun Fish Stick Take-Down Bowfishing Bow Set
Best Bow for Bowfishing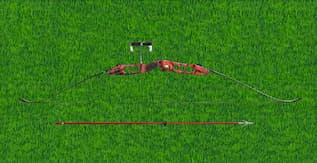 Easy to set up and use
Perfect for beginners
Pretty powerful
Durable and sturdy
Affordable
Not suitable for hunting fish deep under the water; requires more power for hunting deep-water fish
Cajun Fish Stick Take-Down bow set is the best bow for bowfishing with its 56 inches length and 45 lbs peak draw weight. The riser is made of high-quality aluminum. The composite limbs have been designed for bowfishing.
Firstly, we love the company for including a no-slip rubber grip and blister buster fingers pads. Shooting is so much easier with these and our fingers don't hurt even after a long day of shooting.
Secondly, the bow comes with threaded holes for us to mount the sights or reels. We took the company's advice and used Cajun Winch Pro. Works like a charm. And, the bow is good for beginners to take a shot.
To conclude, the fish stick takedown bow is a decent purchase, though we know it'll have to be upgraded after a while. It did come with the string, but we suggest buying a stronger line so that it won't snap when you least expect it. Also, don't try to use this as a regular recurve bow. It won't last long.
Frequently Asked Questions About Hunting Bows
1. What is a good draw weight for a compound bow?u003cbr/u003e
u003cstrongu003eAns. u003c/strongu003eThe draw weight depends on your age and shooting skills. The 40 pounds generates enough kinetic energy to kill a whitetail, but you need around 50-60 pounds for larger animals like bears or elk.u003cbr/u003eu003cbr/u003e~A child weighing less than 100 lbs needs a draw weight of 15-25 lbs.u003cbr/u003e~A stronger child or a smaller woman weighing up to 130 lbs can use 25-35 lbs.u003cbr/u003e~The average woman weighing around 130-160 lbs can use 30-40 lbs.u003cbr/u003e~Strong women over 160 lbs and a smaller man less than 150 lbs need 45-55 lbs of draw weight.u003cbr/u003e~The average man (150-180 lbs) can use 55-65 lbs of draw weight.u003cbr/u003e~A man over 180 lbs can use a draw weight of 65-75 lbs.
2. How do compound bows work?u003cbr/u003e
u003cstrongu003eAns.u003c/strongu003e The working of a compound bow is simple. You pull the bowstring, and the outer wheels rotate. This generates energy, which multiplies the force on the inner cables. The more kinetic energy it generates, the sharper and faster your shot will be.
3. How much draw weight is required to kill a deer?u003cbr/u003e
u003cstrongu003eAnsu003c/strongu003e. The 40 pounds of draw weight should be enough to kill a deer. However, some hunters go up to 60 lbs for more efficiency.
4. How to store a compound bow?
u003cbr/u003eu003cstrongu003eAns.u003c/strongu003e The safest way to store a compound bow is by hanging it horizontally on a wall. Use a frame and ensure that the area is not exposed to changing weather conditions. The climate can affect the bowstring and can cause it to stretch or contract. Buy a bow sock and hand it in a room you don't use often. Don't ever store it in the basement.
5. How far can a compound bow shoot?u003cbr/u003e
u003cstrongu003eAns.u003c/strongu003e A compound bow can shoot with great accuracy within the 30-60 yards range. It's called the effective range by archers. However, the farthest a compound bow hit is 310 yards.
6. Compound vs. Recurve vs. Crossbow – Which is best for hunting?
u003cbr/u003eu003cstrongu003eAns.u003c/strongu003e Compound and crossbows are great choices for hunting. Crossbows can generate more kinetic energy, accuracy, and speed. While the recurve crossbow is easy to manage and maintain, it is not as efficient as the compound crossbow.
Conclusion
We hope you have decided which bow to but for your hunting trips and flaunt your shooting skills. We recommend Bear Archery Cruzer G2 for the best compound hunting bow, Barnett Whitetail Hunter STR Mossy Oak Bottomland for the best crossbow for hunting, and Ghost Hand Youth Compound Bow for teens and youngsters.
That said, we urge you to make your decision based on your dominant eye, shooting skills, and hunting preferences so that the bow becomes an asset during the hunting trips. Have fun and enjoy the game!