The best gear in your inbox
All the tips you'll need to get started in Urban Survival:
We'll only use your email address for our newsletter and respect your privacy
Hunting cameras go by different names and are placed across the property or in forests to take pictures of animals. Initially, wildlife researchers and enthusiasts used these cameras to study the behavioral patterns of animals and birds. However, over the years, even the best hunting cameras became affordable to everyone.
Farmers use these cameras to identify animals trespassing heir property. Hunters use game cameras to identify the best places for hunting an animal or bird in the wild. The hunting cameras are mounted or strapped to the trees to take pictures using motion sensors.
These cameras are used in areas where it's hard to hide and spy on animals or to track the nocturnal activities of certain animals. There are different types of cameras available and various factors to consider before investing in a hunter camera.
We've tried an array of models and listed our top nine best trail cameras in 2022. You can use them for hunting, to protect your property from wild animals, take some amazing candid shots of animals in motion, and whatnot!
Roundup of the Best Hunting Cameras
| | |
| --- | --- |
| Best No Glow Trail Camera | GardePro A3 Trail Camera |
| Best Wireless Trail Camera | Vikeri 1080P 16MP Trail Camera |
| Best Cellular Trail Camera | Covert WC Series LTE Cellular (Verizon or AT&T) Trail Camera |
| Hunting Camera with Good Battery Life | RECONYX HyperFire 2 Covert IR Camera |
| Best Low Glow Trail Camera | Bushnell 119874C 20MP Trophy Cam HD Low Glow Trail Camera |
| Best Budget Trail Camera | Primos AutoPilot 16MP Trail Camera |
| Best Solar Powered Trail Camera | SPYPOINT SOLAR-DARK Trail Camera |
| Best Trail Camera for Beginners | Browning Trail Cameras Defender Wireless Cellular 20MP AT&T Trail Camera |
| Best Portable Trail Camera | Wildgame Innovations Terra Extreme Megapixel IR Trail Camera |
What Are Hunting Cameras Called?
Hunting cameras are popularly known as trail cameras or game cameras. Trail cameras are used to capture pictures of animals in their natural habitat without disturbing them in the process. Trail cameras take over the job where humans cannot.
These are called game cameras because hunters set up them before the hunting seasons to get a comprehensive idea about the habits and routes of the animals they wish to hunt.
Wildlife researchers and photographers set up trail cameras to trail the animals and birds through the lens. Remember to wear gloves to minimize your scent on the cameras. That way, animals will not be wary of getting closer to the cameras walking through that path.
Are Trail Cameras and Game Cameras Different?
No, they aren't different. Trail cameras, game cameras, and hunting cameras are the same. They are battery-operated cameras that use passive infrared to detect movement and take pictures of things that walk into the field of vision.
Types of Hunting Cameras on the Market
The following are different types of hunting cameras available in the market:
Motion-Activated Hunting Cameras
These trail camera models require minimum human intervention. They are perfect for photographers who need the cameras on only for a specific duration. Motion-activated cameras are useful when they have a wider range (field of vision) and higher sensitivity. That's because the camera will not capture anything that's beyond its detecting range.
Cellular Cameras
These trail cameras are compact and perfect for camouflage. They run on a SIM card and a registered mobile network. The latest cellular cameras come with motion sensors and are hassle-free to use. If you need to frequently move the hunting cameras from one place to another, this is a good choice. However, its efficiency depends on the battery life and the mobile network availability in the woods. Otherwise, you cannot transmit pictures to another device.
Security Cameras
Trail cameras are not entirely safe when left alone outside for long durations. Humans or animals can damage the cameras. People have been known to steal and damage trail cameras for reasons unknown.
Security trail cameras are an answer to such situations. These are tamperproof and reliable. Even if anyone tries to mess with the cameras, the events are recorded in real-time and can be used as evidence. However, security cameras are mostly on private personal properties rather than in the wild. Also, you'll need to ensure that you are not breaking any laws by installing security cameras.
Wi-Fi Cameras (Wireless)
As the name suggests, these trail cameras have built-in Wi-Fi to transmit pictures from the memory to other devices. They have no complicated wiring system and are highly user-friendly. Installation is also simple and easy. However, these cameras work well only when they are within the Wi-Fi range. Any obstructions that block the path will hamper their performance.
Flash Cameras
Flash camera has the same advantages and disadvantages. The flash feature allows the cameras to take pictures during the night and in low-light conditions. However, this flash will startle the animals. These trail cameras are not suitable for photography but will work for hunters. The image quality is decent, and the setup is simple.
Infrared Cameras
Infrared cameras are single-unit devices that are designed to work at night. These trail cameras have infrared filters that automatically turn on and off, depending on the lighting in the location. These are quite sturdy and tamperproof and come with high resolution. However, infrared cameras are expensive and don't deliver great shots due to the light reflecting on the lens.
Things to Consider When Buying Hunting or Trail Cameras
Picture Quality and Resolution
The picture quality of a camera is determined by the number of megapixels it has. A camera with more MP can take better pictures with a higher resolution. Such cameras work better when you use the zoom feature. That said, cameras with high MP also take average pictures if the lens isn't great. You'll need to look at the sample pictures to get a better idea. Moreover, don't base your decision only on the pixel count. Other factors are just as important.
Battery Life and Power Supply
The trail camera is only as good as its battery life, isn't it? What use will the camera be if it doesn't last long enough to do the job? Luckily, hunting cameras are designed to be active only when there's some movement in the vicinity. This helps save batteries. However, you'll need to decide what kind of trail cameras you want to buy.
The typical game camera requires eight AA batteries. Some need even twelve batteries, and others use lithium-ion batteries. Still, you can find cameras that work with externally powered batteries or power banks. Rather, some models run on solar power (and come with a solar panel). These can run as long as you want. That said, if you need remote cameras in a dense forest with little sunlight, solar-powered are not an option.
Mounting Feature
Trail cameras can be set up in many ways. Some are strapped to the tree trunks, while others are held using brackets for extra safety. The trail cameras also come with tripod-style sockets. A few of them have holes or a channel to thread a rope and secure them to the trees or wood stumps. Hunting cameras with lockable features are preferred by many hunters and photographers.
Trigger Speed and Recovery Speed
The time that the camera's shutter takes to capture a picture or start the recording after it identifies a movement in its range is known as trigger speed. Photographers use trail cameras with 0.2 trigger speed so that there's little time between the two factors as possible. The larger the gap, the lower your chances of getting a good picture.
Another related factor here is the recovery speed/rate. This denotes the time taken by the camera to ready itself for the next picture. Though all manufacturers don't mention the recovery time, you'll need to buy the one with lesser time. A camera that takes a few seconds to get ready for another shot will miss some important frames.
Light Settings
Low light can mess up the picture quality. If you want to study the nighttime activities of animals, you'll need trail cameras that are capable of working in the dark. You can choose between white flash cameras and no-glow cameras.
The second option is more preferred by hunters and researchers, as the cameras don't emit any light when they are active. Animals could be staring right into the camera, and they won't still be spooked or alarmed. Many deer hunters use no-glow or low-glow (black infrared) cameras to track their targets at night.
Heat and Motion Sensors
While trail cameras have motion sensors, some of the latest models come with heat sensors too. It's not a mandatory feature but can come in handy at times.
Storage Type
A trail camera left in the wild is bound to take loads and loads of pictures if you position it right. The cameras come with slots for storage cards. You can insert an SD card with a memory size of your choice. However, transferring these pictures is where you need to pay attention. Some hunting cameras have complex software that's not compatible with many operating systems or devices.
Some models can send high-resolution images to your email. Some allow you to see the pictures on the LED display screen and delete the unnecessary ones. You can even use the add-on photo editing software offered by a few manufacturers.
Shooting Range
It is also known as detection range and determines the efficiency of the game camera. The range varies between 40 feet and 120 feet. That said, setting up a low MP camera for a longer range will result in blurry photos. You'll need to consider the location and your requirements when deciding on the shooting range and image quality. They go hand in hand.
LED Screens
Not all hunting/ game cameras come with LED screens. Such models are used by wildlife photographers. Hunters prefer trail cameras with no LED screens, as these are cheaper and less prone to capture human scent due to excessive touching.
Top 10 Trail Cameras for Outdoor Use, Wildlife Adventures, and More
The following are some of the best trail cameras available in the market for outdoor use, wildlife adventure, and so on:
1. GardePro A3 Trail Camera
Best No Glow Trail Camera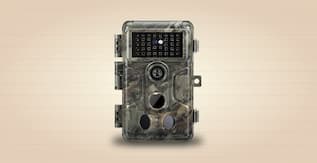 Extremely fast motion detection
Convenient to set up and use
Extremely fast trigger speed
Great night vision distance
Excellent picture clarity
Solid build
Sturdy locking clips
Intuitive user interface
Great quality sound
Not easily portable
Length of night film is limited to 30 seconds
GardePro A3 is the best no glow trail camera with a 20MP lens and 33 yards of night vision flash range. The camera possesses a trigger speed of 0.1 seconds and a recovery time of 0.5 seconds. We love just how many pictures the camera can take when the animal is in the frame.
Firstly, the trail camera is easy to set up and use. We had no trouble in fixing it to the tree and ensuring that was well hidden. The camera takes up to 128GB SD card, and naturally, we put it in to collect a bunch of photos and videos. The camera can take pictures even when recording the video, that too with a time stamp.
Secondly, the game camera is waterproof and has a standby time of eight months. It connects through Wi-Fi and the USB cord. The color LCD screen was perfect to view and delete the images then and there.
Finally, GardePro A3 can record sounds as clearly as it records the videos. It requires eight AA batteries, which is a standard requirement for most models. However, what we loved the best was the video compression without compromising the quality. The video files are comparatively smaller, meaning the SD card can store more files. The night video length seems to be capped at 30 seconds. We wish it were longer.
2. Vikeri 1080P 16MP Trail Camera
Best Wireless Trail Camera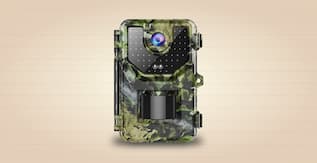 Easy to set up and use
Great night-time picture quality
Multiple mounting options
Convenient to access enclosure
Delivers excellent resolution during both day and night
Great build
Very fast trigger speed
Durable and sturdy
Comprises micro USB to transfer data
We did not experience any issues with this camera
Vikeri's 1080P 16MP camera is the best wireless trail camera we've seen in recent times. With the IP66 waterproof feature, this heavy-duty camera has been designed to take ultra-high-resolution videos with great clarity.
Firstly, the camera has a trigger speed of 0.2 seconds and a 120 degrees wide-angle lens to capture even the fast movements of animals. The no-glow infrared feature makes a suitable choice for night shooting. Since it covers around 27 yards during the day and 21 yards at night, we were sure to capture some surprising images.
Secondly, the installation caused us no problems whatsoever. Since the camera is a wireless model, we could easily hide it from being spotted. We set it up in the woods, outside our home, and on the edge of the clearing. It worked well in every location. Moreover, the 2.4" color LCD screen was convenient to view pictures directly.
To sum up, Vikeri is a worthy game camera with clear audio recording and video output. It has survived lashing rains in our region, and we're hopeful that it'll continue to do so. By the way, this camera uses a micro SD card with a capacity limit of up to 256 GB. The manufacturer provides a 32 GB card, but we know it's not enough for our use, and got another one with better storage capacity.
3. Covert WC Series LTE Cellular (Verizon or AT&T) Trail Camera
Best Cellular Trail Camera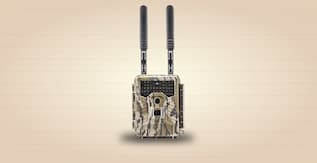 Great performance
Excellent trigger speed
Good quality pictures
Easy to set up and use
Durable and sturdy
Comes with wireless app control
Instruction manual provided with the camera is not very clear
Covert WC Series LTE is the best Cellular trail camera with a 32MP lens and full HD video recording facility. The camera has a burst mode with 1-10 picture frames. It also has 44 now glow LED blubs to take good nighttime images and videos.
Firstly, the cellular trail camera uses a mobile app (Cover Wireless App) to view pictures, change the settings, and manage the camera anytime we want. We could also share the pictures directly with others and on social media without touching the camera. Since the app works with Android and iOS, we used it on all our phones.
Secondly, the 33-yard flash range seemed like a decent deal even if the camera used 12 AA batteries. The trigger speed is 0.4 seconds, which could have been a little faster. This does affect the quality of the image you request through the app. However, it works well through the LTE network.
To conclude, these cellular trail cams are easy to set up and use. Remember that the settings need to be updated for the app to work. We followed the manufacturer's instructions here, and that worked. Since we use the cellular network, we pay extra every month for the network charges. That's fine, though. There wasn't a need to go to the camera during this time.
4. RECONYX HyperFire 2 Covert IR Camera
Hunting Camera with Good Battery Life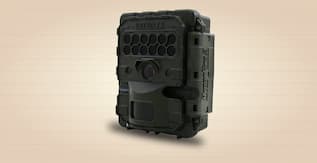 RECONYX HyperFire 2 is the best hunting camera with good battery life, and we are impressed by how long it lasts when other models seem to give up and demand fresh batteries. Moreover, the image quality is good.
Firstly, this is a no glow camera that works day and night to take pictures and videos of activity within its vicinity. The flash range is a solid 50 yards. That said, you'll need to adjust the settings carefully. The Quickset mode will take too many pictures and fill up the memory in no time.
Secondly, the manufacturer's customer service is fantastic. They might take a little additional time to respond, but the one who replies knows what they're talking about. The interaction is likely to be stress-free.
Finally, HyperFire 2 is a slightly expensive trail cam but works without any glitches. Make sure to set it up properly. Though the company calls it covert, if you don't hide it well, the animals are going to stare right at the lens. It's fun to look at such pictures, but we can't risk getting the camera ripped off by larger animals.
5. Bushnell 119874C 20MP Trophy Cam HD Low Glow Trail Camera
Best Low Glow Trail Camera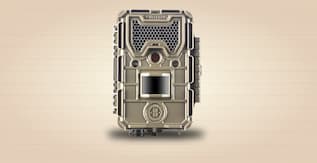 Bushnell 119874C is the best low glow infrared trail camera with 0.2 seconds trigger speed and 0.5 seconds recovery rate. With a detection range of 33 yards, the camera delivers great night vision pictures.
Firstly, the setup hardly took any time. It's one of the easiest models we've used. Even a person with little knowledge can set it up. The pre-built settings are so good that we didn't try anything new.
Secondly, the camera stayed good in varying weather conditions. It has survived rains and sweaty hot sun in the summer and is still working as it did on the first day. We've used lithium batteries, and that seemed to have made the difference. The camera lasts longer.
In conclusion, Bushnell 119874C is a cost-effective trail camera with a wonderful image sensor and takes beautiful pictures and videos at night. There was hardly a blurry picture on the SD card. Since we used a larger SD card, we didn't worry about too many pictures being clicked. We deleted them later on.
6. Primos AutoPilot 16MP Trail Camera
Best Budget Trail Camera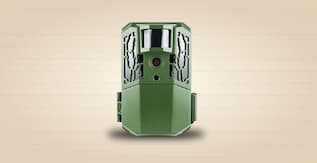 Primos AutoPilot is the best budget trail camera that works like a charm and doesn't burn a hole in the pocket. It's got a field range of 33 yards and low glow night vision with an auto-exposure feature.
Firstly, this trail cam has the least number of white images. The settings adjust automatically so that the nighttime images don't have too many flashlights and look like scenes from a haunted house.
Secondly, there's a jack to connect to the solar panel, and we used the camera for a while by running it on solar power. Of course, we had to alternatively use the batteries due to the rains. The cam looks like a good water-resistant model too.
To sum up, we couldn't have been happier about the setup and usage. Just follow the manufacturer's instructions to the dot. The strap did appear a little cheap, but given the price, we aren't complaining. Moreover, it held on to the tree without any issues. The memory is limited to a 32GB SD card, but that's fine. This budget camera is reliable, and that matters more.
7. SPYPOINT SOLAR-DARK Trail Camera
Best Solar Powered Trail Camera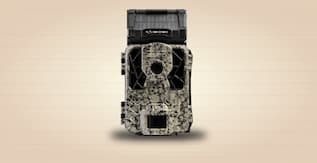 Spypoint Solar-Dark is the best solar-powered trail camera and has an ultra-fast trigger speed of 0.07 seconds. Oh, yeah, we love it. With the integrated solar panel and the option to use a 12V lithium battery with an external power jack, this one will work for a long time.
Firstly, the camera has advanced features like AI image recognition and comes with a 16 GB memory card. This feature helps the camera to identify the animals by species and gender. Cool, isn't it?
Secondly, it can be accessed through mobile and web apps. We even powered it using AA batteries just to check how it works. Also, the cam has no glow and three other flash settings for night images and videos.
Finally, the burst mode takes up to six images at once. The time-lapse video mode was so much fun to use. You've to try it. The integrated solar panel is highly efficient. We prefer to use it most of the time. However, the camera doesn't come with the case on Amazon. We had to buy it separately.
8. Browning Trail Cameras Defender Wireless Cellular 20MP AT&T Trail Camera
Best Trail Camera for Beginners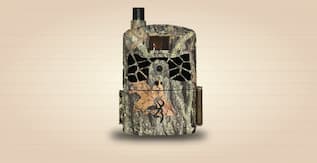 Browning Defender Wireless Cellular with AT&T network is the best trail camera for beginners. The 4G network sends images and videos to the mobile phone using the Strike Force Wireless management system.
Firstly, the trail cam works in two different night modes – low glow infrared for long-range and invisible IR mode for the standard range. The HD video quality is impressive. They can be tagged using GPS and scheduled to send to the phone whenever you want without any trouble.
Secondly, the fast-motion setting helped us get some decent images of the jumpy deer and even a couple of rabbits at a distance. We could adjust the trigger speed between 0.3 to 0.7 seconds, though we always set it up at 0.3 seconds.
In conclusion, this trail camera is a good choice for beginners who are still tinkering with these devices. The settings are uncomplicated, and the app is simple enough. The cam works with external power or 16 AA batteries. Get a monthly plan of your choice, and you should be good to go.
9. Wildgame Innovations Terra Extreme Megapixel IR Trail Camera
Best Portable Trail Camera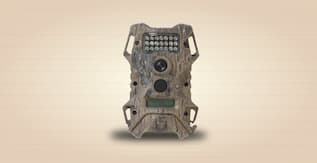 Wildgame Innovations Terra Extreme is the best portable trail camera for a pocket-friendly price. It can be easily camouflaged on tree trunks, and the game won't even know there's a device taking pictures.
Firstly, the cam is small, compact, and portable. Detecting its presence is pretty much impossible for animals. The motion sensor works better than we expected, considering the price.
Secondly, there aren't too many features. It is a good thing because we have almost no chance of messing things. The video quality is pretty good too. Since we set up multiple cams around, this one turned out to be a good choice.
To conclude, the trail camera is a decent bargain on most fronts, be it the battery life or the pictures. We did want it to have a higher trigger speed, but hey, this isn't a high-end model. It did miss a couple of deer in the frame, but that was one odd moment. The instruction manual isn't great either. We had enough experience to set it up, but you might want to watch a couple of videos to get a better idea.
Frequently Asked Questions About Trail Cameras
1. When to put out trail cameras?

Ans. Putting out the trail cameras during summer might help prepare better for the hunting seasons. Though many people start during fall, summer is the right time to spy on your game and have a better overall picture of how many deer, bucks, etc, are in the region and identify the best way to approach them.
2. How does a trail camera work?

Ans. A trail camera is left powered on after being fixed to a tree or a post. The motion sensors in the camera get activated when there's a movement in the area. The camera takes a picture or starts recording a video, depending on how it has been set up. Once the movement stops (and the animals walk away), the camera will stop taking pictures/recording the video.
3. Can I capture trespassers on trail cameras?
Ans. Yes, you can. Trail/game cameras can be used as security cameras on your private property. By setting up the cameras in a position where they aren't easily visible, you can capture high-resolution images and videos of trespassers as evidence. The infrared flash emitted by the trail cameras cannot be seen by humans.
4. How can I reset my trail camera?

Ans. Follow the below steps to reset the trail camera:
1. Press and hold the "down" arrow key
2. Move the power switch to the "set" position
3. The camera will turn on, and the previous settings will be reset to default
Conclusion
We hope you've decided which hunting camera to buy for your requirements. We recommend GardePro A3 for its no glow night vision pictures, Covert WC Series as the best cellular trail cam, and Spypoint Solar-Dark for its integrated solar panel and fastest trigger speed.
However, we suggest you take your time to assess each model and go with the one that best suits your purpose. Hunting cameras are versatile and highly useful.