The best gear in your inbox
All the tips you'll need to get started in Urban Survival:
We'll only use your email address for our newsletter and respect your privacy
There are numerous ways for precise deer hunting, with tree stands being one of the most popular among them. There are three types of tree stands available in the market, ladder stand being the most popular while other two are hang on and climbers; ladder stand is considered the most sturdy of the lot.
The idea of a ladder stand for hunting deer is not a recent invention. It has its roots in the past. The earlier deer hunters used to build their hunting ladder stands out of wood. It's not uncommon to walk through some good hunting land and come across a weathered, handcrafted ladder leading up to a handmade platform. If you don't know who built it, imagine how many ladder stands have aided in putting down deer.
A good hunting ladder can prove to be as important as some of the best hunting knives if you are trying to have the hunt of your life!
In this article, we will tell you about the various types of ladder stands, what makes them different from each other and which one will be the best suited to your needs and requirements; the top 6 ladder stands on the market based on our exclusive research and test, and conclude by answering the frequently asked questions.
Roundup of the Best Ladder Stands for Hunting
| | |
| --- | --- |
| Overall Best Ladder Stand for Hunting | Primal Treestands 22′ Mac Daddy Xtra Wide Deluxe Ladderstand |
| Best Two Person Ladder Stand for Hunting | BIG GAME LS4860 18′ Guardian XLT Two-Person Ladderstand |
| Most Comfortable Ladder Stand for Hunting | Summit Treestands Steel One-Person Ladder Tree Stand |
| Best Ladder Stand for Deer Hunting | Guide Gear Climbing Ladder Tree Stand with Mesh Seat |
| Best Ladder Stand for Bow Hunting | BIG GAME Hunter HD 1.5 Treestand |
| Most Heavy Duty Ladder Stand for Hunting | Guide Gear 18′ Jumbo Ladder Tree Stand |
Types of Ladder Stands for Hunting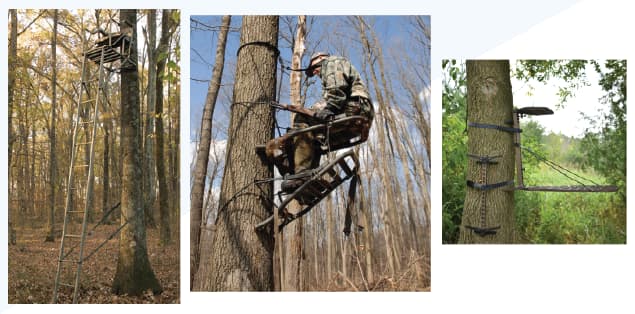 You might not know the types of ladder stands on the market. So, why not give you a telescopic view of the ladder stands that you can buy for skillful deer hunting. So, when you step into the market to buy a deer hunting ladder stand, your vision should be non-distorted and crystal clear. So let's shed some light on the issue at hand.
Tree Ladder Hunting Stand
The ladder stand consists of multiple things that include a seat, a platform, and a ladder, all in a single package. These ladder stands require the assistance of several people to erect. Once you pitch them, they are safe and very comfortable. Getting onto a ladder stand is simple, and they provide a spacious platform for working. Although they are not particularly mobile, ladder stands are the undisputed comfort kings.
Climber Deer Hunting Stand
In general, climbing stands are two-piece tree stands, with the upper portion used as the seat and the lower piece used as the platform. These stands do not have any ladder or steps because you will be using the stand to climb the tree. The technique varies depending on the model. The central concept is moving the top portion of the stand-up tree and resting all of your weight to complete the climb. Bring the bottom part of yourself up the tree with your feet and repeat the process.
Climbing tree stands range in weight from 12 to 30 pounds, and they are equipped with backpack straps to make them more portable. These stands are lightweight and portable, which makes these stands perfect for bow hunting on public lands where access to a vehicle is limited.
Hang On Ladder Stand for Hunting
The name itself appears to be encouraging. Sometimes, a tree with a hanger and a hunting stand can feel like that. You get bored, hungry, or uneasy in your hanging tree stand, but your trophy buck could be right around the corner if you can wait longer. Hang-on stand combines stability and portability for maximum convenience, making the hunt much more accessible.
In the hunting world, tree stands can be a touchy subject. What type is preferable is a never-ending debate. But the enthusiasm of this debate makes one thing abundantly clear: it's critical to find the proper position for you.
Things to Consider While Buying a Ladder Stand for Hunting
Choosing the perfect ladder stand can be as challenging as selecting a bag of dog food in the aisle of a big box store. Professional hunters know the value of a ladder stand.
For a moment, we should forget about the ladder stand and consider other essential features. For example, what are the different types and sizes of trees in the area you want to hunt? Is there any location where you can find your hunt in abundance? And the other factor is how old and how big the people will be using the stand? What kind of weather can we expect? Once you've identified the most critical factors, it'll be time to shop for other features, such as platform size and stand type.
One must keep in mind some factors while shopping for a ladder stand for hunting. Let us tell you a little about that.
Location
It is one of the most important considerations when choosing a comfortable ladder stand. Your hunting terrain will determine which hunting stand you need to buy. For example, if you want to hunt in thickly forested areas with straight trees, practically any stand would suffice. If your hunting area has a lot of trees, you'll need a different model.
Age and Size of Hunters
Are you a bigger or smaller hunter? Your size may affect your next purchase of a ladder stand. If you're starting, you'll need a platform the size of a coffee table. Otherwise, a more prominent platform may intimidate you. If you are afraid of using a ladder stand, it is best to seek one with a rail to make you feel more comfortable.
You should consider a two-seat stand if you are teaching your kid to hunt or enjoy having a buddy when hunting. Larger hunters should seek a ladder stand with a robust and solid steel construction rather than those made of aluminum. If you are an elderly hunter who has difficulty climbing trees, you should seek a ladder stand with rails as they provide a sense of security to make ascending and descending simpler.
Weight Capacity
Ladder treestands have varying weight capabilities, so be sure you select one that can handle both your weight and the weight of your hunting equipment. Decent ladder stands for hunting support a maximum weight limit of 350 pounds; however, certain types allow a more considerable weight restriction. Whatever stand you select, make sure it is rock solid.
Keep in mind that the hunter may be wearing heavy clothing and carrying a backpack full of accessories. Don't test the boundaries. For example, consider purchasing a two-man ladder stand for a bulky hunter.
Comfortable Seating
When choosing a ladder tree stand, you should also pay attention to the seat. A comfy chair is essential because you'll be sitting for a day-long to get a good shot at deer. Seating for lengthy periods can cause pain and stiffness, but a ladder stand with a comfy seat can help alleviate these symptoms. Check if the seat padding is thick enough to provide optimal comfort. Additionally, look for a chair with supportive backrests.
Height
Most of us feel that "the higher, the better," however, this is not necessarily true because you are above the existing forest canopy. So taller stands give you an edge while hunting. Generally, people consider 20ft as an ideal height for a treestand. While scouting, note the tree locations where you feel a stand should be and measure the size.
Color
Keep in mind that deer are colorblind. It does not mean the deer do not perceive differences in light and darkness. Nothing stands out in the woods more than a dark brown stand against the silver bark. It would help if you did not forget about the color when at the shop to buy a ladder stand.
Durability
Ladder treestands for hunting must be long-lasting and resistant to the most extreme weather conditions. Investing in a ladder stand is not something you want to do every season. Ensure the materials utilized are of the highest quality and that the construction is flawless. Heavy-duty steel and a more extensive base are necessary for a sturdy ladder tree stand. If the stand is of low quality, it might make noise in the cold weather, and you may miss your hunt.
Safety Feature
Accidents are the last thing you need while working with a ladder stand. To help prevent accidents, make sure the maker has made any warnings about possible hazards clear.
Don't buy a secondhand stand, no matter how attractive the price is! You have no clue how old it is or how long it has been in use.
Platform Size
Preferably, a hunter should select the ladder stands for hunting deer with a larger platform. Ladder stands with a large platform allow the hunter to have more room to move around to set a target with the bow or the firearm comfortably. Moreover, a ladder stand with significant space will protect you from experiencing a fall and ensure a successful hunt.
We have identified the critical factors that one should consider while selecting ladder stands for hunting deer. Let's look at the top six ladder stands for hunting.
Top 6 Ladder Stands for Hunting
After doing research and analysis, we've compiled a list of the top six ladder stands on the market. One of these may be a perfect fit for you. Here is the list.
1. Primal Treestands 22′ Mac Daddy Xtra Wide Deluxe Ladderstand
Overall Best Ladder Stand for Hunting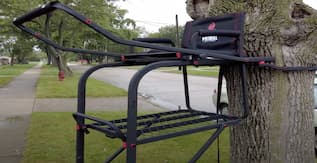 24 "x 16" Textilene seat with soft molded foam
Padded armrests and padded flip-up shooting rail
Grip Jaw system
Comes with a full-body safety harness
300-lb weight capacity
Difficult to assemble
Expensive
The Primal Tree Stands 22′ Mac Daddy Xtra Wide Deluxe is a tough, rock-solid stand that provides the comfort and stability needed for high-altitude hunting. Its extra-wide, flip-up mesh seat and foot platform are spacious enough to feel comfy in, helping you to remain attentive and ready for that ideal shot. Simply said, the Mac Daddy Xtra Wide Deluxe provides all of the comforts you want at a good price.
Primal's proprietary, revolutionary Grip Jaw and Truss Stabilizer systems secure your stand to the tree from the ground level before you ascend to connect your ratchet straps. Furthermore, the Truss Stabilizer strap enables the stand to be utilized in places where others cannot. The "perfect" tree needed for a traditional stabilizer bar is rarely found in river bottoms, field borders, or swamps, but with the Stabilizer Truss System, you may take advantage of the best sites in the woods.
In conclusion, if you are a hunter who values safety and knows his way around, the Primal Treestands Mac Daddy Xtra Wide Deluxe ladder stand is made for you. The only downside is that you got to learn how to assemble the ladder stand.
2. BIG GAME LS4860 18′ Guardian XLT Two-Person Ladderstand
Best Two Person Ladder Stand for Hunting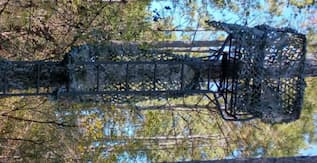 You will not find a good 2 man tree stand at this price
With a bench seat and a weight capacity of 500 pounds, it's suitable for big guys, albeit it's a little snug
The 18-foot height and flip-up shooting rail are ideal for bowhunting or serving as a gun rest
Fragile build
For two adults, it's not particularly comfy
The Big Game Guardian XLT is our pick for the finest two-person ladderstand on a budget since we understand that not everyone can afford a high-end tree stand. The Flex-tek bench seat is 36 inches broad by 12 inches deep, and it is suitable for big men since you may sit in the middle of the bench seat.
Guardian XLT is the smallest double ladder stand we have come across in our testing process. The foot platform is just 36 inches broad by 12.5 inches deep, with a depth of 12.5 inches. Because it is made entirely of steel, it is also the lightest 2 man tree stand in our range, weighing only 53 pounds despite its 500-pound weight capacity and steel structure.
Although it is the lightest two-person tree stand available, it will still require at least two people to position it against the tree properly. A shooting rail height of 18 feet is an excellent height for bowhunting.
In conclusion, if you like to have company while hunting and want a stand with a more straightforward setup, the BIG GAME Guardian XLT with its affordable price would make for an excellent purchase.
3. Summit Treestands Steel One-Person Ladder Tree Stand
Most Comfortable Ladder Stand for Hunting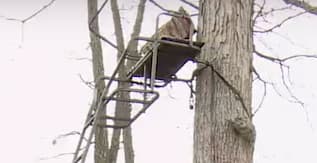 Lightweight
Quiet
Simple design allows for a wide range of motion
Provides comfortable seating
Durable
Expensive
Tiny foot platform
No armrest
No shooting rest
It is only 17ft high
The Summit One Person Ladder Treestand is ideal for big game hunters willing to travel great distances to hunt in remote areas.
The Treestand provides a sturdy platform to hide you among tree limbs conveniently. The open front offers all of you who are bowhunters the perfect ladder stand for close-range shots. It comes with a flip-up footrest that folds out of the way for entry so that your legs may stay fresh and comfy.
This stand doesn't have any moving or working parts, which isn't necessarily bad. For example, the absence of armrests produces a more open shooting area, which is ideal for you who require a full range of motion to take accurate shots. Its foot platform is also somewhat small, although it is sufficient if you are of a small frame.
In conclusion, if you're a bowhunter in the market for a lightweight, durable, and practical setup, there's no need to seek further than this premium Summit Treestands ladder stand.
4. Guide Gear Climbing Ladder Tree Stand with Mesh Seat
Best Ladder Stand for Deer Hunting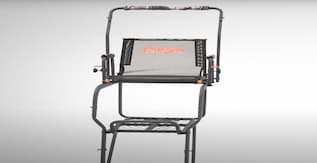 Durable
Portable
You can hunt with both a gun and a bow thanks to the adjustable, flip-up firing rail
Weather Resistant
It is only 15ft high
Narrow platform
Does not include a safety harness
If you have a large frame, it may be difficult to transport your hunting gear
The Guide Gear 15′ Mesh Seat Ladder Stand with Shooting Rail combines the best of both worlds, offering a high-quality, safe design at a meager price.
The tree stand comes with everything you need to maximize your hunting success. It gives you excellent sightlines up to 15.5 feet, allowing you to keep a close eye on your surroundings. It only takes you a few minutes to set up this climber tree stand with a ladder at your favorite hunting spot, and you can do it all by yourself.
It is relatively broad to climb, allowing you to comfortably place both of your legs. The long-lasting Tree Stand is constructed of powder-coated steel and has a mesh seat for all-day hunting pleasure.
In conclusion, if you are starting in the deer hunting game and want a tree stand that is affordable and comfortable, the Guide Gear Climbing Ladder Tree Stand with Mesh Seat would be the treestand to buy.
5. BIG GAME Hunter HD 1.5 Treestand
Best Ladder Stand for Bow Hunting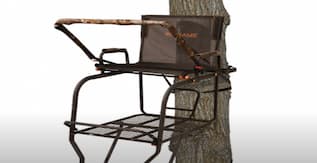 20′ high
Affordable price
Tree stand safety harness included
Comes with 1 year warranty
Single rail ladder construction makes it less stable
Not well protected against corrosion
Big Game hunter HD 1.5 ladder tree is notable for its comfort and capacity. It is a high-tech ladder tree stand that will became available in April 2020. A large seat and backrest accommodate all sizes of hunters. It can easily support up to 350 pounds of weight.
The extra-wide and deep 23.5′′ x 29′′ foot platform provides a broad stance for a game, allowing you to look in all directions. You may free up some space by flipping up or removing the firing rail.
This ladder tree stand weighs 61 pounds, making it easy to transport by one person. It entirely collides for hauling and transporting to various areas. The cushioned firing rail adjusts in the necessary direction to provide a clean kill. Remove or flip up the rail from your path if you are a bowhunter for a more precise shot. In addition, the seat folds up to allow for a standing shot, which is advised after wearing the safety harness.
In conclusion, if you want a sturdy and high-rated ladder tree stand for your next hunting excursion, we strongly suggest it.
6. Guide Gear 18′ Jumbo Ladder Tree Stand
Most Heavy Duty Ladder Stand for Hunting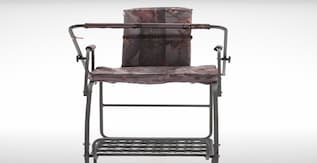 The platform has more space than its competitors
Fully padded seat with comfortable back rest
Durable
Sturdy
Pinned ladder sections
Low quality cushion fabric
Heavy
You know how skinny those ladder tree stands can be if you're a big guy. So get the Guide Gear 18′ Jumbo Ladder Tree Stand that matches your active lifestyle and provides you with a seasonal setup that will last as long as you do.
The Guide Gear oversized 18′ 1.5-man Ladder Tree Stand can support up to 350 lbs and provides a roomy 28 inch by 36″ platform for movement. The ease of motion allows you to take standing shots comfortably.
It also has a footrest and a padded flip-up shooting rail for added comfort. The spacious platform means bringing the whole family along, like your wife or kids. We think that's a great feature to have and you would love it. The stand has a rugged construction that allows it to survive the test of time, and it is large enough to be comfortable even if you sit in it for several hours at a time.
In conclusion, if you are a big guy or someone who wants to go hunting with your wife or kids, the Guide Gear 18′ Jumbo Ladder Tree Stand would be an excellent choice.
Frequently Asked Questions About Ladders for Hunting
Do Deer See Ladder Stands?
Ladder stands by themselves have little effect on deer behavior. Installing a ladder stand for the first time might frighten deer, as it does with anything new. However, they will grow accustomed to their presence.
How High Should a Tree Stand Be for Deer Hunting?
Generally, 20 feet is considered an ideal height. This will get you high enough to be out of direct sight of any deer in the vicinity, but not so high that you feel uncomfortable climbing to and securely entering the stand.
How Wide Are 2 Man Ladder Stands?
A 2 man ladder stand should have a large stable footboard of about 12.5″ x 38″. You can only make a good shot from a solid base, which is what a broad platform gives you, and it must be able to hold the weight of two people.
What is a Good Ladder Stand?
A good ladder treestand should include features such as a shooting rail, cushioned armrests and backrests, good weight capacity, wide platform size, ratchet straps, comfortable seat size, and good height above the ground.
Final Words – Best Ladder Stands for Hunting
There is a ladder stand to suit every purpose, including hunters of all shapes and sizes, singles and pairs, bowhunters, and those searching for the most incredible value. All the stands here are among the most adaptable and comfortable tree stands available, and they provide a better level of safety than other types of stands.
According to us, Primal Treestands 22′ Mac Daddy Xtra Wide Deluxe is the best ladder stand and is on the money owing to its features. We recommend you go through all the listed options before going shopping.
Happy hunting!