The best gear in your inbox
All the tips you'll need to get started in Urban Survival:
We'll only use your email address for our newsletter and respect your privacy
Is there anyone who hasn't heard of a walkie-talkie? Not likely, isn't it? These handheld transceivers are popular devices used by many people. Whether it is the police, security agents, hikers, hunters, campers, or adventurers, the best walkie-talkies help provide seamless communication between the team members.
Walkie-talkies allow two-way communication and work even when there is no cell service for your mobile phone. Over the years, these devices have been upgraded and have new features, such as sending SOS emergency alerts, getting weather alerts, and more. The latest walkie-talkies are smaller and compact. They are less heavy and easily portable so that you don't have to worry about added weight in your backpack.
However, buying a walkie-talkie is not so simple. With various options in the market, it's hard to pick the right one for your requirements. You need to understand the types available, how they work, and which one is most suitable for outdoor events and extreme adventures. We have tested numerous models in different settings and have come up with this comprehensive article. Read on to know more about the top ten best walkie-talkies in 2022.
Roundup of the Best Walkie-Talkies
| | |
| --- | --- |
| Best Waterproof Walkie-Talkies | Midland 50 Channel Waterproof GMRS |
| Best Super Long Range Walkie-Talkies | Uniden SX507-2CKHS up to 50 Mile Range Two-Way Radio Walkie-Talkies |
| Most Compact and Portable Walkie-Talkies | COBRA ACXT390 Walkie-Talkies |
| Best Walkie-Talkie Pack for Groups | Midland GXT1000VP4 |
| Most Easy to Use Walkie-Talkies | Motorola T100 Talkabout Radio |
| Best Walkie-Talkies for Outdoor Adventures and Sports | MOTOROLA SOLUTIONS Talkabout T460 Rechargeable Two-Way Radio |
| Walkie-Talkie with Best Battery Life | BAOFENG BF-F8H |
| Most Durable Walkie-Talkies | Motorola T600 Talkabout Radio |
| Most Heavy Duty Walkie-Talkies | DEWALT DXFRS800 2 Watt Heavy Duty Walkie-Talkies |
| Best Walkie-Talkie for Cruise Ship | Retevis H-777S Two-Way Radios |
How to Buy a Walkie-talkie – Things You Need to Consider
Type
Walkie-talkies can be classified into two types:
FRS (Family Radio Service): These have a short range and are usually used for recreational activities. The walkie-talkies are cheap, easy to use, and can be purchased by anyone. You don't need to get a license to use an FRS walkie-talkie.
GMRS (General Mobile Radio Service): These are powerful long-range walkie-talkies and are meant for commercial use. They are expensive, durable, and can be used only after you get a license from Federal Communications Commission.
Durability
Invest in a durable walkie-talkie if you use it regularly and take part in extreme sports or outdoor adventures. People who go mountain biking, hiking, and hunting will benefit from using high-quality walkie-talkies. These models can sustain a few scratches and bumps and can be fairly weather-resistant.
Frequency
Walkie-talkies usually operate in two types of frequencies:
Ultra-High Frequency (UHF): The frequency range here is 400 MHz to 512 MHz, which is powerful enough to send signals and allow communication despite blockage (mountains, treetops, high-rise buildings, etc.) It also means these walkie-talkies need more power/wattage to work.
Very High Frequency (VHF): The frequency range of these walkie-talkies is 136 MHz to 174 MHz. They can send signals over long distances but require less power for the same. However, in case of obstacles, they are not reliable.
Size and Weight
Walkie-talkies can be large, heavy, and durable, or lightweight and portable. You'll need to find the middle road and choose a model that is both lightweight yet durable. If you use the walkie-talkie only on occasions, the weight and size shouldn't be much of an issue.
Wattage and Battery Life
The wattage of the walkie-talkie determines its power and communication range. FRS walkie-talkies have a wattage of 0.5W and cover around 0.5 miles, while GMRS walkie-talkies go up to 5W and can work for up to 5 miles distances.
Most walkie-talkies either use AA or AAA batteries. Some models also come with a lithium-ion battery. To decide which model you want to buy, you'll first need to calculate the duration of usage. If you'll need to use the walkie-talkie for a longer time, you have to pick one accordingly.
Multiple Channels
Walkie-talkies aren't essentially private communication devices. Anyone nearby using a walkie-talkie can open the same channel, intercept the signals, and listen to your communication. The number of channels on a walkie-talkie depends on the type and model. FRS walkie-talkies have two to seven channels, and GMRS walkie-talkies have 30+. High-end walkie-talkies have more channels so that you can use them in busy places. These are preferred by the police and security personnel.
Other Features
The additional features of the walkie-talkie determine its usage and price. The latest models come with features like:
Vibration mode that is useful for hunters
Backlit LCD screen and a keypad to use the walkie-talkie even at night
Weather radio to stay updated about the changing weather conditions
Jack for speaker/external microphone to use the device hands-free
Save channels you frequently use
Incoming alerts so that you don't miss any calls
Talk confirmation signals to know when the call starts and gets cut off
How VHF and UHF Two Way Radios are Different?
As mentioned above, UHF two-way radios (walkie-talkies) have an ultra-frequency range and can send signals even through obstacles. If you are adventuring in thick woods, remote areas with lots of vegetation, work in cities with concrete buildings, or hilly regions, the UHF walkie-talkies are the best choice.
VHF two-way radios are suitable for open fields, such as golf courses, rivers, seas, and outdoor events. They cover long distances with ease but cannot penetrate through brick, concrete, and metal obstacles.
Top 10 Walkie-Talkies for Outdoor Usages, Hunting, and More
The following are some of the best walkie-talkies for outdoor usages and hunting available in the market
1. Midland 50 Channel Waterproof GMRS Two-Way Radio
Best Waterproof Walkie-Talkies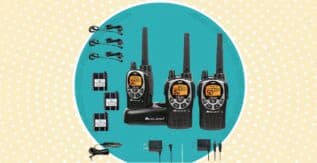 Midland has come up with the best waterproof walkie-talkie with about 50 GMRS channels that covers long distances and has a great wattage of 5W. We have used the walkie-talkies in valleys and mountain ranges as the team spread over miles and miles. The signal was pretty strong, and we could hear each other.
Firstly, the JIS4 water protection does work. One device fell right into a puddle and still survived the trip. That says something, doesn't it? Not just that, the two-way radio also lasted through some rain. It gave us the weather alert as well.
Secondly, we took full advantage of the privacy codes and set channels to private mode. With more than one team camping in the valleys, we needed to ensure that our channels aren't accessible for others. We do wish the battery life could have been longer. It says almost 11 hours, but our devices survived for about 8 hours.
Finally, the waterproof two-way radios are a great choice for those who work or camp in some severe weather conditions and need to stay connected with others across distances. Oh, did we tell you that it has a silent and vibration mode? This is helpful to avoid echoes. And yes, the batteries are rechargeable. We used the car chargers when driving back.
2. Uniden SX507-2CKHS up to 50 Mile Range Two-Way Radio Walkie-Talkies
Best Super Long Range Walkie-Talkies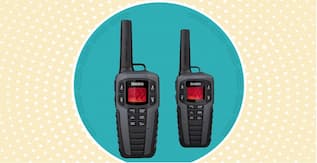 Uniden SX507-2CKHS is the best super long-range walkie-talkie and offers JIS7 waterproofing. That means you can literally drown the device in water for a few minutes and still use it to communicate over distances.
Firstly, the walkie-talkie floats on water (yeah, no drowning anymore). It has 22 channels and 142 privacy codes. We've tried all the channels, and they work very well. The transmission is clear. We could hear the other person without playing the guessing game. No complaints here.
Secondly, the weather scanner for alerts is very good. We got an immediate ping when the wind picked up. It brings you a rechargeable battery pack and good battery life. Not exactly 14 hours, but close enough to last us from morning to evening.
To conclude, we'll say that it doesn't offer 50 miles as advertised but it does work great over long distances, especially in open areas. Mountains and trees can hamper the signals a bit, so that's something we expected. Still, we'd go for this model for outdoor activities without a second thought. It's got remarkable range. The device is a bit heavy, though. Be prepared to carry a 1.8-pound two-way radio.
3. COBRA ACXT390 Walkie-Talkies
Most Compact and Portable Walkie-Talkies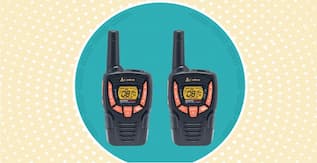 COBRA ACXT390 is the most compact and portable two-way radio you'll find for a decent price. It's one of the FRS radios that have been designed for personal use. Weighing less than 0.3 pounds, the walkie-talkie also has a hands-free option. Yep!
Firstly, the walkie-talkie comes with three AA batteries (each) and includes a USB cable. It can work all day long and charges pretty fast. We've used this device indoors and outdoors and found that it works much better indoors. Of course, it is good enough for short outdoor distances.
Secondly, it comes with a voice-activated transmission that recognizes our voice and transmits signals automatically. We love that there's no need to hold it in our hands or press any buttons. We tagged it on the shoulder strap, and it's good to go.
To sum up, ACXT390 is easy to use and manage incoming calls. Using the provided feature, we set different incoming tunes for five team members, and things just got easier. The range is decent, considering that this is an FRS model, but hey, the weather alerts are spot on. The built-in NOAA radio connects to all government weather channels and keeps us updated. And guess what, they are the best walkie-talkies for kids too. Buy them on Amazon.
4. Midland GXT1000VP4
Best Walkie-Talkie Pack for Groups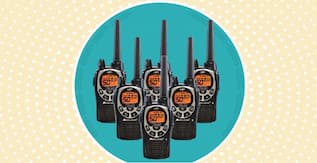 Midland GXT1000VP4 comes in a pack of 6 walkie-talkies and has been designed for groups and teams. We carried these on our group hunting activity and were amazed by the range and transmission quality.
Firstly, the walkie-talkies are JIS4 waterproof, which means they are splash resistant and can handle light rain. They work well in forests, though the range is much less than what it should be. We expected it, though. The whisper features works decently, so there isn't much to complain about.
Secondly, it has nine levels of voice-activated transmission, 10 call alerts, and privacy codes. It's perfect for groups where you can set a different tone for each member. That's what we did. Another thing we did was to get rid of the batteries that came in the pack and used regular AA batteries. They worked far longer.
Finally, the SOS siren and the NOAA weather alerts add to the advantages of using GXT1000VP4 two-way radios. Since we are licensed, we used the GMRS channels for our communication. The devices are a bit heavy and tend to slip off the clips. We found it easier to stuff them in the melee pouch of the backpack when hunting. The sound quality makes up for the few minor glitches.
5. Motorola T100 Talkabout Radio
Most Easy to Use Walkie-Talkies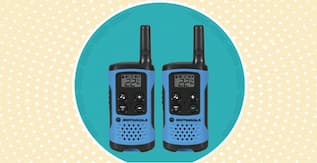 Motorola T100 Talkabout Radio is the most easy-to-use walkie-talkie that has been designed for family usage. Whether it is at home, family outings, and short trips, or for kids to play, the two-way radios work well in transmitting signals through the FRS channels.
Firstly, the walkie-talkies work with 3 AAA batteries, which can also be replaced by rechargeable ones. Remember that this is a basic model and has no additional features. We used it around the house with excellent results and during a day-long picnic.
Secondly, the low battery alert works well to ensure that the device will shut down soon. We could call our little ones back before the batteries ran out. We tried the GMRS channels from 15-22 and noticed that they are good for long-range as well.
To conclude, the T100 may not be water-resistant or send alerts, but it is a lightweight model and can be clipped to the shoulder strap, belt, or simply tucked into the backpack. Our kids preferred to hold them in their hands most of the time, and they still didn't complain about the weight. The sound quality was noteworthy, considering the limitations. Just stick a small tape to stop the caller tune if kids are using it at home. The sound is rather loud.
6. MOTOROLA SOLUTIONS Talkabout T460 Rechargeable Two-Way Radio
Best Walkie-Talkies for Outdoor Adventures and Sports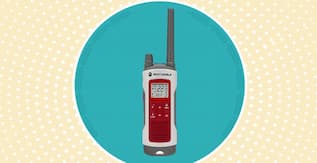 MOTOROLA SOLUTIONS Talkabout T460 is the best choice for outdoor adventures and sports. With an emergency alert button, built-in LED light, rechargeable batteries, and micro USB cable, the two-way radios help us communicate throughout the trip.
Firstly, we took the walkie-talkies on our camping and hiking trips with friends. The push-to-talk button and the hands-free system were both convenient to use. We got regular updates from the NOAA weather band and could find a different campsite accordingly.
Secondly, the devices are IPS4 weatherproof, which worked in our favor as there was a sudden fog and unexpected chill towards the end of the day. We even used the built-in flashlight to test how powerful the beam was. The results were satisfactory, but we doubt it'll be just as good in a dense fog.
Finally, we tested battery life and it turned out to be quite reliable, even though we would have loved it if it was a couple of hours longer. The build quality is decent, and the walkie-talkies suffered no visible damage during the hiking. However, these are FRS radios, it's recommended to not venture out too far on your own, especially in the forests and hills.
7. BAOFENG BF-F8HP
Walkie-Talkie with Best Battery Life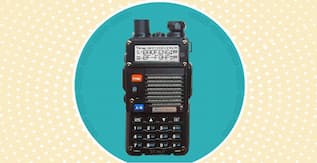 BAOFENG BF-F8HP is the best walkie-talkie with a longer and better battery life. If you want a two-way radio that works for more than 18 hours and powers the built-in flashlight and FM radio, this is for you. We sure loved it.
Firstly, the walkie-talkie has a dual-band and three power levels to choose from. Depending on the distance, we can set it 4W, 5W, or 8W. Of course, the battery life changes based on the wattage, but that's not surprising.
Secondly, the customization features are too good in this model. The lithium-ion battery is just one part of it. The antennas are powerful and send signals over long distances. We could communicate with ease even across miles. What's more, it weighs less than a pound. Yes!
To sum up, this GMRS channel radio might look like a big mean guy, but it packs a punch and delivers what it promises. We've tried it in different settings, and as expected, the devices work their best in open clearings and rivers. The range goes beyond 8 miles without any effort. In busy cities, it is around a mile or so. Either way, the two-way radio will last almost throughout the day, even if you use the FM radio.
8. Motorola T600 Talkabout Radio
Most Durable Walkie-Talkies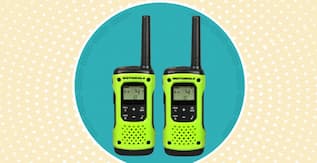 Motorola T600 is one of the most durable walkie-talkies in the market. It's a device we would probably be using even after years and still be happy with the performance. Yeah, it is that good.
Firstly, the two-way radio is IP67 water-resistant. Not just that, it floats on water and can keep the built-in flashlight despite water dripping on it. We used it when walking through the rain, and not once did it flicker or produce static. Heavy duty? Oh, yes!
Secondly, it comes with 11 NOAA weather channels that send regular alerts and have both FRS and GMRS channels. The push-to-talk button just needs a slight touch to make the walkie-talkie ready to transmit messages.
Finally, several features, including an emergency SOS button, VOX hands-free, and built-in red & white LED lights, make this walkie-talkie model highly reliable. The long-range varies based on the landscape, and AA batteries work for a full day. We didn't have to change the batteries throughout the trip. The device took more than its share of bruises and came out as good as new. What more do we want?
9. DEWALT DXFRS800 2 Watt Heavy Duty Walkie-Talkies
Most Heavy Duty Walkie-Talkies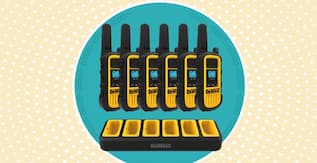 DEWALT DXFRS800 has come up with the most heavy-duty walkie-talkie that's perfect for onsite employees and extreme adventure sports. The risk taken by the person is directly proportional to risks that affect the walkie-talkie.
Firstly, the device has both GMRS and FRS channels, though we used only the GMRS ones. We tried using it on construction sites and the mountain ranges. The walkie-talkies worked wonderfully well in both locations. They survived more than a dozen falls, a good amount of rain, mist, and dust. The IP67 rating is spot on.
Secondly, the UHF frequency range gave us the required signal strength to converse through the trees and mountain tops. The lithium-ion battery lasts through the day. We were pleasantly surprised. There's an option to connect the USB cable too.
To conclude, DXFRS800 has a lot more features, such as the automatic power saving mode, keypad lock security (this helps when you leave the device with others), jack to plug in a speaker/ boom microphones, and the roger beep tone, which our team members loved to use often. Rather, the walkie-talkie has worked well for not 25 but 35 floors. That's ten more than what the company advertised. So, we are keeping this one!
10. Retevis H-777S Two-Way Radios
Best Walkie-Talkie for Cruise Ship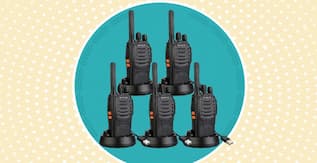 Retevis H-777S is the best walkie-talkie for a cruise ship. If you are a mariner or love to occasionally sail as we do, garb this one along and have a great time. It's lightweight, got giant clips to hook it to the belt, and has the VOX hands-free feature.
Firstly, it comes with a power saver feature, and we hadn't had even the tiniest problem with the battery when on the cruise. Of course, the battery is rechargeable, and there's a USB cable, but we didn't want to use either.
Secondly, the sound quality is awesome. Those who sail know how important it is for the walkie-talkie to deliver crisp and clear output. This model doesn't disappoint. We could hear it over the noise of the waves crashing around us.
In conclusion, the long antenna ensured that we got the vast distances covered with ease. The low battery alert was a useful feature, though only one of us ended up with the battery so low. There wasn't any need to program the device either. We unpacked the box and started using the walkie-talkie right away. Cruising just got a lot more fun, we tell you!
Frequently Asked Questions About Walkie-Talkies
Do walkie-talkies work in the mountains?u003cbr/u003e
Yes, walkie-talkies work on the mountains, though not all of them are equally efficient. You will need to go for the UHF frequency range so that the trees and mountains cannot obstruct the signals and hamper communication. They are more reliable than mobile phones.
Do walkie-talkies work in the sea?u003cbr/u003e
Yes, walkie-talkies work in the sea. The cruise ship's team carries two-way radios for communication. They use long-range models that cover up to 10 miles and have more wattage (GMRS radios).
How to fix walkie-talkies?u003cbr/u003e
Fixing a walkie-talkie depends on what the problem is. Constant beeping could mean that the battery is about to die, the channels haven't been programmed, or that there's an issue with the microphone. Turning off the device, checking the batteries, and resetting should usually solve the problem. Also, ensure that the antenna is not bent or damaged. You may have to replace the defective parts in such instances.
Conclusion
We hope you have the necessary details to make an informed decision about the best walkie-talkie for your needs. If you ask us, we recommend COBRA ACXT390 Walkie-talkie for its lightweight and portable design, BAOFENG BF-F8HP for the super-powered battery life, and DEWALT DXFRS800 for its heavy-duty build and durability.
Of course, we suggest you take your time to go through all the reviews and decide on a model that is right for your needs. Walkie-talkies are versatile but work their best only when you use the correct model for the purpose. Happy adventuring!