The best gear in your inbox
All the tips you'll need to get started in Urban Survival:
We'll only use your email address for our newsletter and respect your privacy
Rocky Mountain National Park, about 40 miles north of Boulder, is a vast expanse of Colorado wilderness dotted with towering mountains, cascading waterfalls, and a wide variety of species. Visit this beloved national park to fish the clear lakes and streams, climb the cliffs and peaks, or hike some of the park's more than 300 miles of trails.
It is a great attraction for both locals and visitors for its breathtaking mountain scenery and awe-inspiring fauna. A day trip to Rocky Mountain National Park is easily achievable in an hour or so at most from Boulder.
In this post, we will play your tour guide and help you assist in planning your journey from Boulder to Rocky Mountain National Park, and we are sure by the end, you will be selecting dates for going on this beautiful journey.
How Far Is Rocky Mountain National Park From Boulder?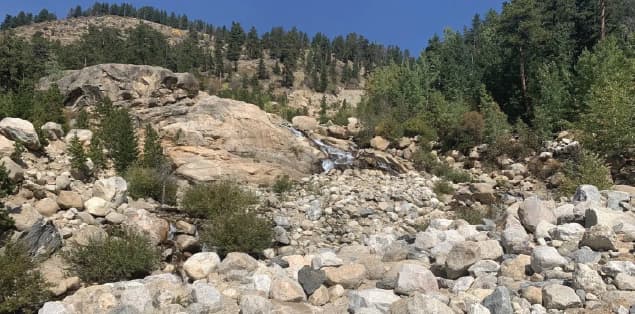 Boulder is the ideal gateway to the Rocky Mountains because of its panoramic views of mountain ranges, active social life, laid-back bohemian spirit, big-city culture, and small-town feel.
In typical traffic, the straight route from Boulder to Rocky Mountain National Park is 46.0 miles (74 kilometers) and should take 1 hour and 21 minutes. There is a 40-mile, direct route on US-36 to get there.
Is It Worth Driving Through Rocky Mountain National Park?
Absolutely, it is a marvel. Because of its high altitude, the park is a haven for a diverse array of wildlife. Between the minimum and maximum points of this mountain range, there is a 6,000-foot elevation gap! As a result, while the lower elevations have forests and meadows, the famed Trail Ridge Road takes you above the alpine tundra.
Backcountry skiing and snowboarding are top-rated in the park. The activities in the park enable participants to work up a sweat while also enjoying breathtaking views of the park's towering peaks.
The Beaver Meadows Visitor Center, just outside the park, is a fantastic location to start if you're driving in from Estes Park. Park rangers are happy to share their expertise on everything from current weather conditions to hiking trails and even the most incredible places to capture sunrises and sunsets.
To get to the park's entrance, you'll have to take a short drive from here. Assuming the weather and time of year permits, we suggest driving as a first option.
Trail Ridge Road
With a maximum height of 12,183 feet — far over the treeline! – this 48-mile route is the longest continuous paved road in the country. It offers several picturesque areas where you may stop, park securely, and take in the scenery, and the journey itself is breathtaking.
It's open from May to October, but it's subject to closure due to unforeseen circumstances.
The following are some of the greatest areas to stop along the journey safely, listed in sequence from the Beaver Meadows Entrance Station, and each has well-defined parking spots.
Many Parks Curve Overlook
The primary parking site at Many Parks Curve Overlook is slightly beyond the curve itself and is the first stop as you travel up Trail Ridge Road. From this vantage point, you can see the entire park from the south and east, including Estes Park town and the mountains, including Longs Peak. You may catch a glimpse of the Alluvial fan.
Rainbow Curve Overlook
You'll gain another 1000 feet in elevation four miles up from the Many Curves sight. Time to halt at Rainbow Curve, which offers a little different perspective than Many Parks Curve, with views out into the park's northern reaches and over Sheep Lakes and to the east.
Forest Canyon Overlook
The next stop, Forest Canyon Overlook, is slightly over three miles away, returning to the road. The vistas will truly open up when you get above the forest line on this portion of the trip.
Forest Canyon Overlook is at an elevation of just under 12,000 feet, so you'll feel like you're on top of the world when you arrive.
Lava Cliffs Overlook
After another four miles of driving through some genuinely bizarre landscape, you'll reach the big Lava Cliffs parking area, including a stop at Iceberg Pass.
This massive wall of hardened volcanic ash, left here by a neighboring volcanic eruption some 25 million years ago, may be seen from here. The Lava Cliffs viewpoint is also close to the Trail Ridge road's highest point, with the top just a few hundred yards away.
Gore Range Overlook
You can get a great perspective of the park's west side, with 60-mile-long vistas of the Gore Range mountains.
The Alpine Visitor Center is the next stop after Gore Range; however, we recommend deviating from the prescribed path by a few hundred yards and making a pit break at the following vantage point.
Medicine Bow Overlook
The route descends to the town of Grand Lake after passing this point. If you have the time, you may continue on the road, which is beautiful and offers several hiking options.
Alpine Visitor Centre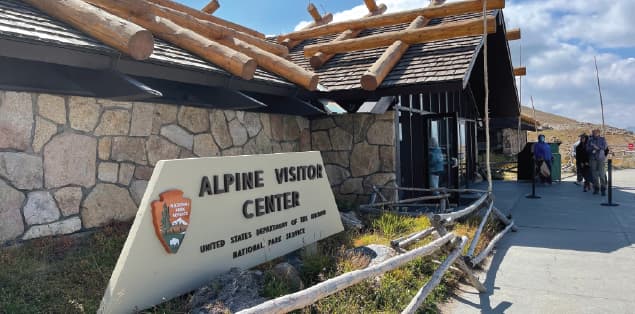 The Alpine Visitor Center (open seasonally) was initially constructed in 1936 and has had several improvements. It is worth a stop when exploring Rocky Mountain National Park. There's a museum with interesting exhibits, a sizable gift store, a café, and breathtaking views.
If you have a little more time, take a detour off the Trail Ridge Road and check out some nearby sites. There's a turnoff along Fall River Road at the beginning of Trail Ridge Road that leads to a couple of exciting places.
Alluvial Fan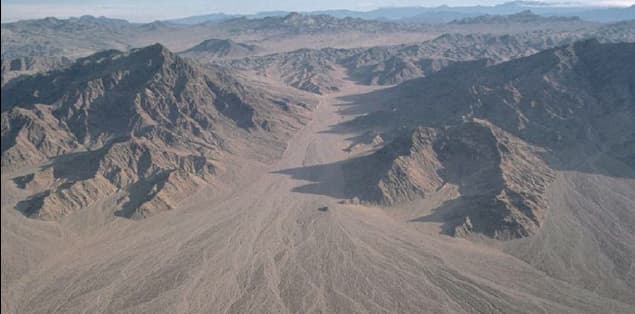 On Fall River Road, after you have driven past the West Horseshoe Park overlook, you will come to an intersection where you will make a left turn onto Old Fall River Road. At the time of its construction in 1920, it was the only way to get to the mountains. Drive for a few hundred yards on the paved part to the Alluvial Fan parking area.
You can see the Alluvial Fan from Roaring River, a short and easy hike away. It is what's left of the damage wreaked when the Lawn Lake Dam broke in 1982, unleashing 30 million cubic feet of water into the Roaring River Valley, giving it its name.
Sheep Lakes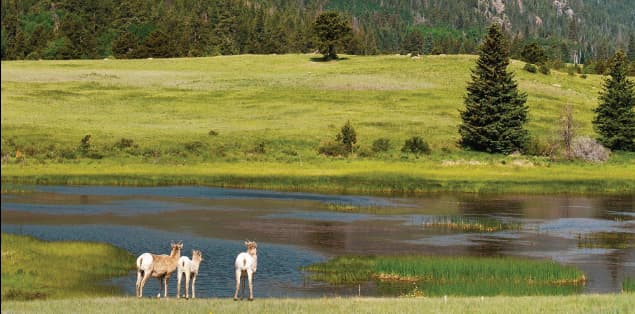 Returning to Fall River Road, the Sheep Lakes Information Station is a few hundred yards away. The Rocky Mountain Bighorn Sheep, an exceptionally magnificent sheep species known for its agility and massive horns, may be seen. Keep a safe distance from the sheep and other animals here; they are wild creatures that call this place home!
Bear Lake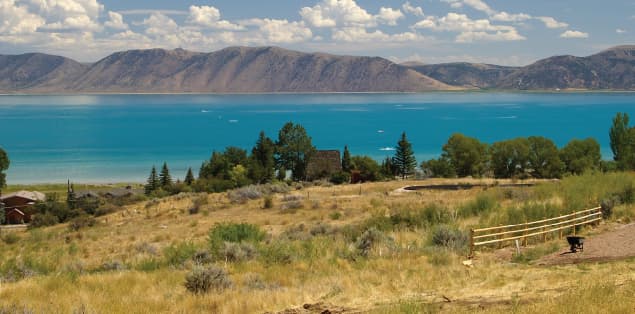 It is also important not to skip the region accessible through Bear Lake Road when visiting the park. Since the departure point for Bear Lake Road is located quite near to the Beaver Meadows Entrance Station, traveling there from Estes Park is quick and straightforward. Bear Lake Road is about nine miles of winding beauty, and there's plenty to see and do along the way.
Dream Lake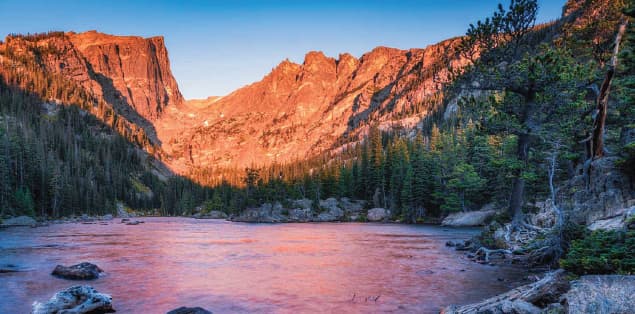 In the summer, the hike up to Dream Lake is manageable in terms of difficulty, despite the significant elevation gain. Because of the snow cover, we recommend you wear snowshoes when traveling in this area during the winter months. However, the hike is quite lovely, and it provides beautiful views across the park.
How to Get From Boulder to Rocky Mountain National Park?
For those who want to explore the mountains beyond Denver and Boulder, Rocky Mountain National Park is an excellent starting point. To get to Estes Park and the main entrance, known as Beaver Meadows, most visitors fly into Denver, 80 miles south of the park's center. From there, they rent a car or take the daily shuttle. There are transportation services available between Boulder and Estes Park.
As the closest entrance to Rocky Mountain National Park from the nearby town of Estes Park, Colorado, the Beaver Meadows Entrance on the east side of the park offers visitors easy access to the nearby Sprague Lake. The eastern entrances at Fall River and Wild Basic and the western entrance at Grand Lake see far fewer visitors than the other three.
Tour Companies
Boulder is a city with many opportunities for outdoor activities, and the town has a lot of guides, outfitters, and tour companies that specialize in those activities. So if you're looking for an adventure in the Rocky Mountains, there are numerous companies in Boulder that can help you out.
Types
These are not your run-of-the-mill scenic bus tours when you visit Boulder. The majority of tour companies offer a wide variety of recreational excursions, all of which use Rocky Mountain National Park's varied landscape and extensive trail network. In Rocky Mountain park, you can go rock climbing, fly fishing, hiking, or backpacking on a guided excursion.
The "Superhuman Days" adventure trip, offered by Colorado Wilderness Rides and Guides, is one of the company's most difficult offerings. It features long days that begin well before dawn, extensive mileage, and multiple summit climbs. Winter vacations typically include activities such as snowshoeing and backcountry skiing. There are options for day trips as well as trips lasting multiple days.
Alternate Possibilities
You can catch a ride to Estes Park on the Estes Park Shuttle if you do not wish to commit to a sporting excursion organized by one of Boulder's many outfitters. It is possible to reserve a ride from the RTD bus stop in Boulder to Estes Park, which serves as the base camp for Rocky Mountain National Park.
Driving Your Car
Rocky Mountain National Park is less than an hour's drive from Boulder and is the ideal destination for a day trip; and offers a variety of outdoor activities, including hiking, camping, and scenic driving.
Drive Distance: 45 miles or 72 km
Drive Time: 1 hour and 14 minutes
Even though you can cover this distance in one continuous drive, breaking up the trip with a few stops may be a more exciting experience.
Between Boulder and Rocky Mountain National Park, Estes Park, Denver, and Fort Collins are the most important cities to visit. Colorado's capital city, Denver, is easily accessible from Boulder and Rocky Mountain National Park. It is possible to get to Boulder from Denver in under an hour, and it will take you another to get to the park.
Denver
An American metropolis that dates back to the time of the Old West, Denver is the state capital of Colorado. Larimer Square is the oldest block in the city and is home to several significant buildings from the 19th century. The Denver Art Museum is a cutting-edge complex that is well-known for collecting native works that it houses. Denver is also relatively close to ski resorts in the surrounding Rocky Mountains.
Fort Collins
Northern Colorado contains a city known as Fort Collins. In addition to its digital dome theater, the Museum of Discovery in Fort Collins features a wide range of interactive exhibits covering various subjects, including history, nature, and science. Several trails traverse Horsetooth Mountain Open Space, west of the city and known for its Horsetooth Rock formation and Horsetooth Falls. The detour will take you 38 minutes, and it will get you 40 percent closer to Rocky Mountain National Park.
Estes Park
Estes Park is a town in the far north of Colorado. It serves as a gateway to the Rocky Mountain National Park, home to a wide range of wildlife, including bears and elk. Roosevelt National Forest also contains some uninhabited areas. Using the Estes Park Aerial Tramway, visitors can reach Estes Park from the peak of Prospect Mountain, where the vistas of the valley are breathtaking. There are many things to see and do in Estes Park Town while you're there. A beer garden, restaurants, craft shops, and an abundance of craft breweries are also available. There's a lot to like about this small town, so plan on spending some time here when you're in the area.
Final Words
Rocky Mountain National Park lives up to its name with an abundance of majestic mountains higher than 12,000 feet and offers a total land area of 265,000 acres to explore. There is a long list of exciting things to do in this area, ranging from scenic hikes and camping to watching wildlife and chasing waterfalls. The park is open year round, but you know about its reservation system before visiting.
Include a trip to Rocky Mountain National Park on your list of national parks to visit if you are someone who enjoys being outside and needs a significant dose of nature.