The best gear in your inbox
All the tips you'll need to get started in Urban Survival:
We'll only use your email address for our newsletter and respect your privacy
So, friends camping? Camping is a terrific way to spend quality time with loved ones and make new ones outdoors. After all, what can beat sitting around the campfire, exchanging tales, and simply being present in the moment. 
When you're going camping with friends, it might not be easy to plan a trip that pleases everyone's tastes and needs at the same time. Your camping experience will be more pleasurable, memorable, and comfortable with a well-thought-out strategy.
Here's a how-to on organizing a camping trip to get you off to a good start. So that you and your friends can get the most out of your next camping excursion, we've put together a guide to our favorite camping methods.
How to Camp With Friends?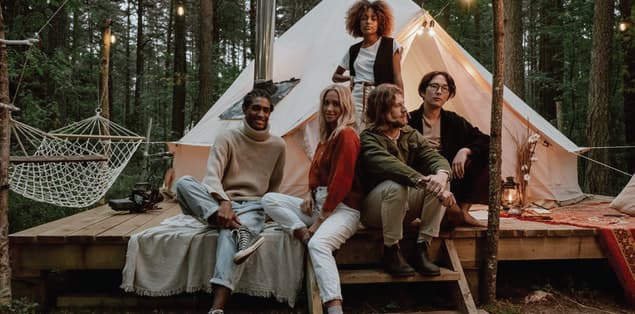 Here are crucial suggestions for arranging a camping trip with a large group of friends, so keep reading!
Make Group Plans
Before setting off on your camping trip, you'll want to get down and talk about your expectations. Without prior camping experience, everyone in the party may have different ideas of an ideal camping vacation.
If everyone in your party has a different idea of what an adventure should be like, it may lead to disappointment. Make sure everyone is on the same page with the campsite decision and that you discuss expectations in the early stages of the trip.
Choose a Camping Spot
Choosing a place to camp with friends is tricky since no two people's tastes are the same. Take a look at a campsite map and discuss which part of the campground would be the most suitable for your camping friends. If you have planned some races or tournaments, you will need an open field.
Nature, as a whole, is undeniably beautiful. It's best to pick a camping location that everyone in your party is thrilled about. This way, you can make sure everybody is enthusiastic about the upcoming camping trip.
Decide a Time That Suits Everyone
Many of us find ourselves juggling various daily responsibilities, including jobs, family, and other obligations. As a result, finding a time that works for everyone is vital.
When camping with a large group, there is a strong tendency for people to feel obligated to agree on a date that works best for the rest of the group, even if that date doesn't work well for them. Everyone is disappointed if this occurs since individuals are more likely to cancel last minute. As a result, finding a date that pleases everyone in your group may be a real chore.
Make Food Arrangements
It can be the most crucial issue to address before the event. When it comes to mealtimes, there are various options, but it's best to prepare ahead and adhere to your plan.
Camping with friends typically elevates the culinary experience to a new level of amusement and camaraderie. That's because meals tend to become social occasions when everyone can relax and talk about the day's events while enjoying a meal together.
It's also important to note that food might be an issue for specific individuals, particularly those with dietary restrictions and allergies. As a result, planning your food is highly recommended. Food that everyone can like is crucial for a pleasant camping experience, so don't forget to bring something for everyone to enjoy.
Schedule Group Activities
To make your trip a success, you need to pick activities that everyone can participate in. there is no one size fits all.
Depending on your group's expertise and comfort, you may arrange short hiking trips to surrounding trails or lake paddling experiences. It's also an option to divide into smaller groups for the day if some party members are looking for longer excursions while others want a more laid-back experience.
Remember to rest and tell tales about your day around the campfire each night, so everyone feels a part of the adventure.
Prepare Separate Packing Lists
It is entirely up to you to bring everything from a two-person tent to a sleeping bag when you go camping on your own. You may delegate some of the packing duties to your other campers if you're going on a trip.
Divide Camp Chores
Your group's morale will soar if everyone has a specific task to do while on vacation. Each individual in the group can take on a particular job, such as providing the camping chairs or the camp stove. This way, everyone will be able to take part in the camping lifestyle.
Everyone may take on a job throughout the trip to fix this issue. That way, everyone will feel involved, and your camping trip will be fun.
Spend Evening Time Together
Everyone on a camping vacation should spend their evenings together regardless of what they do. Even if you're camping in different locations, it's good to eat dinner together every night. Then, after supper, everyone may gather around a fire to relax and enjoy one other's company.
Sitting around a campfire, chatting or playing some games, makes a camping adventure one of the most sought-out activities. So, don't let your group miss out on all the fun.
Be Flexible
Nothing is set in stone. It's essential to keep in mind that you've all come together to have a good time, so remember that. Camping trips may not go according to plan if you're traveling with others. You won't be able to recall the missed events or the burnt rolls. Camping with loved ones allows us to reconnect with those we care about most deeply via shared experiences like sitting around a campfire and sharing stories.
Things to Do on a Camping Trip With Friends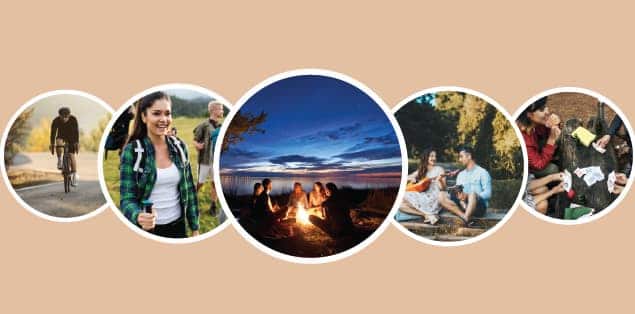 Are you having a hard time figuring out what to do when camping? You went outside with the sole purpose of having fun, didn't you?
So gather your friends and do something that makes you all giddy with delight. To make the most of your time camping with friends, here are some pointers:
There's no shortage of things to do outside when the weather's nice. You can get to know the area around you much better by using bicycles, so get on one and ride. Remember to include a first aid kit and food and drink in your rucksacks or backpacks!
Explore the area on foot by going for a walk. You'll be able to observe wildlife and greenery as a result. A daily hike with your group is an option.
Have a good time with one another around the campfire in the evening. A campfire provides both heat and a means of cooking your food.
Take a guitar or other musical instrument with you on the journey, and your buddies will sing along as you play.
You can play plenty of card games with your pals if it rains or you are bored and don't know what to do or over a campfire such as crazy eights, deer in the headlights, kings in the corner.
What better idea for a group outing than camping with friends? Click and stock photos of yourself and your loved ones doing fun activities while camping.
How to Make Friends at a Summer Camp?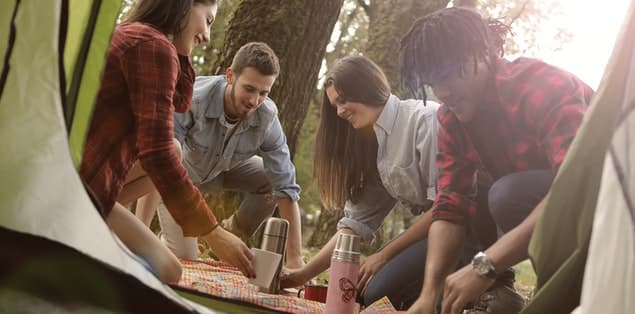 Summer camp is an excellent place for kids to learn responsibility and socialize with new people. While this can be exhilarating for certain people, it can be challenging for those adjusting to new environments. Friendships formed at the camp may persist much beyond the end of the summer, which is why they are such a terrific way to meet new people. Fortunately, we've compiled a list of valuable suggestions for making friends during summer camp. So let's get this party started, shall we?
Get to Know Fellow Campers
Campers are often divided into groups, teams, or bunks. Aim to speak with one member of the group every day. Don't stress becoming the camp's funniest, most outgoing, or most fascinating person. When chatting to someone, be yourself and open to learning about them. Ask them about their school or their favorite camp activity. For the time being, the most important thing is to get to know each other and find areas of agreement.
Listen to Others
In a camp situation, you may discover that most of your talks occur in groups. Consequently, you will not be able to direct the conversation away from things that do not interest you.
There's no need to leave the group if you've become bored or if you've started talking over other members. Instead, pay attention to what is being said and treat everyone with respect. When you have anything to say, say something. The more pleasant and involved you are, the more friends you'll attract.
Support Others
You can help your fellow campers feel good about themselves by cheering them on throughout their activities, whether participating in sports or acting in plays. A critical attitude toward another person might lead to resentment and unneeded conflict. So instead of pulling down the people of your group, attempt to build them up rather than break them apart. When the occasion calls for it, show appreciation by giving them a high-five or offering congratulations.
Participate
Don't be apprehensive about taking part in something you've never done before. Because something isn't your favorite, don't refuse to participate in it simply because you don't like it. It's understandable if you're apprehensive about participating in theme days or other social gatherings, but you may also regret staying too much.
The more activities you participate in, the more chances to know your fellow campers. Not every endeavor needs perfection. There are plenty of opportunities to make new friends or solidify those you already have.
Adapt to the Changes
Remember that a camp is a place where things might be a little more relaxed than you're used to. Activities may be rescheduled or canceled due to weather or other unusual circumstances. For example, there may be rules at camp that are different from those at your school.
Holding on to routines too firmly, or demanding that things be done as you want, may harm your own experience and the experience of everyone around you.
Final Words – Friends Camping?
You may learn more about yourself and your relationships by going on a camping trip with your pals. You'll also get to see new areas and experience new sights. For one thing, it's a must-do experience in college and everyday life!
We are sure our guide will help you organize and plan a camping trip, which is absolutely a killer!