The best gear in your inbox
All the tips you'll need to get started in Urban Survival:
We'll only use your email address for our newsletter and respect your privacy
Whether you are out on a hike or running errands, you will need your daily dose of hydration. Not drinking water for hours can cause serious health issues. Ironically, a water bottle is often overlooked and the most common thing that one forgets while in a hurry. Or maybe the lack of space poses a problem. No matter what the issue is, nothing is good enough to not carry your water bottle.
Needless to say that if you are hiking, you will need water frequently. But what if the bottle holder is behind you and you have to ask your hiking partner to get the bottle for you every time you are thirsty? Or, is awkwardly reaching backwards into your pack inconvenient because you are not double-jointed? But do you not own a hydration bladder with a straw? Then you need a good ol' fashioned DIY water bottle holder. Here, we will talk about all the ways of how to attach water bottle to backpack and will also share some DIYs with you.
Why do you Need a Water Bottle Carrier?
Carrying your water everywhere is essential for survival. If you are going out for a whole day or so, then you will probably need a 32-ounce bottle of water. So, that will be heavy! In that case, you will need a water bottle holder that will be comfortable for you to carry and will also provide you convenient access to it.
If you are not convinced yet, here are a few points that will explain why you need a water bottle carrier.
To Free Your Hands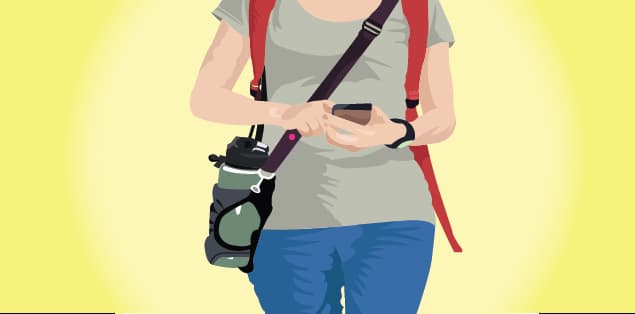 On an active day, busy hands can cause a lot of trouble and hindrance. If you are a mom, you have a kid to take care of, or if you are an athlete then you have to focus. And forget to carry your bottle in your hands especially while you are traveling as you have to constantly check your cell phone for looking up things. So keeping your water bottle down frequently just to free your hands can get on your nerves easily.
To Strike Perfect Balance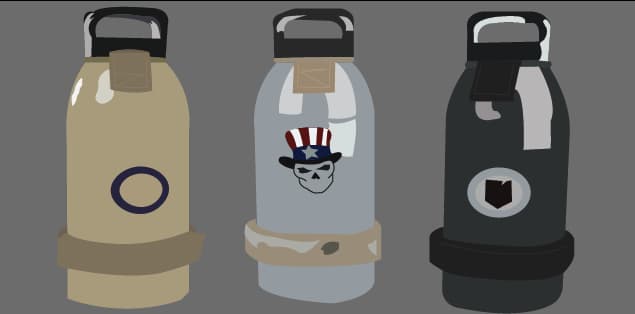 If not for anything else, you should consider getting a water bottle holder for the sake of ergonomics. Even on a chill day, when you are just carrying your purse and your water, finding the perfect balance is important. If you have a water bottle carrier that has long shoulder straps, it will be easier for you to cross your body and maintain stability while carrying it.
To Stay Hydrated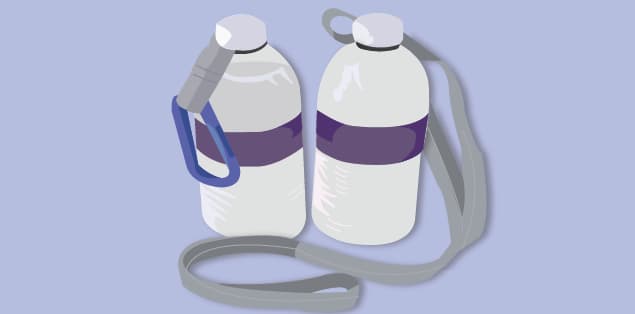 The obvious one! Unless you are a kid, we are not going to explain the importance of drinking sufficient water every day. If you are an adult, you need to drink at least 10 to 12 8-ounce cups of water. On days when you are more active, you need to consume more water as well. Thus you always need to keep the water bottle near you and not all way down the bottom of your beach tote.
To Avoid Spills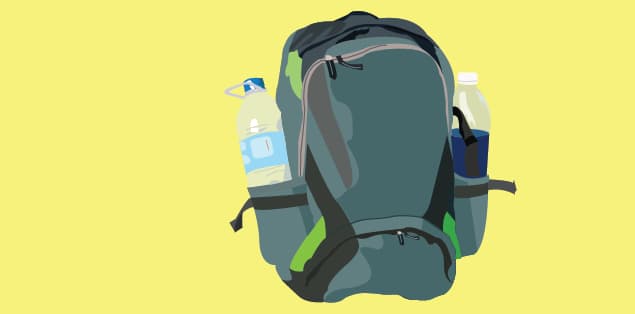 Keeping your water source at the bottom of your bag or purse, and trusting that it won't spill is a mistake you should never commit. The bottle will either lay horizontally or if tilts without the lead being tightly sealed can cause a mess. To avoid such situations, you should get a water bottle pouch, or strap, belt, pocket, or a water sling.
5 Ways How to Attach Water Bottle to Backpack Shoulder Strap
Did you know that you can jury rig your water bottle to your backpack using household items and can have a convenient backpacking strap bottle holder for yourself? If not, now you will.
Using your Backpack's Trekking Pole Attachment
Before we dive deep into DIYs, first check what is already available to you. If you are using an Osprey Mira, then your backpack must have come with a trekking pole already attached to it. If not, it's very easily available online and is quite cheap as well! DIYing things don't necessarily have to include a lot of items.
Generally, backpacks come with a trekking pole attachment. It can be easily improvised to turn it into a makeshift hiking water bottle holder. If you are buying the trekking pole separately, all you will have to do is to attach them to the tiny loops of your backpack's shoulder straps and you are all set to go.
Using your Hairbands to make a DIY Water Bottle Holder
Who thought that even simple things like hairbands can save you in emergencies? Well, it turns out that they can. Now, it's impossible that one doesn't have hairbands. Surely you and your little sister have millions lying around. Just dig in the couch cushions and bring out two. Elastic hairbands are more preferable but rubber bands will also do the job.
First, gather a few hairbands and weave them together.
Next, slide the bands through a shoulder loop on your backpack.
Finally, use the two loops made by your bands to secure the top of your bottle in place.
Using a Koozie and a Zip Tie
Now, this might not be the easiest or an ultralight way, but it will keep your water cold and probably you have all the things with you.
All the materials that you will need to gather are a zip tie and your favorite koozie. Then just follow the next three steps,
At first, slice a small hole almost a half-inch from the top of the koozie. Be careful as you don't want to rip the fabric through.
Next, zip your zip tie through the hole.
Lastly, slide the tie through the shoulder strap of your pack and cinch it up!
Bonus tip: This method will also work as a makeshift holster for your hip belt for folding other things like bear spray.
Making a Paracord (or Shoelace) Jug Knot
No one can deny that paracord saves lives. You should always have one with you at least in the shape of a tactical, fashionable paracord bracelet. This jug knot method is really helpful and if you don't have a paracord, a shoelace, shock cord or a pack liner will just do fine.
Firstly, make two loops with the paracord in a way that it forms the shape of a heart.
Then hold the three chords and pick up the middle right cord and place it over the middle left one. Then repeat the process.
Once, it's twisted hold the middle horizontal cord and feeds it through the middle towards the right side. Now that you have a proper mess of cords, take the right one under everything and reposition it on the bottom left. Then repeat the process with the left cord.
Lastly, all you have to do now is place it on your bottle and secure it onto your belt or backpack shoulder strap.
Using an Aqua Clip
If all your DIY fails you, you can then fall back on this. This is a cheap product designed to solve the exact problem without the work. The Aqua Clip is supposed to hold your bottle in place and works with almost all lightweight plastic water bottles and is very easy to set up as well.
4 Alternatives for you to Attaching your Water Bottle to your Backpack Strap
If you have a backpack that is well suited to a shoulder strap water bottle holder, then we have some alternatives in place of the DIYs.
Using your Backpack's side or back pockets
We know that this is no surprise but before spending money, consider this as well. First, try to modify your pack's side pocket or the back one to get an easy reach, or learn to put up with having to remove your pack to get your water bottle. If these work, then you will save some money and time.
Using a Taller Water Bottle
You can solve all your problems just by getting a taller water bottle. Who thought that it would be that easy? At least, we didn't.
Hikers and backpackers usually have trouble pulling out the bottle from their backpack's side pockets as they are beyond their reach. So keeping a taller bottle will solve the problem. The only issue is that larger bottles tend to slide out of side pockets when you bend over.
Getting a Hydration Bladder
Hydration bladders are simply water pouches that you can store in your pack. The best part is that they have a water tube that helps you drink directly from your pack. This is very convenient and a popular way to drink on the trail.
Some backpacks come with a built-in hydration pouch or you can use your pack's main compartment to store one.
Attaching a Water Bottle Sleeve
Lucky for you that now detachable water bottle sleeves are available now! These sleeves are very convenient as you won't have to DIY anything. It is a great way to keep the water easily accessible by attaching it to your backpack shoulder straps.
Our favorite is the one from Zpacks, because:
It is durable and will fit almost all backpacks.
The two elastic straps and buckles help attach the Water bottle sleeve securely to your strap's daisy chain.
The mesh compartment is specifically designed for tall skinny 1L bottles but similar-sized bottles will also fit but for a larger bottle, you should look for other options.
It has a collar that features a rigid plastic that will allow you to easily remove or replace the water bottle.
The elastic provided at the top of the holder can be wrapped around the neck of the water bottle to prevent it from sliding off while you bend over.
Fit for dual-use as can be used to either pants belt or hip belt.
Getting a new Backpack
Woah! This got expensive in no time. But if you go on frequent hikes or travel a lot then this is needed as convenience is your priority. In this case, you should look for backpacks that come with bottle holders.
There are several backpacks that will let you easily access your water bottles, camera, and cell phone at the same time. So, if you are considering buying one, here are some features that you should look out for:
Trekking pole attachments
Well-placed side pockets
Hydration bladder compartment
Hydration bladder
4 Creative Water Bottle Holder Ideas Instead of Shoulder Straps
Crochet Water Bottle Holder
Something our grandmothers would suggest, right? A crochet bottle holder will give your bottle a cozy look and feel. It is also a perfect fit as a beginner crochet project as you can do it just by using a yard of cotton yarn. You can also make the strap shorter and longer according to your preference.
Water Bottle Sling
Another great way to carry your bottle is to put it in a sling so that you have easy access to hydration. A water bottle sling usually has a fitted base and a long shoulder strap, so it can be easily carried as a tote or a purse.
Water Bottle Clip or Carabiner
This is probably one of the most simple solutions. It will be easier to hang your water bottle using a water bottle clip. You can also use a carabiner, or simple metal loops with a spring-loaded enclosure. The bent curve shape helps secure your bottle from sliding off.
Final Words
Even the little things need attention, just like this one. While prepping for a hike, most of your attention goes towards packing the important things like clothes or medicines. So, you often forget or ignore the convenience factor. While you are hitting the trail, you should be comfortable and a part of that includes the type of water bottle you carry and how it's kept. Each bottle has its own design, pros and cons. While selecting the bottle and the method to carry it for your hike keep in mind the three important factors: balance, stability, and comfort.
In this article, we have covered all the ways by which you can comfortably carry your water bottles either by purchasing a detachable holder or pouch or by using the DIYs. So, we hope that you have found this article helpful and let us know what which article you want next from us. Also, if you are looking to buy a new backpack, check out our list of best military backpacks!