The best gear in your inbox
All the tips you'll need to get started in Urban Survival:
We'll only use your email address for our newsletter and respect your privacy
You may have to stand or walk for long periods while searching for your prey, so your feet play an important role in hunting expeditions. At the beginning of the season, most hunters prefer to go out in the cold to find their prey. As a symbol of the season's love of the game, hunters from across the country turn out to follow their hunt.
True hunters are not concerned about the season because they know they will have to deal with the wilderness in any way possible. However, one thing that matters most to everyone remains unanswered by most researchers is how to warm feet when hunting.
Standing in a blind, you never know when your sweat will turn to ice and chill you to the core. The pain of frozen feet can be excruciating, and if you don't want to run to your shelter, you must read this article to the end for additional information. So let's see how to keep feet warm while hunting?
How to Keep Feet Warm When Hunting?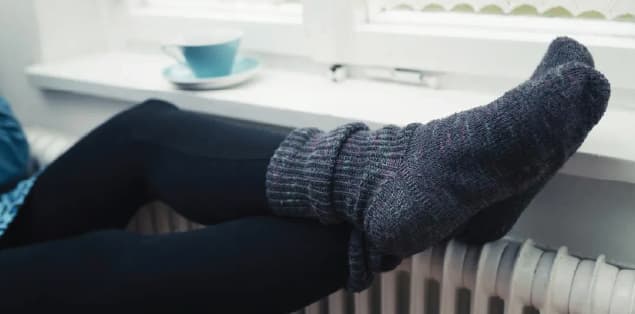 Most hunters would agree that the most critical parts of the body to protect while hunting are the arms and feet. Your arms do the shooting, and your legs do the hunting. You can keep your feet warm while hunting if you follow these tips.
Put on Appropriate Socks
According to Outdoor Geeky, when hunting, wearing warm socks is the first step in keeping your feet warm. You should avoid cotton socks since they cause your feet to sweat more and become colder faster. On the other hand, socks made of Merino wool and other synthetic materials can accomplish the job.
Wear Right Boots
If you don't have the right boot, it doesn't matter what kind of socks or cap you wear. So if you're going to be hunting in the cold, be sure to wear insulated boots. Also, do not wear steel-toed shoes, as the metal will become colder more quickly. In addition, check sure the shoes are completely dry as wearing wet shoes is going to prove counterproductive ensure they are waterproof and have enough room inside for your feet to breathe.
Use Cotton Balls
It is a tried-and-true method for keeping your feet toasty. Slip cotton balls between your toes to use this trick, and you're ready to go.
Wear Electric Socks
An electric sock is a modern way to keep your feet cozy in the winter. These battery-operated socks would be an ideal alternative for maintaining proper heat circulation. A sock liner is a fantastic option if you don't enjoy having batteries on your socks.
Keep Your Feet Dry
To keep your feet warm, you must keep them dry. You can't avoid being cold if you have sweat on your feet. Apply deodorant 5 to 6 hours before putting on your socks because deodorants require that time to become active. Once activated, it will obstruct the sweat glands for a set period.
Cover Your Head
Keeping your head covered is extremely important. According to health.harvard.edu, if the head is not adequately protected, you might quickly lose 40-45 % of your body heat. In addition, no matter how well-insulated your boot is, your feet will soon lose heat if your body begins to cool. As a result, you must wear a cap covering your head and ears to keep the head warm. Because the cold wind reaches the ear, it eventually reaches the head.
Use a Cardboard
Hunting necessitates a great deal of patience. You may have to rest your feet for hours to have a successful hunt. It's never a good idea to keep your feet stuck in the snow for an extended time. In this case, a piece of cardboard or an insulated mat would be a lifesaver. These items will protect your feet from the cold and keep them cozy for a lengthy period.
Purchase Boot Pads
The proper boots and socks would benefit from some insulated boot pads. Conduction will be less likely. It means that your feet will no longer become chilled from the boot's cold sole. The leather or fleece boot pads may be the best choice.
Move Your Feet
When they spot the game, the hunter must remain completely silent. But until then, you'll need to keep your feet moving. To put it another way, standing on the ice-cold ground for an extended period would not be enjoyable because it may impair blood flow in the foot. And expert hunters know precisely how to take those quiet steps as they march towards their target. Find a dry and comfortable location when you need a little break.
Eat Right Diet
The food we eat provides energy to every cell in our body. Before going hunting, stay away from fatty and hot foods. On the other hand, Honey, nuts, and chocolate with butter can keep the blood flowing and the feet warm for a long time. Additionally, try to eat as much protein as possible.
How to Keep Feet From Sweating While Hunting?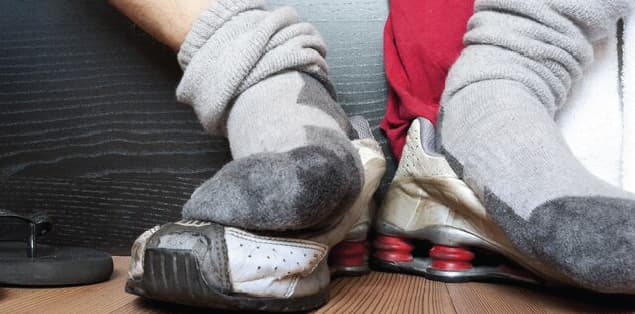 Sweaty feet while hunting can be detrimental to your hunt, regardless of whether you're aware of them all the time while walking out to your ground blind or only notice them when you remove your soaked socks back at camp.
Hypothermia can set in quickly if you don't take care of your sweaty feet while out hunting in the winter.
Use An Antiperspirant
Apply antiperspirant to your feet before donning your hunting boots if you're worried about your feet sweating in them. It's best to apply a light, even application of spray-on antiperspirant by holding the container six inches away from your feet, spreading your toes to make more room for the powder.
Apply Foot Powder
Another common and effective remedy for cold, clammy feet is foot powder. Foot powders are inexpensive, simple to use, and reduce foot odor. Foot powders with antibacterial properties are your best bet for minimizing the stench resulting from sweaty feet.
Before putting on your socks and boots, apply foot powder to your feet to keep them dry and clean.
Wear Socks That Absorb
If your feet are still sweating excessively, you may want to invest in a pair of socks with moisture-absorbent materials.
A blend of Coolmax, merino wool socks or DryMax, polyester or Olefin, or a combination of these, is the best material for absorbent socks. Even if your socks get wet while you're out hunting, your feet should remain dry and comfy. Socks should be seasonally suited. In the summer, choose airy, light socks while reaching for thicker, warmer options in the winter.
Use Shoe Inserts
Adding shoe inserts to your boots is a simple and effective way to keep your feet dry and cool while you're out in the field. There will be no difficulty getting the proper size because they're inexpensive and easy to find.
They're wonderful at absorbing feet sweat and keeping your feet dry. Some shoe inserts even have unique scents to help combat any odors from your feet!
Wear Right Hunting Boots
If you're going hunting in a rainy location with puddles, waterproof hunting boots are the way. If you're hunting in a hot region with little chance of hitting puddles or other water sources, you can forego the waterproof hunting boots and opt for warm weather hunting boot alternatives instead.
Pro Tip: Consider purchasing two pairs of boots, one for the summer and the other for the winter. Alternatively, you might invest in multi-purpose boots suitable for all weather!
Let Your Feet Breathe
You may want to remove your hunting boots and socks for a while to allow your feet to cool down and dry off. You can dry them out during your hunt and then cool them down one or two times. It will keep you comfy while also preventing foot odor.
How to Keep Feet Warm in Tree Stand?
Tree stand hunting presents a unique difficulty for those seeking to stay warm. On the one hand, it's understandable that you'd like to remain still (especially when hunting skittish prey such as whitetail deer). But, on the other hand, it can be the quickest method to freeze yourself. Here are some additional techniques you can employ besides the ones mentioned above.
Tree Stand Heater
A heater for your tree stand is a good idea. You can use various types of space heaters for this purpose. The challenge here is locating a heater powerful enough to keep you warm while also being safe and portable.
Wear Boot Wraps and Shoe Covers
These are similarly self-explanatory regarding what they are and what people use them for. Wrapping them around the outside of your boots will provide additional insulation and keep your feet warmer for longer.
Use Warming Packets
The concept is straightforward: warm them up and place them near your feet to keep them warm. It reduces the need to move about to stay warm, which is beneficial for people who like to remain stationary in a tree stand during the colder months.
How to Layer Socks for Hunting?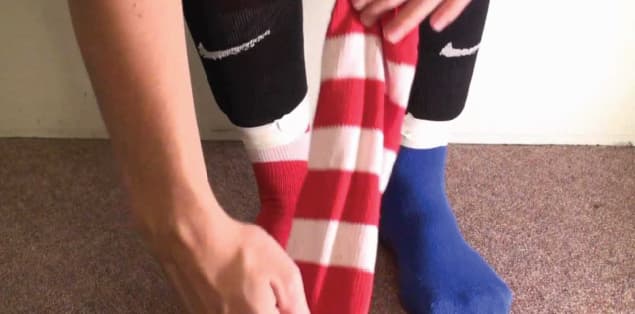 The technique of adding something on top of another is known as layering. Hunting in subzero temperatures is equally taxing and exhilarating, and you need to be sure that you don't have cold feet. You'll need to be prepared for both.
There are three layers of clothing for keeping warm for hunting, and the same goes for the feet:
The Foundation Layer (Wicking Layer)
The Middle Layer (Warming Layer)
The Outer Layer (Warding Layer)
Here is how you must layer up your feet:
You should wear a long, thin sock for the base layer, which will drain away sweat and keep your feet dry. It's more crucial to have dry and warm feet than it is to have a warm and dry upper body. This is because they come into direct contact with the earth. The material you must go for is thin merino wool, a wool blend, or synthetics like polyester, nylon, or spandex.
You should wear a thick sock for the middle layer. As previously said, feet take longer to warm up and lose a lot of heat in the meantime. As a result, planning is essential. You can use socks made of thick merino wool or a wool blend.
Heavy-duty boots are an obvious choice for the outer layer. Hunting boots and snow boots are the two primary types of boots you can choose from. There's no right or wrong answer. In terms of movement, hunting boots are better than snow boots, but in terms of insulation, snow boots are better. It all depends on where you're hunting and the weather. You can either opt for leather or nylon material for shoes.
How to Keep Hands Warm While Hunting?
Hunters have it tough to keep their hands and fingers warm and agile, especially if the weather is damp, windy, and occasionally cold. Frozen fingers are inconvenient and impair your ability to complete activities and make shots in the cold weather. We recommend you put these techniques into action for a successful hunt.
Keep a Towel Handy
When working with decoys, cutting reeds, or conducting other wet tasks, keep a small, properly colored towel on hand to dry your hands. The loss of moisture depletes your fingertips of heat and stops blood flow to them.
Wear Muffs
Allowing your hands to rub together is a great way to share warmth. When it's cold outside, a muff is better than a coat pocket for keeping hands warm and dry.
Use Handwarmers
Use chemical or fuel-burning hand warmers to keep your hands warm. Chemical warmers are a steal as they are inexpensive and can keep your fingers toasty warm. Ensure that chemical warmers are kept dry. Fuel-burning hand warmers are more challenging to use, but they produce a lot of heat.
Use Portable Heaters
Bring a small gas heater with you just in case you get cold. It's a great way to dry your hands and keep your spirits up. Pit blind hunters also need heaters to keep warm.
Purchase Neoprene Gloves
Buying neoprene gloves is an investment worth making. After knowing what these waterproof wonders can achieve, you won't be able to complain about the price. Get a thick pair (such as 5mm) for hunting ducks and fowls, unloading the boat, paddling out, lay decoys, etc. Then switch to a thinner one (like 1mm) for use in deer season.
Final Words – How to Keep Feet Warm While Hunting?
When you go hunting, having cold feet is an unpleasant experience. You may have to push yourself to stay until you can no longer stand the cold. There are inexpensive and straightforward solutions to keep your feet toasty in freezing weather. So, choose which idea you want to test and travel to the woods. If you follow the suggestions mentioned above, you will be set for years of fun hunting trips.
Carpe diem!