The best gear in your inbox
All the tips you'll need to get started in Urban Survival:
We'll only use your email address for our newsletter and respect your privacy
So, how to plan backpacking trips? There's nothing quite like spending days, if not weeks, in the company of nature to recharge your batteries. During the day, nothing beats traveling miles and miles on your own two feet, followed by a night of camping. Make sure you're ready for your next backpacking adventure by reading this guide.
We must always be available to answer your questions about how to enjoy the great outdoors. As part of this article, we'll teach you how to organize your guided backpacking trip from start to finish so you can get out and about as soon as possible! Let's get you started.
How to Plan a Backpacking Trip?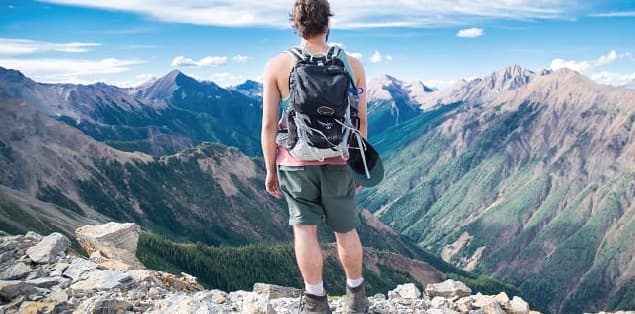 Let us help you to plan your next backpacking trip so that you can go out and enjoy the great outdoors with complete confidence.
Choose a Destination
Planning a backpacking trip begins with figuring out where you're going first. Where you can go depends on the number of people in your group, their skill level, and the difficulty of the backpacking routes you're considering.
Do you have a particular place you'd like to visit? Do you see yourself scaling cliff faces and reaching the highest points of a mountain? Perhaps the woods beckon to you? Or maybe you enjoy being near bodies of water, such as lakes and oceans?
It would help if you considered your budget and level of experience while choosing a trail. Think about how much time you have to spare when planning a trek.
Determine the Kind and Length of Trail
Choosing the type and length of the trail is the next step after determining where you wish to hike. There are many hikes to choose from, including loops, point-to-point excursions, and out-and-back excursions.
The terrain will greatly influence your route. A steep trail will take significantly longer than a flat coastal trail to complete. Remember that more arduous terrain implies you'll cover less ground in a given day than smoother terrain. Hiking a five-mile trail in the mountains can take all afternoon, while a stroll of the same length will only take a couple of hours.
Of course, the trail you choose will be influenced by the amount of time you have available to complete it. In addition, buying local guidebooks and trail maps is always a brilliant idea. Verify any applicable laws and ordinances in your area.
Choose Time of Year to Visit
Determine the optimum time of year to go backpacking once you've decided on a place and a trail to follow. For example, the High Sierra mountains in California are ideal for summer backpacking expeditions, Visit California tells us. In contrast, the fall foliage in Virginia's the Blue Ridge Mountains is breathtaking. Avoid the rainy season if you're planning a tropical trekking trip.
You must consider the presence of wildlife in your destinations. How hungry and active are bears at certain times of the day? Is there a swarm of mosquitoes or black flies in the area?
Choose Backpacking Gear
According to your preferences, prepare a list of things to bring on a backpacking trip. The following are the most important things to keep in mind.
Group Equipment
You can save a lot of weight by sharing your gear with your friends. The stove and cook gear, the tent, and the bear canister or other safety supplies, such as a first-aid kit, should all be decided upon before the trip begins so that everyone knows what to bring.
Clothes
Pack layers of warm clothing, a cap, and UV-protective clothing to protect yourself from the sun and rain. Go prepared for all kinds of weather.
Tent
Ensure you have the right kind of shelter for the number of people in your group and the weather they'll face. Carry the necessary equipment like trekking poles. Your tent needs to be able to be pitched in the rain or at night, depending on weather conditions.
Sleep System
A sleeping bag rated at least 10 degrees below the coldest temperature you expect is essential. Make sure to bring a sleeping pad!
Fuel & Food
Check to see if you have adequate food for your journey. Going on an extended, demanding, or chilly trip, you'll need more calories than the 3,000 to 4,000 per day recommended for most travelers.
Water
Take a look at your map. Don't forget to pack extra water for extended trips, either in water bottles or a water reservoir. Water purification or filtration equipment is also essential.
Get in Shape & Break-in Your Hiking Gear
Success in guided backpacking trips requires a well-trained and physically fit individual. Do not embark on an extended wilderness trek if you still prefer to take the elevator rather than walk up and down a flight of steps. Instead, get some fresh air and some exercise.
Breaking in any new gear you've purchased is also crucial. You should test all of your equipment beforehand. Get your camping gear out and spend some time pitching a tent and cooking in it in your backyard.
Planning Your Meals
Even more important than your gear is the food you eat. On the path, it's the only form of transportation that you have. A backpacking trip can only be successful if you plan your meals ahead of time.
A table of your daily meals might help you track what you're eating and when you're eating it.
According to our experts, it's best to go with freeze-dried food. A few cups of boiling water are needed to cook this cuisine. It's excellent for camping meals because it provides many different options, such as lasagna with meat sauce and Pad Thai. There are also freeze-dried breakfasts available.
Dried foods are a common choice for on-the-go munchies. Dried fruits, almonds, M&Ms, and chocolate bars are some of the typical trail munchies.
After assembling them, you must place all meals and ingredients separately into zip-lock bags. Using your daily meals table, label each meal (breakfast, lunch, and supper) with the appropriate number. Your bag will be more organized if you do this.
When trekking in hot weather, our experts recommend carrying at least two liters of water each day. If you're going to be out in the wilderness for a lengthy time, it's good to have a water purifier.
As a final precaution, be careful to research any recent bear sightings in the area you'll be hiking. In addition, you must keep your food in a bear canister if there are bears in the area.
Load Your Backpack
Packing your bag is the final step in preparing for your backpacking adventure after you have checked out all the things.
Most importantly, the length of your backpack trip influences the size and style of bag you should bring.
Which is the Best Time to Plan a Backpacking Trip?
It's never too early to go on a backpacking trip. You can make travel plans at any moment. However, before you leave, make sure you have a firm grasp of the essentials.
Before embarking on a backpacking trip, it's vital to plan ahead of time, but it's also not a good idea to sit about and wait for the perfect moment. But going on a trip requires a significant level of forethought and preparation.
As we have explained in the first section, the choice of clothes, equipment, and various other essentials will depend on the location you are going to. For example, a hiking expedition would require heavy gear with several layers, fleeces, waterproofs, and suitable hiking footwear. Conversely, you'll need lighter clothing for a beach vacation, such as a wetsuit and diving gear.
The off-season is the best time to visit anywhere globally because prices are lower and the quality is higher. Everybody likes to escape the long lines, the soaring prices, and the crowds.
Where to Go Backpacking?
We've compiled a list of some of the best places in the United States to go backpacking. You will find most of these in national parks.
Half Dome, Yosemite National Park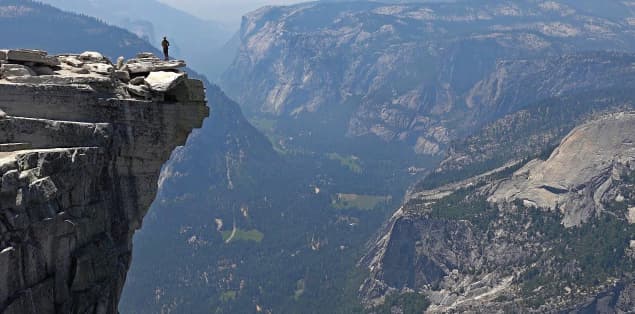 You'll spend two nights in the Yosemite Valley if you complete this 16-mile backpacking journey. Half Dome's summit, at the height of 8,842 feet, is the ultimate objective. Many natural wonders, including waterfalls, cliffs, beautiful alpine lakes, and the sub-dome, can be found.
Even though this trail is well-maintained, the hike will be strenuous. There will be a few wet, rocky spots along the way. Parallel cables raised on metal posts will guide the final 400 feet to the summit of Half Dome.
Mount Sterling Loop in Great Smoky National Park, NC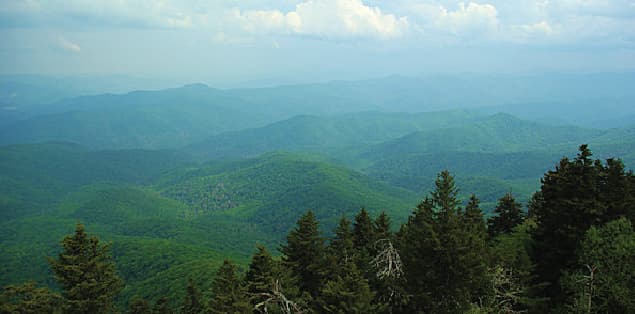 A two-day backpacking trip on this loop trail is ideal for those who have never done so before. Big Creek Campground in Waynesville, NC, is where the trail begins. While the trail to Mount Sterling isn't easy, the views from the top are well worth the time and effort required.
Because it's a loop, you won't have to rely on shuttles or other means of transportation to return to the trailhead where you started. There is also a well-marked trail to follow.
Mount Rainier National Park's Wonderland Trail, WA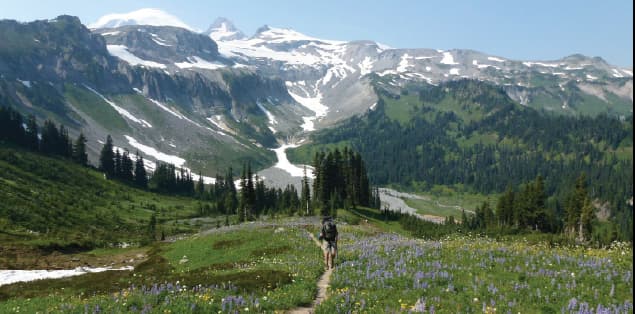 You'll see glaciers and waterfalls and wildflowers one day and mountain lakes the next; no two days are ever the same on this hike in the Washington backcountry. It is a loop trail, so you can start at any trailheads along its length and plan a route that works for you.
Even though it's a long hike with many elevation changes, it's perfect for anyone who wants a good workout in exchange for some spectacular scenery.
Bowman Lake Loop in Glacier National Park, MT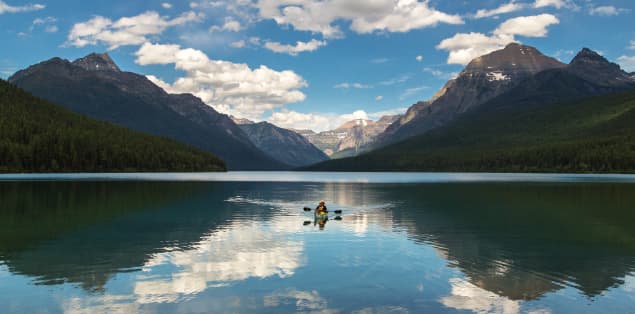 This popular hiking route includes Glacier National Park's best attractions, including alpine passes, waterfalls, rivers and lakes, wildflowers, and stunning campsites. Starting at either end of the trail's length, Bowman Lake to Kintla Lake is an option.
If you're looking for a challenge, this is it. The trail can still be snowy during the summer months at higher elevations, so check with the national park service before you go!
Teton Crest Trail, WY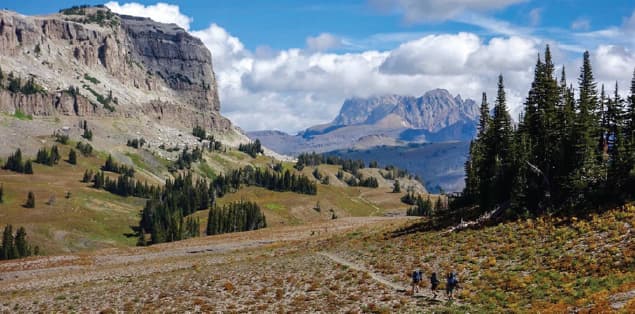 As one of the country's most famous backpacking routes, you'll want to begin your preparations well in advance if you intend to go on this trip. Everything you've done to get ready will be worth it because of the stunning sights you'll see through the path.
Every day, you'll be surrounded by some of the most beautiful mountains in the United States and lakes, meadows, glaciers, and forests to explore.
West Rim Trail in Zion National Park, Utah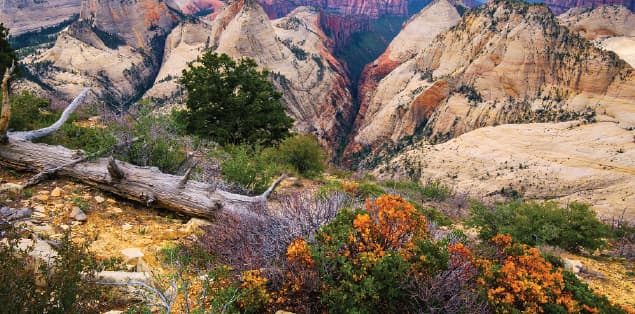 The trail begins at Lava Point and descends into Zion's main canyon, ending at the Grotto. This trail is short for those who prefer to break up their hiking by camping along the way. In addition, the majority of the trail is on a gradual slope.
On your way back from this hike, you will cross over with the famous Angel's Landing trail. If you want to do both, this is an excellent opportunity.
John Muir Trail, California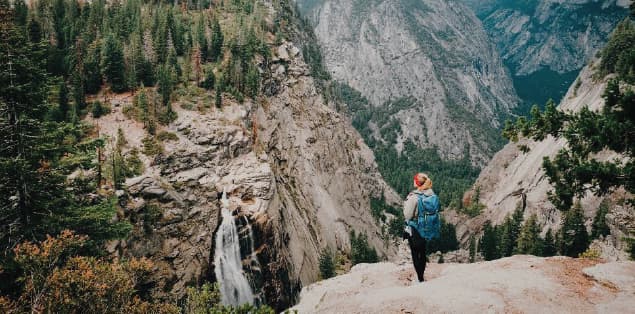 For the John Muir Trail Yosemite, you'll need to plan. It is the most difficult hike because of the distance and the elevation gain of 47,000 feet. We recommend that you take changes in the weather, possible melting snow at higher elevations, and a sudden storm into consideration.
The trail is most enjoyable; you will also come across Granite Park when hiking through John Muir Wilderness.
South Kaibab Trail, Grand Canyon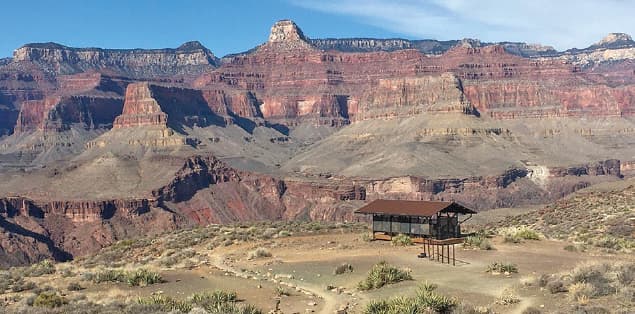 The South Kaibab trail provides the most value for the buck as far as views to distance ratios go. Additionally, the South Kaibab Trail is often crowded to accommodate more people and mules. It's just over a mile from the trailhead to Plateau Point, which offers one of the most breathtaking views on the South Rim.
You can enjoy incredible vistas of the Colorado River, Bright Angel, and Plateau Point to the west from Skeleton Point. Keep in mind that there are no water sources on the South Kaibab Trail.
Hoh Valley to Blue Glacier, Olympic National Park, Washington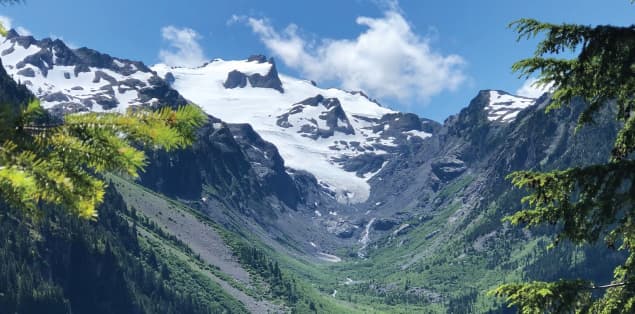 Most of Olympic National Park highlights are included in this epic backpacking trip. Spectacular glaciers, lakes, alpine meadows, and wildlife-rich rainforest. Hiking through one of only seven temperate rainforest ecosystems globally, you'll begin in the Hoh Valley on relatively level trails.
There is a gradual increase in difficulty as you climb towards the alpine reaches, but the views never fail to amaze you.
To Seneca Lake from Elkhart Park, Wind River Range, Wyoming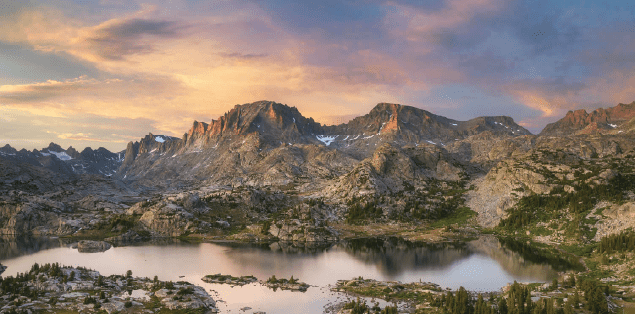 Even though Elkhart Pass to Seneca Lake is a short out-and-back trail, it's not short on views. This trail is perfect for those who want to taste backpacking in the Wind River Range but don't have the time.
It is the place for you if you want to get away for the weekend. You can reach Seneca Lake in two days by hiking nine miles to the lake, camping there, and then hiking back out.
How to Train for a Backpacking Trip?
You'll be able to spend more time at the campsite rather than crashing soon after dinner if you train for your backpacking trip.
You'll need to familiarize yourself with the area where you'll be hiking. Whether you're preparing for a walk in the mountains or a desert, your training plan will be vastly different. To prepare for your backpacking trip, learn as much as possible about the area you'll be visiting.
Once you've decided on your hiking destination, look for a training spot close to the terrain you'll be traversing. Training in an area with elevation fluctuations makes sense because most backpacking trails have ups and downs. Consistent practice is the key to success in training. You won't see the results you desire by working out for a few days and then taking a week off.
You should also spend more time walking about. For example, if you have one at work, use a sit-stand desk or go for long walks if you don't. As a final point, don't forget to wear your backpack while walking or doing easy workouts.
It would be best if you focused on leg exercises because they'll be the ones that take you anywhere. So here are some exercises you can do to train yourself for your next backpacking trip.
You may imitate the vertical motion you'll encounter while trekking up a hill or mountain by doing squat exercises. Your glutes, calves, and adductors are all worked as part of this leg workout.
Your quadriceps will benefit from lunging, which helps build the explosive power you need for those uphill sections. If you want to go the additional mile, try practicing jump lunges to build your endurance and strengthen your heart and lungs.
Calf raises are an excellent way to build strength in your lower legs. You can perform heel dips on the edge of stairs to activate a comparable combination of muscles as an alternative.
When preparing for a hike, stair climbing is one of the best exercises available. Finding a nearby hill or mountain that you can walk up and down regularly is ideal.
How to Pack for a Backpacking Trip?
So, you are all set. You have planned everything. The only thing that stands in your way is the incredible journey that awaits you. However, you still need to pack.
Trying to figure out where to begin? With our essential backpacking packing list, you won't worry about sore backs, ripped zippers, or other packing disasters.
Backpack
Before deciding what to take, you need to figure out what to put it in. Confusion reigns when it comes to picking a backpack. Some say you can travel for six months with nothing but a carry-on the size of a postage stamp, while others lament their experience traveling the world with a 90-liter bag. Long-term travelers should opt for a backpack with a capacity of 40-70 liters; the key is not to overpack it.
Compression Sacks and Packing Cubes
You can only get so far by stuffing socks into your shoes. Compression bags are your new best buddies. For more than just saving space, they can prevent garments from dirt or spills and keep dirty laundry from the holy grail of backpacking apparel: clean underwear. Keep every garment in a separate packing cube so that they don't take up too much room in your backpack.
Emergency Kit
No one can argue with the necessity of keeping a first-aid kit on hand. Suppose you don't have a lot of money to spare. You can get away with just a few face masks, band-aids, blister patches, painkillers (a fair amount), antiseptic cream, antihistamines, travel sickness medicines, and prescription medications/contraceptives.
Gadgets
Digital nomad or not, chances are you'll be packing a few gadgets on your trip. For those of us who fly by the seat of our smartphones, we need a charger, an international adapter, and a portable battery (a life-saver for those dependent on mapping apps).
Final Words
Whether you're a seasoned hiker or someone who appreciates a beautiful vista, a backpacking trip is an excellent way to get out into nature and see what it offers. You can go backpacking in the summer because the weather is nice and sunny.
Whatever length of time you'd like to spend on the road, we hope this backpacking guide helps you in your adventure.