The best gear in your inbox
All the tips you'll need to get started in Urban Survival:
We'll only use your email address for our newsletter and respect your privacy
The adage still holds, "The only thing a dull knife will cut is your thumb," and it contains more ground if you happen to be a hunter. Every hunter knows that having a quality hunting knife is essential for being thoroughly prepared in the field when facing uncertain situations. As a beginner hunter, when you are learning survival techniques, the use of a knife is something that is a part of most survival activities, be it hunting, fishing, starting a fire, chopping trees, etc.
You can use an all-around hunting knife for a variety of tasks, and you'll be amazed at how much you use it. When camping or hunting, you never know when you'll be in a scenario where your life depends on this knife; that's why choosing a high-quality knife is so important.
Knives are one of the most commonly used hunting tools, but there is one guideline to follow: keep them sharp. A hunter knows the force needed to accomplish anything using a dull knife. Let us learn how to sharpen a hunting knife!
What is the Need to Sharpen a Hunting Knife?
The first reason is straightforward: having the correct instrument for the job. For example, a hammer without a mallet is like having no mallet to use. It is ineffective because it does not do its function adequately.
The second reason is for the sake of security. A blunt knife is far more hazardous than a well-maintained sharpened one. This entails using additional force than is required and may cause an accident.
So, now as you have understood the need for a sharpened hunting knife, there are a few things you should know before you get down to business and start sharpening your knife. First, let's start with the things you will need for sharpening your most important hunting tool.
Things You Need to Sharpen a Hunting Knife
Before starting your hunting trip, you need to make sure that your hunting knife is already sharp. You can sharpen a hunting knife in various ways, which we have explained below.
Whetstones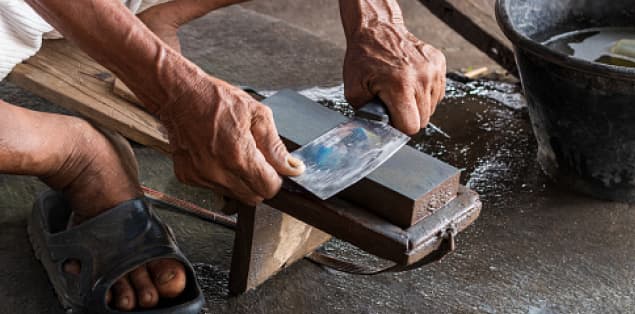 Dictionary.com describes whet as the process of sharpening knives or tools using friction or grinding. Whetstones can be natural or artificial, with artificial stones cutting faster than natural counterparts. Both usually have a two-sided design, with one side of coarse grit for sharpening and the other side of fine grit for finishing and shaping.
These are excellent for sharpening carbon steel and low-to-mid-grade steel. When honing a knife, individuals regularly use oil or water as a lubricant to gather steel residue, which speeds up the sharpening process. Using a lubricant with whetstones, however, is not required. Whetstones come in a variety of forms and sizes.
Diamond Stones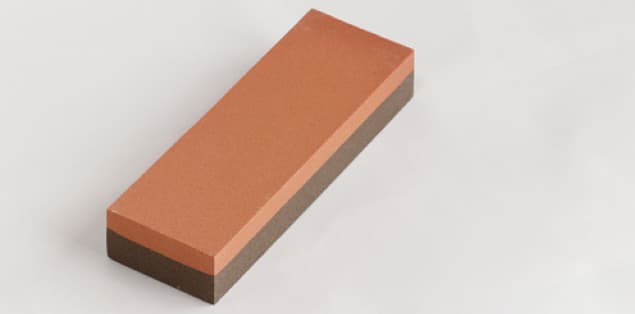 Diamond plates are an upgrade to whetstones, which are prone to flattening and wear after years of use. They are not only long-lasting, but they are also suitable for honing high-grade steel. Metal or composite bases are used to construct them. They have an outer layer of micron-sized diamonds that are nickel-plated to a metal surface.
There are two-sided plates with varying grits on each side. You use coarser grit to remove larger amounts of metal more quickly. You must use a finer grit to remove scratches from bigger grits.
Honing Rod (Sharpening Steel)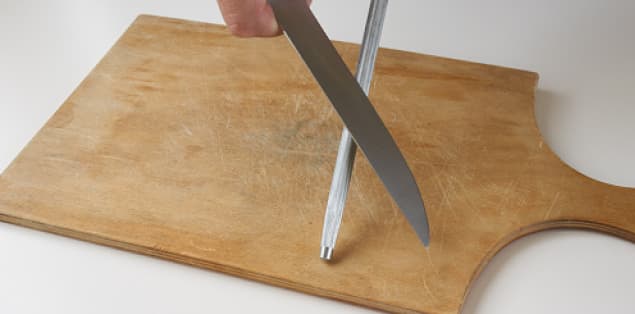 A dull blade isn't usually sharpened with a honing rod. Using a honing rod regularly can help you avoid using a whetstone or diamond plate. Because whetstones and diamonds degrade metal off the edge of your blade, shortening the knife's lifespan, it's best to use a honing rod. The fewer times you use a whetstone, the longer your blades will stay sharp.
A honing rod re-aligns the metal in a blade. Honing steel straightens the knife's edge by pushing it back to the center. It smooths off the edge without removing too much material. Unlike whetstones, it does not draw a considerable quantity of metal from the knife blade.
Pocket Hunting Knife Sharpeners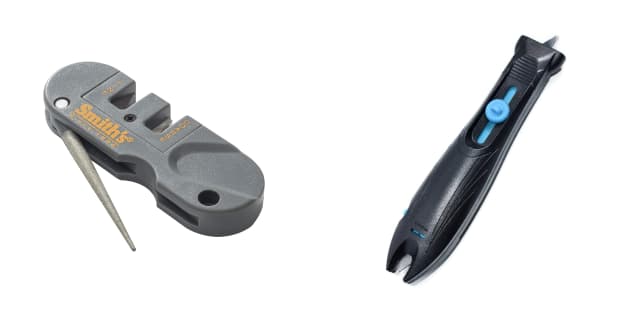 They have a V-shaped design that we pull the knife through to sharpen it. These are an excellent choice for sharpening your hunting knife if you will use them for skinning and as a pocket knife. Another important reason is that these are incredibly inexpensive and simple to use. These prove to be the ideal choice for first-timers who have never sharpened their hunting knives before.
Electric Knife Sharpeners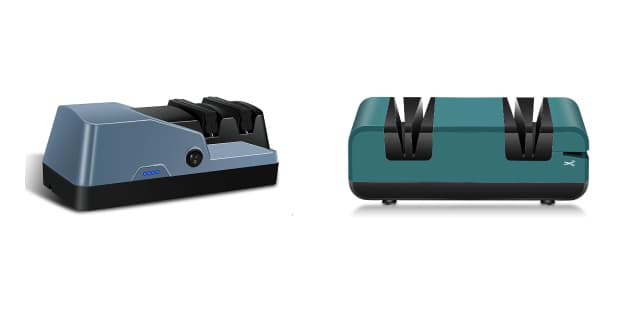 An electric sharpener is a perfect choice if you wish to sharpen your knife quickly. The electric sharpener has pre-set angles, so all you have to do is run your knife through them. The three slots on most electric sharpeners are for extreme sharpening, honing, and polishing, respectively. Electric sharpeners are not as effective as portable stone sharpeners. Still, they can sharpen and prepare your knife in under a minute.
Along with all this, you need some support equipment before you sharpen your hunting knife. Let us tell you about that as well.
1) Soft Cloth for Cleaning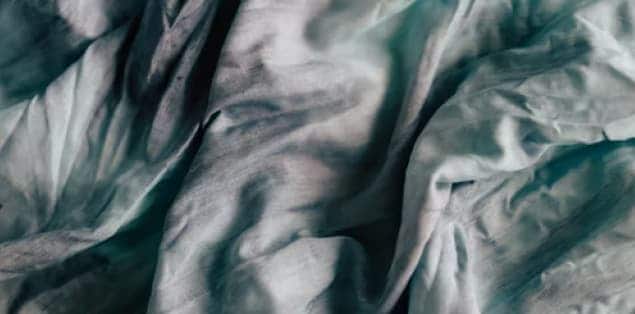 Clean the area or stone on which you want to sharpen your hunting knife before and while sharpening it. The best option is to use a soft wet cloth. After you've finished honing the blade, wipe it down with a cloth.
2) Water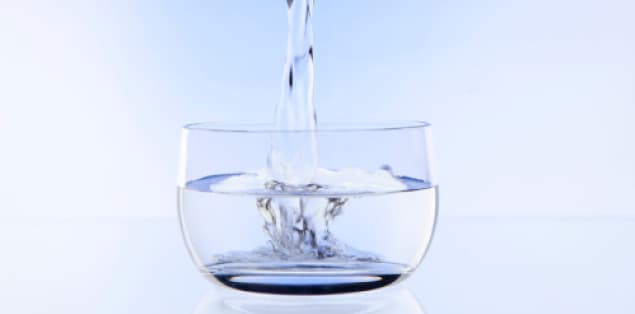 Water is used as a sharpening solvent while honing hunting knives. There is no expense, and it assures that sharpening is quick and uncomplicated.
3) Oil/liquid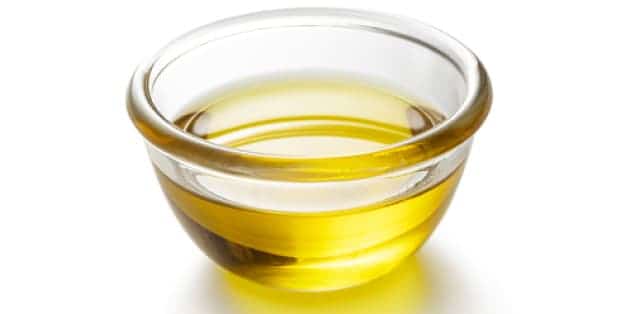 You can use oil and water on stone in both approaches. Some sharpeners work well with either oil or sharpening liquid, but using oil or sharpening liquid is costly.
4) Leather Strop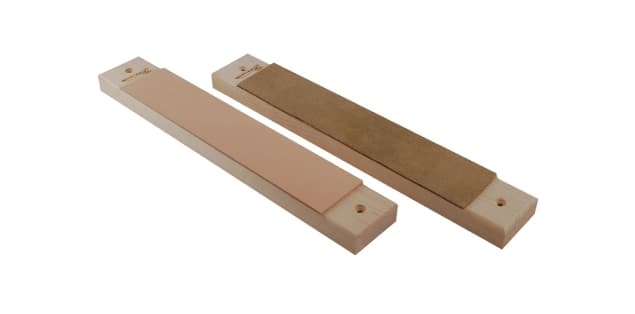 You can use leather strops to give your blade a razor-sharp edge. Stropping is polishing the edge of a sharp knife. We usually do this on a leather strap applied to a hard surface.
Stropping smooths out the last flaws in the cut. As a result, there is even more crispness. It also has an aesthetic purpose: stropping makes the cut mirror-like.
What Is the Best Angle to Sharpen a Hunting Knife?
Getting the angle right while sharpening your hunting knife is very important. The knife's design, use, and steel determine the correct or optimal angle.
Hunting knives come sharpened at specific angles, and it's preferable to sharpen them all at the angle marked by the manufacturer into the blade. Otherwise, you'll be fighting against the edge angle you started with. For example, a hunting knife has a bevel angle of 25°–30°.
The more acute the angle, the less durable the edge is. Knives intended for cutting more rigid materials, such as hunting knives and pocket knives, are sharpened to a recommended angle of 22 to 30 degrees.
Quick Guide on How to Sharpen a Hunting Knife
A sharpening stone is the best option to sharpen a hunting knife. This step-by-step guide will walk you through honing your dull blades with whetstones.
Foremost, make sure that you soak the 220 and 1000 grit stones. They're coarse enough that you'll need to soak them in a lot of water before you start. Place them in a bowl of water and gradually submerge them for around 10-15 minutes. Knife sharpening stones function similarly to sandpaper. You'll start with the coarser grits and work your way up to the finer grits in little steps.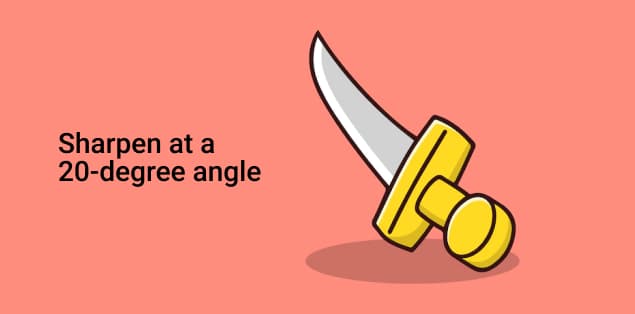 The next step is choosing the exact angle that the manufacturer on the blade specifies. If the blade has deteriorated too far, a careful examination is required to determine the right angle. Most hunting and utility knives have a 20-degree edge bevel, so it's critical to keep the blade at this angle while it passes across the whetstone. Place the sharpener on the flat surface, which will help you to hold the angle.
With the sharpener in one hand and the blade in the other, you have two moving surfaces that you must align at the correct angle. You can remove one variable from the equation by placing the sharpener on the table.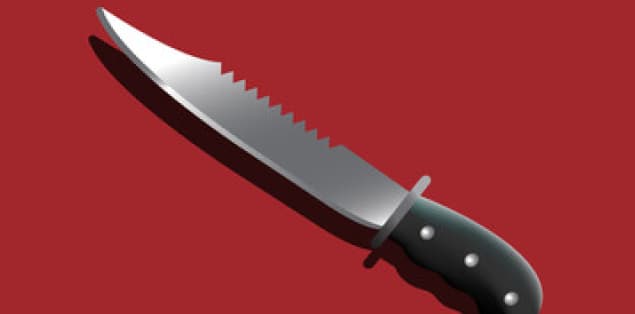 Place the blade flat on the sharpening surface with the sharpener ready, then elevate the back of the blade slightly until the beveled edge of the blade aligns with the stone. To avoid rocking the knife, keep your wrists clasped. Remember not to push hard. During the sharpening process, the edge will be scratched. You can tell if you're holding the blade at an angle that's too high or too low by looking at the scratches.
Always cut into the stone, never dragging your knife edge back over it, and maintain the same angle. Try elevating the back of the blade roughly the width of the blade if you're having difficulties matching the blade's original angle or if it's difficult to judge.
Stroke the blade across the sharpener at a steady angle, applying light pressure as if attempting to shave a tiny slice off the stone. There is no such thing as too much pressure. Working slowly and gently is preferable. Move the blade from the hilt to the tip (or vice versa) during the stroke, maintaining a moderate pressure and precise angle.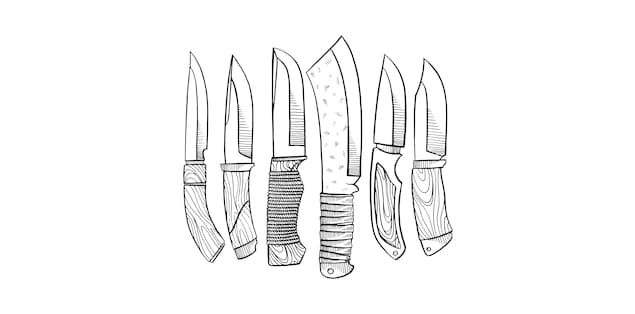 You'll continue this motion on the first segment of the blade until you feel a "burr" down that section. Burr is the "wire edge" or a bit of steel that has accumulated on the cutting edge from sharpening/removing steel. To get a clean, cutting edge, it's vital to raise a burr while sharpening and then remove it afterward. The burr occurs on the side of your knife that is not in contact with the stone, i.e., the side facing the ceiling!
You can also do sharpening in a circular motion. Keep on working the entire blade length, keeping uniform pressure, angle, and control. Keep the blade on the surface and move it in a slow clockwise circular motion with the right edge facing you. When you flip the blade over, move it in a counter-clockwise circular motion with the left edge facing you. Keep altering the sides after 10-15 strokes and keep the number even for both sides. Alternate strokes till the blades are not sharp.
Final Words
While it is not difficult to sharpen a hunting knife, you learn it by practicing. Most hunting knives are expensive, so we recommend that you first try sharpening a wasted one! Remember, a sharp knife is a safe knife.