The best gear in your inbox
All the tips you'll need to get started in Urban Survival:
We'll only use your email address for our newsletter and respect your privacy
Camping is not an easy task, as we all know. However, if the rain catches you off guard and unprepared, it can be disastrous. Water loosens the stakes, floods your tent, and even causes it to slide downhill. So you'll be frustrated trying to figure out how to set up a tent in the rain, wind, and other conditions.
A camping trip in the rain does not have to be a traumatic or unpleasant experience! Knowing some tricks will help you if you plan to go camping in the rain. Your next camping trip will not be a complete flop if you have the correct rain gear and prepare beforehand.
Can You Put a Tent up in the Rain?
Even if you have one of the best camping tents and you don't know how to set it up, especially when raining, it's no good! But, it is possible to set up a tent even if it is raining. However, you'll need to take a few precautions. First, setting up camp in the rain should be done as quickly as possible to avoid getting wet. It means that the tent will be less prone to becoming flooded.
When setting up a tent in the rain, you also need to make sure that you find a suitable location beforehand. You don't want to set up camp near any rivers or streams that can overflow.
It's the last thing you want to wake up to, whether on an inflatable bed or a sleeping bag floating in water with your tent half submerged.
Pitching a tent in the rain is more complicated than a dry day, so be prepared. Getting started might be a challenge. If you have the patience to wait for it to dry out before setting up your tent, you should.
How to Set Up a Tent in Rainy Weather?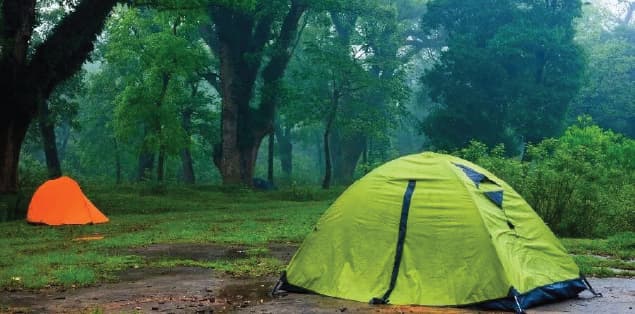 However, learning how to set up a tent in the rain might be challenging due to the variety of tents on the market. With this in mind, we've done extensive study and have come up with the best possible method for setting up a camping tent in the rain, no matter where you are.
Various circumstances may influence this decision to set up a tent in the rain. First and foremost, if it unexpectedly begins to rain while you are out camping or hiking, pitching up a tent will protect all of your gear from becoming wet.
You should know how to put up a tent in the rain if you're going camping or hiking in an area where rainfall is possible.
The best way to set up a tent in the rain is to follow these steps:
Remember To Bring Your Groundsheet
A groundsheet, also known as a ground cloth or, in some cases, a ground fly, is a waterproof piece of material that protects your tent's footprint (or bottom). It functions as a barrier between your tent's base and the ground, allowing water to flow beneath or around your tent from leaking into your dry space.
Choose The Perfect Spot
It's a typical camping rule to set up your tent in a location that will be most useful to you. It is true even on a wet day. It would be best if you never pitched or camp near a river in the rain since the river can overflow and cause several problems.
Pick a campsite where you'll be safe even if the water begins to rise so that you don't have to deal with the consequences of flooding. It is a no-no situation for low locations with steep slopes.
Pro Tip: If you're car camping and it starts raining just as you get there, park your car over where you want to pitch your tent. Move your automobile once the rain has stopped. Voila! You'll be able to pitch your tent in a dry, mud-free area.
Pack Everything Individually
This is more of a preparatory step, but you should do it if it begins to rain heavily. You can erect your tents more quickly if you pack each item individually. The rain won't fall on all of the tent's interior.
A quick tip is to roll the fly with its outward-facing surface. In this manner, even if the fly gets wet, you can still cast it. It will ensure that the tent's interior is kept dry.
Pro Tip: In heavy rain, consider bringing dehydrated food or ready-to-eat meals that you can heat quickly.
Ensure That You Have A Waterproof Bivvy Bag
Even if you don't use cheap plastic bags, having a waterproof emergency bag is always a good idea. Essentially a waterproof sleeping bag cover, the term "bivvy bag" refers to a type of bivouac shelter.
Without one, many campers are unable to set up their camp. We cannot overstate the value of these emergency shelters if you can't set up your tent because of the rain or if your tent gets damaged.
They're also popular with campers because of their portability and lightweight. If you get too hot while sleeping in a bivvy bag, don't be surprised. It is because the bag reflects your body heat back to you.
Keep Yourself Dry
If you're going camping in the rain, you'll need dry clothes to stay dry. Pack a good waterproof jacket and waterproof pants, and a good set of waterproof boots.
Set up the Tarp
When setting up a tent in the rain, this is the first thing you should do. This will work best for you if you're in a wooded region. Set it up so that water flows away from your tent downward to avoid water collecting on top of your tarp or rolling off and seeping into your tent.
Fix the Tarp From the Inside
If you start changing the tarp or fly from the outside amid a deluge, you and your equipment will become wet. The simplest option is to climb inside the tarp and begin altering it from the inside out. You start by removing the tarp and adjusting the clamps from underneath.
Fix-It Up After Completing Everything
Now that you've built the foundation of your tent, it's time to put it up. It's time to begin adjusting it to suit your needs. Depending on your needs, you may be able to change poles, clips, and the overall tent construction.
How to Keep Tent Dry in Rain?
Here are the steps that will help you keep your tent dry in the rain:
Pitch your tent high on a ridge where water will likely drain off.
Bring a groundsheet made of plastic and place it inside the tent.
Cover the top of your tent with a tarp or rain fly. This will protect the tent's canopy from rain.
Using a seam sealant will eliminate the weak points that are most prone to allow moisture and rain into your tent while you sleep.
Another alternative for keeping the rain out and keeping your tent as dry as possible is to use a rainwater repellant. A water repellant is sprayed on the tent's exterior to ensure it is well protected.
How to Take Down a Tent in the Rain?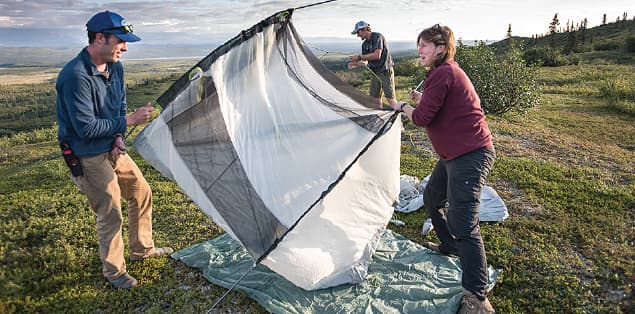 Keep your drenched and dry items separate.
The rain fly should be the first and final thing you put up and takedown.
Fold your tent's dry portions toward the center.
You should keep the damp bottom out of the house.
You can store the tent within or outside of your backpack.
Drop the fly as dry as possible on the underside.
If necessary, give the fly a couple of good shakes.
Fold from the inside out, with the dried section on the inside.
Pack the damp fly against your tent's wet floor.
How to Keep Tent Floor Dry in Rain?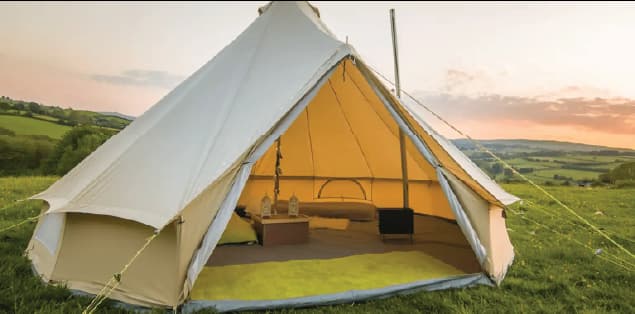 Even if your tent is waterproof, place a wide ground tarp under it as a shield against water seepage from the ground. If you're tent camping, bring an extra groundsheet for the bottom of your tent and the other for the interior floor. Tarps can serve as groundsheets under tents when camping in damp conditions to keep moisture out of the structure. Check out our guide for some of the best camping tarps to choose from!
However, make sure your tarp doesn't protrude beyond the edges, as this will collect water and bring more problems than it fixes.
Final Words – How to Set Up a Tent in the Rain?
All of the measures listed above are efficient, but the right approach to camp in the rain is to combine them. Collect the ideal waterproof gear, pitch your tent at a tilt, and waterproof it. It will ensure that your camping adventure is both warm and dry! Don't let the rain get in the way of having a good time in bad weather.
Make sure you're ready and learn how to keep a tent dry in the rain, and you'll be fine!